Technical Surfaces & Loughborough University continue their research into the effects of maintenance on artificial grass pitches (AGPs).
Synthetic pitch maintenance specialists Technical Surfaces are now 2 years into their collaborative research project with Loughborough University, investigating the correlation between maintenance and AGP performance.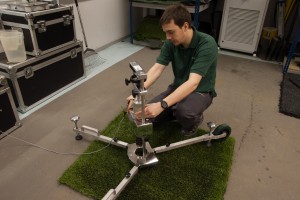 The research is being led by Nick McLaren, Technical Surfaces' sponsored Research Engineer, who is part-way through his EngD at Loughborough University. The research is currently focussed on evaluating the factors affecting ball roll, which can impact greatly on the overall performance capabilities of an AGP. Carpet pile height, orientation and direction are being monitored, as are the external effects of factors including pitch usage, weather conditions, etc.
It is anticipated that the findings of this research will help to instruct and inform industry guidelines for maintenance – for example, identifying that pile orientation affects ball roll distance demonstrates a need to rotate the direction of regular brushing; a procedure that can be implemented by grounds teams and pitch maintenance companies alike.
Also of interest to Nick and the research team is establishing the accuracy and repeatability of pitch testing equipment, which is designed to measure the hardness, stability and elasticity of an AGP. Rather than interpreting these measurements as a definitive benchmark of the condition of an AGP, results obtained by pitch testing equipment are contextualised during the research, taking into account the influence of external factors such as moisture content, contamination and infill compaction and type of shockpad or base material in place. Measurements will then be correlated into a 'real life' application, cross-referencing field test results with industry-standard apparatus such as the Advanced Artificial Athlete or Triple A, as well as with laboratory-controlled experiments.
In order to gather as much significant data as possible for analysis, the field-based element of the research is being conducted across a wide range of AGPs. The immediate, short-term effects of maintenance are being evaluated at 3G and 2G pitches belonging to Technical Surfaces' contract customers at schools, colleges, universities and football clubs across the country, where readings are taken immediately before and after maintenance. Testing takes place on a range of systems, ages and usage rates, and the findings and analysis of the data collected will reflect this.
The main testing locations for collating data over the long term are the 3G pitches at Loughborough University and at St. George's Park – the English FA National Football Centre. The AGP at Loughborough University is designed to host football and rugby, and is heavily used, receiving in excess of 60 hours' play and training most weeks. The AGP was built in 2012, which presents the ideal opportunity to monitor any performance changes that occur during the early years of an AGP's life. It is also being maintained to a high standard.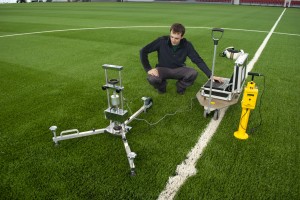 St. George's Park has also placed its two AGPs at the disposal of the research team – an outdoor pitch approximately 10 years old, and a newly-built indoor pitch. The indoor / outdoor contrast is of significant benefit to the research; the indoor pitch affords a controlled external environment, with consistent temperature and climatic conditions all year round. By reducing the influence of weathering from the equation, the analysis can focus on the effects of usage and maintenance on AGP performance more specifically and reliably than it could on a surface that is open to the elements.
By contrast, the outdoor pitch provides the 'real world' features of the vast majority of AGPs, and data obtained from this pitch makes it easier to evaluate the effects of moisture, temperature and climate on AGP performance, as well as the impact of foreign detritus such as leaves, dirt and debris. As a prestigious site, the AGPs at St. George's Park are maintained to the highest standard, with usage levels and maintenance continually logged.
For more information on Technical Surfaces, visit www.technicalsurfaces.co.uk.
'Artificial Turf: Integrating Maintenance and Sport Surface Science' is due to be published in late 2014.
If you would like to discuss the maintenance of multiple synthetic sports pitches, call Technical Surfaces now on 08702 400 700 and ask to speak to a Technical Manager.
https://www.fusion-media.eu/wp-content/uploads/2013/01/Testing-Times-photo-1.jpg
2008
3000
chrisbassett
https://www.fusion-media.eu/wp-content/uploads/2022/02/FusionMedia_logo.png
chrisbassett
2013-01-30 11:15:19
2013-04-25 20:46:27
Testing Times