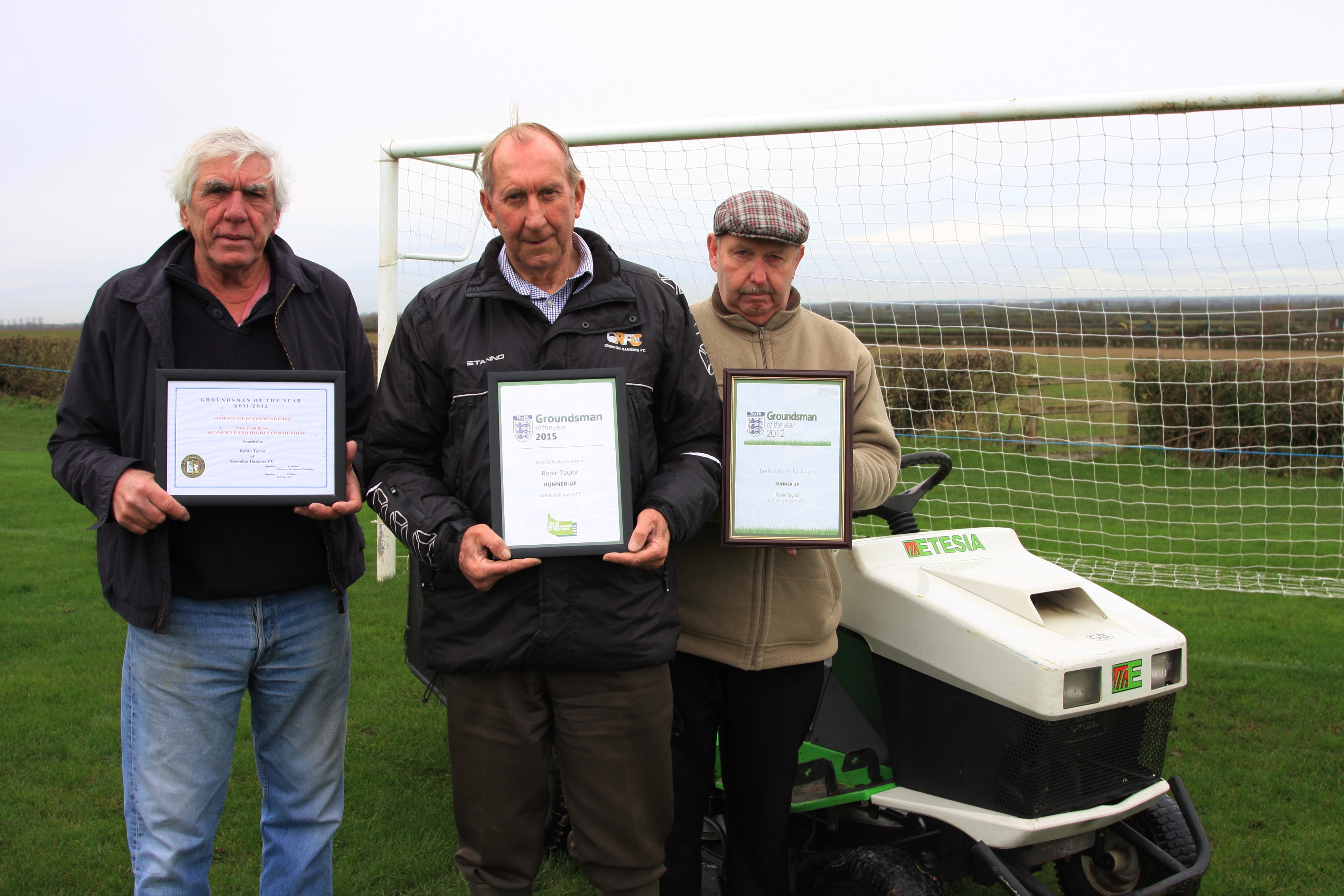 Award Winning Volunteer Groundsman Puts His Trust in Etesia
Robin Taylor, a volunteer groundsman for Grendon Rangers, a FA Charter Standard Club, has sworn by his Etesia Hydro 100 for the last twenty-one years. In that time he has picked up five awards and believes it is down to his trusty ride-on mower. His pitch has played a large part in ensuring that the club meets the FA pyramid step 7 criteria.
Grendon Rangers FC boasts two senior teams and six youth teams from Under 7's upwards. It's a good, successful footballing organisation for all ages, but arguably the club's star performer is Robin – who dedicates up to 12 hours a week of his spare time to ensure that players have a good pitch to play on.
"My whole purpose in doing what I do is to have a nice level pitch that the players can play football on and it has to be safe pitch – no divots, no big cracks and nothing that can hurt a player.
"We all have past-times and my past-time is football. I enjoy maintaining the pitches and I enjoy watching as well. My reward is looking at the presentation of the pitches and watching the game without anyone picking up an injury," said Robin.
Robin's admirable enthusiasm is of great advantage to grass roots sports – not only does he tend to the main pitch but also the whole of the recreation ground, the school sports field and a nearby children's park. It therefore seems fitting that he has picked up five awards in his time as groundsman – the most recent achievement being the runner-up Groundsman of the Year throughout the whole of Buckinghamshire and Berkshire. With over 500 clubs in these counties, it truly is a remarkable accomplishment.
However, Robin doesn't really have time to dwell on such feats; when he is not dedicating his spare time to maintaining the grounds for Grendon Rangers FC, he also finds time to work for RT Machinery, based in Aylesbury, Buckinghamshire.
Recently awarded the 2015 UK Dealer of the Year Award in the Service Dealer Awards, this successful family run business offers a wide range of equipment in serving the professional ground care, sports, private estate and homeowner turfcare markets. One of the company's biggest selling brands is Etesia and Robin is certainly an advocate.
"I use the Etesia Hydro 100 ride-on mower which is what I call my right arm. It is so adaptable and I can do whatever I want as far as grass cutting goes. It's a work horse for me really and I use it for everything I do.
"The cut is excellent – it is clean, can cut to any length, and the clippings come out the back of the machine without any loss of suction and it leaves the pitches nice and tidy," said Robin.
As well as using the Hydro 100 to cut the pitch, he also adapts it for a number of other tasks. He uses it as a tractor unit to tow a slitter, roller, drag mat and he also uses it with a 'hopper' style basket on the back to transport top soil, sand and any other materials required.
"It sits on the back in place of the collection unit and it will hold almost two barrow loads of sand, so in the winter I can sand the pitch. In pre-season when I'm doing my renovation work, I can also put topsoil on with it and then for the rest of the year I can use it for a number of other odd jobs.
"I chose the Etesia Hydro 100 because if you are not careful you can end up with a machine that only does one job. The football club has not got a lot of money to throw around and one of the biggest things when you are maintaining pitches for a club such as this is to keep the overheads as low as possible. The club wouldn't be able to afford a compact tractor or an individual cylinder mower. Even if you had these you'd still need other implements so it would work out very expensive – even if they were second hand. The Etesia mower is very well priced and comes into a category that football clubs like Grendon can afford.
"I've had the machine for 21 years and it's still going strong – which says a lot about the quality of the build. The base of the machine never deteriorates – you've got the chassis which is strong, it has a robust front axle, there have never been any problems with the gear box and the engine is nice and smooth. Overall it has performed for 21 years in all weather and ground conditions – it's been brilliant."
The Etesia Hydro 100 was in fact the mower that helped Etesia make its entry into the world of green spaces. It was in 1989 and the concept was a revolutionary one – the first ride-on mower with direct ejection and integrated collection. This new concept made a strong impact on the mower market and rapidly became the standard-setter. Since then, the Hydro 100 has evolved and 2015 saw the launch of the Hydro 100 III. Capitalising on the strengths of the previous model, the new Hydro 100 goes beyond existing standards providing a powerful new Kawasaki engine, a larger 14-litre gas tank to give it more power and range, new steering for greater comfort and a new modern hydraulic drive transmission with differential lock for improved traction and drivability.
Although Robin is extremely happy with his current model, it appears that he already has one eye on the new Hydro 100 III and believes that it will be of great benefit to whoever he eventually passes the baton to.
"We are currently looking into grants because I would like a new Etesia mower. At my ripe old age someone else is going to have to do it one day so I hope the club manages to get one.
"But hopefully that's a long way off. I love what I do; it's just like doing the gardening I suppose, except I get more of a reward from this. The award is just the icing on the cake really."
For further information, please contact Etesia UK on 01295 680120 or visit www.etesia.co.uk. You can also follow Etesia on Twitter @EtesiaUK for much more news, reviews and insightful views.
https://www.fusion-media.eu/wp-content/uploads/2016/05/IMG_1242.jpg
2592
3888
chrisbassett
https://www.fusion-media.eu/wp-content/uploads/2022/02/FusionMedia_logo.png
chrisbassett
2016-05-09 10:34:24
2016-09-13 17:42:16
Award Winning Volunteer Groundsman Puts His Trust in Etesia