Britannia Rules with MM60 Grass Seed
As one of the oldest professional football teams in the world, Stoke City FC has long standing traditions and standards to uphold. It is essential that the club has a playing surface in line with its historic reputation, which is why head groundsman Andrew Jackson has selected Limagrain UK's MM60 grass seed.
After winning promotion to the FA Premier League in 2008, Stoke City has been a regular in the top tier of English football; and the playing surface at The Britannia is up there with the best.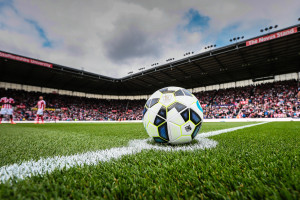 The MM60 grass seed is a 100% Ryegrass formula which is perfect for renovation and divot repair. Renowned for its extremely fast germination; MM60 has a high wear tolerance combined with a high disease resistance giving fantastic aesthetic qualities; something which Andrew is particularly pleased with.
"I like the fine leaf and the colour it gives is fantastic. It produces a beautiful mid-dark/green colour which has also resulted in less disease on the pitch," he said.
It's no wonder that a whole host of Premiership clubs have opted to use MM60. Andrew first became familiar with the product after recommendations from the head groundsmen at Arsenal, Tottenham, West Ham and Swansea, who all use this variety.
Andrew initially trialled the seed at Stoke City's academy set-up two seasons ago. After impressive results, he made the decision to apply it to all nine pitches – which are a combination of training areas and pitches added to the pitch at The Britannia. It is a decision which Andy believes has really paid off.
"The seed has had a big effect on all of our pitches. The sward density has also increased with more plants per square metre, which really helps in the recovery process after a match.
"I have found the product really good to work with from the grow-in period, due to the Headstart GOLD treatment. There is always good recovery from matches and training and recovery is really fast in the spring time," he said.
Headstart GOLD is a further development of the well-recognised Headstart treatment and has been developed using the latest scientific findings and field experience. It is a natural revolutionary grass seed treatment that ensures rapid germination and is perfect for enhancing performance on grass seed coatings for sports fields, golf courses, lawns and amenity turf.
More and more industry professionals like Andrew are turning to Limagrain due to the extensive range of agricultural and amenity seeds available. With the addition of an experienced team, all rigorously trained to identify a customer's needs, it is easy to see why the company are spearheading the UK market.
In response to whether Andy would recommend Limagrain and its products, he said: "Yes definitely; due to the excellent results we have had."
For further information, please contact Limagrain UK on 01472 371471 or visit the company's website www.limagrain.co.uk. You can also follow the company on Twitter: @MM_Seed
https://www.fusion-media.eu/wp-content/uploads/2015/05/Limagrain-Stoke-City-FC.jpg
3091
4636
chrisbassett
https://www.fusion-media.eu/wp-content/uploads/2022/02/FusionMedia_logo.png
chrisbassett
2015-05-07 15:46:47
2015-05-07 15:46:47
Britannia Rules with MM60 Grass Seed