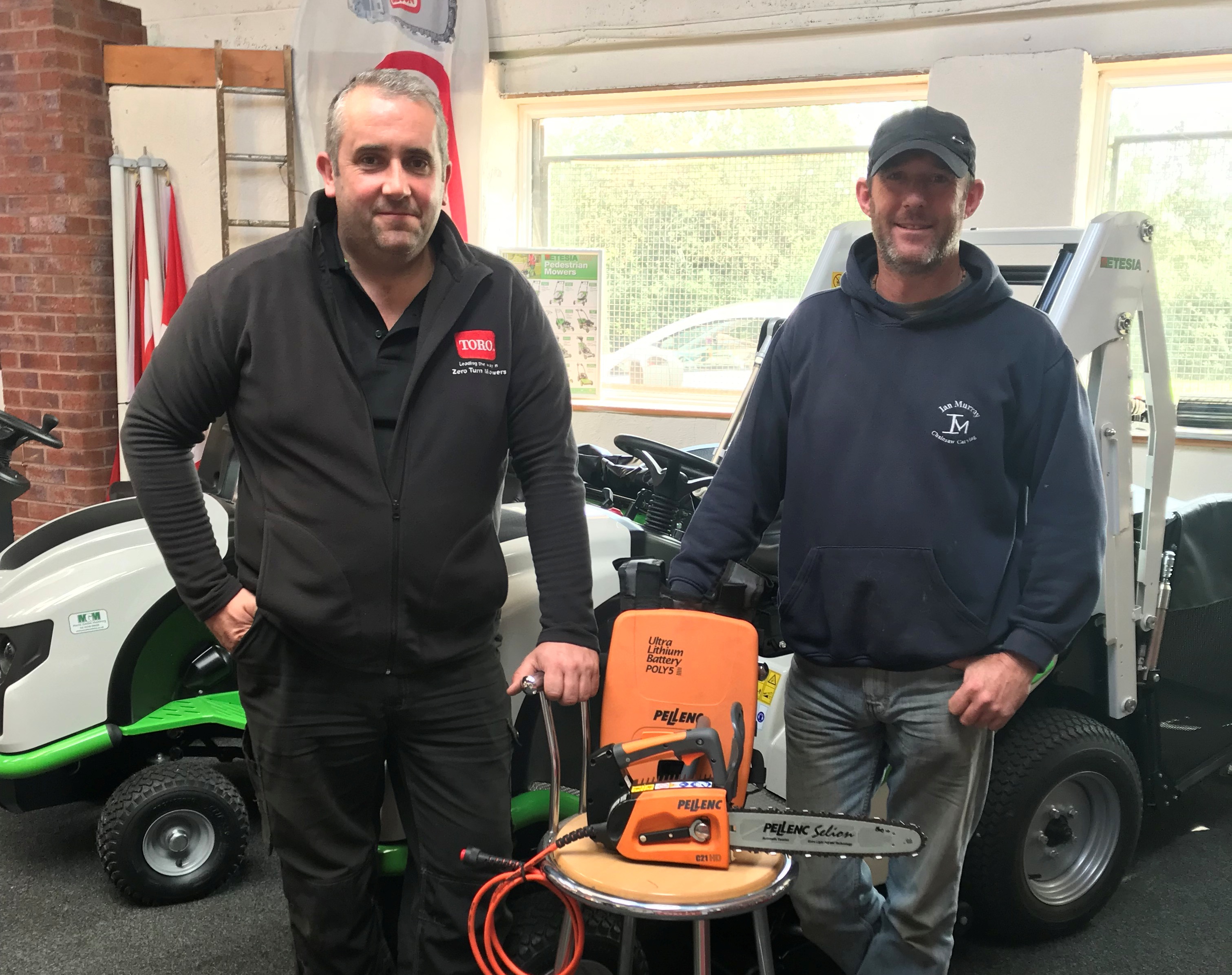 Chainsaw artist chooses Pellenc to attempt a world record
Chainsaw artist Ian Murray is attempting to set a new world record by climbing the three highest peaks in the UK and creating wood sculptures at the top of each one by using a Pellenc Selion M12 chainsaw – all within 24 hours.
The purpose of this incredible challenge is to raise money for the three charities that are close to Ian's heart. As an ex-military man he has decided to raise funds for the Royal British Legion (RBL), the Soldiers Charity (ABF) and the Blind Veterans.
Furthermore, Ian could not have a better team behind him as he attempts to conquer the Three Peaks Challenge as he will be joined by army veterans, soldiers who are still serving and junior soldiers from AFC Harrogate.
"It was always on my bucket list," he said. "When you are in business and find yourself sitting up at 2am in the morning doing paperwork, all kinds of crazy ideas come into your head. So I thought let's do this challenge with a twist!"
Upon leaving the army in 2002, Ian started a new career as a tree surgeon. However after an accident, which saw him fall from a 60ft tree, he decided to use the skills he had gained with a chainsaw to pursue a new venture in wood carving. It is safe to say that it has been a huge success and some of his designs need to be seen to be believed.
After serving with the army in Bosnia, Kosovo and Northern Ireland, Ian is no stranger to a challenge, however the Three Peaks Challenge could well be his biggest trial yet.
In just 24 hours he will not only be climbing the UK's three highest peaks but at the top of each he will be sculpting the Scottish Thistle on top of Ben Nevis, the English Rose on Scafell Pike and the Welsh Dragon at the top of Snowden. His tool of choice to create these sculptures is the Pellenc Selion M12 chainsaw.
"It was imperative that the chainsaw I chose for this challenge was extremely lightweight. Originally I stripped down one of my old saws so it weighed just over 4.5 kg. I thought that was fairly light until I was talking to Jonathan Morris from Morris Garden Machinery who told me about the Pellenc Selion M12 chainsaw which weighed just 1.7 kg. Well I thought that it would make my job a lot easier by carrying it while climbing."
The Pellenc Selion M12 is a battery powered handheld chainsaw with a 1200-watt motor, a 6″ cutting bar and weighs only 1.7kg. This compact, powerful chainsaw lends itself to a wide range of uses and facilitates the gentle pruning work of shade trees, ornamental trees and robust hedges. The machine has been designed with the professional user in mind, as the Selion M12 will operate all day with a single charge – which makes it perfect for Ian's challenge.
"I've used Pellenc equipment before and it was absolutely brilliant. The bonus of doing this challenge with the Selion M12 is that it also has the green factor. There are no emissions, it is solar charged and it ticks all of the boxes when it comes to being environmentally friendly.
"I haven't got to worry about carting petrol around with me while climbing and the battery will last long enough to get me through the challenge. It is a third of the weight of everything else I will have with me – so anything that makes my life easier is great."
All Pellenc batteries and tools come with a three-year commercial warranty and are distributed in the UK and Ireland exclusively by Etesia UK.
To view the all-new dedicated Pellenc website please visit www.pellencuk.com.  
https://www.fusion-media.eu/wp-content/uploads/2019/09/Pellenc-world-record-attempt.jpg
2391
3022
chrisbassett
https://www.fusion-media.eu/wp-content/uploads/2022/02/FusionMedia_logo.png
chrisbassett
2019-09-18 11:33:12
2019-09-18 11:33:12
Chainsaw artist chooses Pellenc to attempt a world record