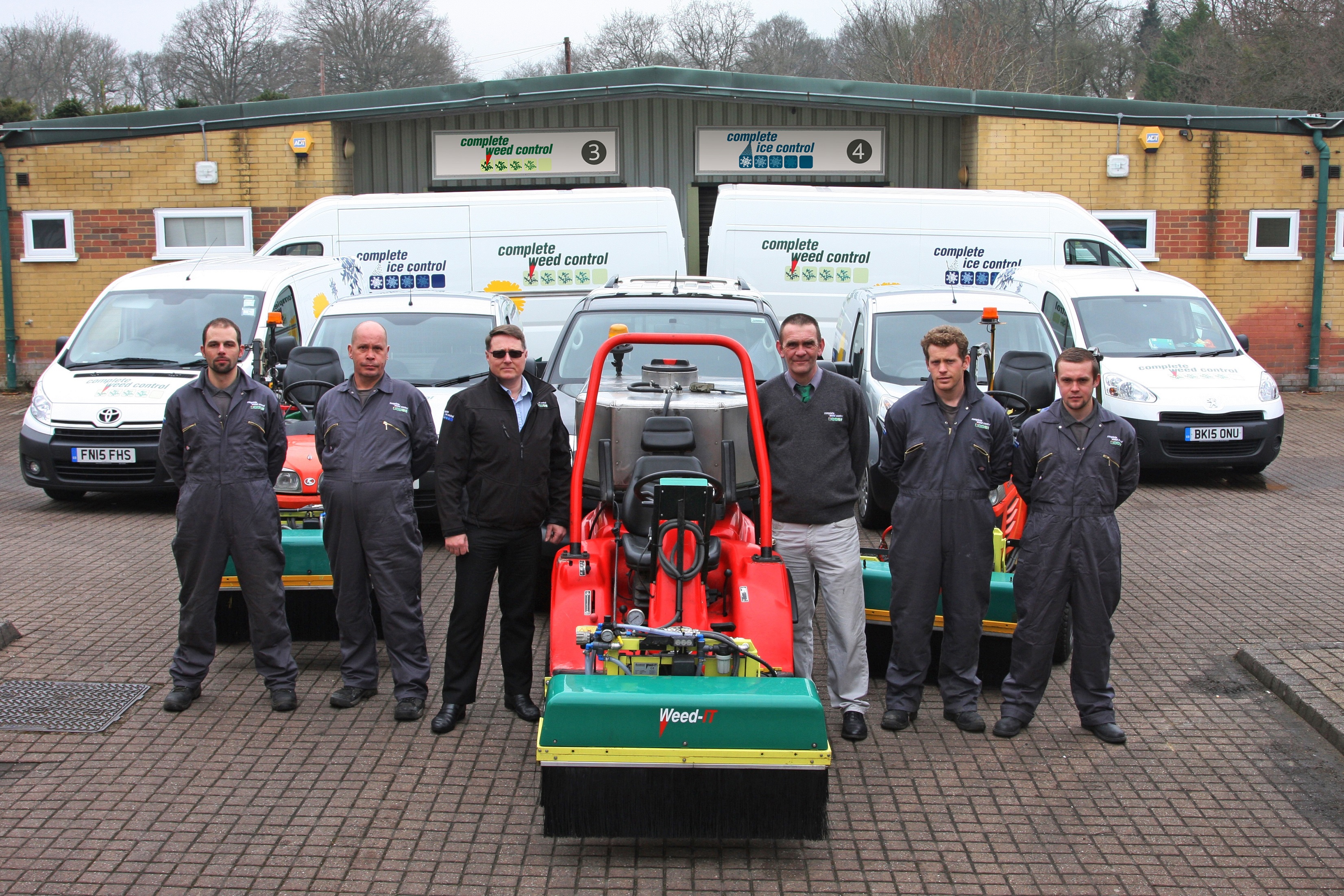 Complete Weed Control London Invests in New Equipment
As business continues to rapidly increase, Simon Akerman, Complete Weed Control area manager for London South East, London Central and London North East has invested in a range of new equipment to keep operations at the highest possible standard.
Simon, who has been with Complete Weed Control for over eight years, was internally promoted to the position of area manager in 2014. He started his new role with two members of staff and now has six employees working alongside him – which is testament to how far the business has come in just a couple of years.
Simon also revealed that their workload is set to become even busier: "We've got a very busy year ahead and have just taken on Hillingdon, which is one of the biggest boroughs in London. We are now responsible for spraying four of the boroughs in London with the possibility of adding a fifth one.
"With all the work that we are taking on, we have calculated that we will double our annual turnover – which is a great achievement and is something I'm very proud of."
Many of the new contracts Simon has gained have been achieved through word of mouth from happy customers, and to continue offering the best possible service he has just purchased four new vans and three new Weed-IT machines.
Weed-IT is the most advanced application equipment currently available for weed control on pavements and hard surfaces. It is a computer controlled herbicide application system consisting of a shrouded spraying head mounted on the front of a purpose built articulated carrier vehicle. Within the shrouded head are sensor units which detect the presence of weeds and trigger the appropriate spray nozzles to apply accurately the correct amount of herbicide just to those weeds and their immediate surroundings. Weed-IT not only produces exceptionally high levels of weed control but it significantly reduces herbicide usage and guarantees greater safety for the operator and the public alike.
Commenting on the new equipment Simon said: "To keep taking the business forward we need to make these kinds of investments. It helps us to stay ahead of the competition and continues to project the excellent image of Complete Weed Control."
Simon's investment in the new equipment mirrors The Complete Group's philosophy in looking to the future and providing customer service of the highest calibre. The company has always gone that extra mile in meeting customer requirements and over the years has launched a range of new services such as Complete Ice Control, Complete Grounds Maintenance, Complete Moss Control and Complete Invasives Control.
All of The Complete Group's entities are managed at the headquarters in Newton Aycliffe, County Durham, and Simon believes that he owes a lot of his success to the team who are based there.
"I'd like to add, that without the support of head office, I wouldn't have been able to achieve what I've been able to. They help me with all of my invoicing, my quotations and all the administrative support you need to run a successful business."
For more information, please contact Complete Weed Control's national office on 01325 324 277 or visit www.completeweedcontrol.co.uk
You can also follow Complete Weed Control on Twitter @CWCLimited and view the company's YouTube channel at www.youtube.com/user/completeweedcontrol1
https://www.fusion-media.eu/wp-content/uploads/2016/05/complete-weed-control-London.jpg
2204
3305
chrisbassett
https://www.fusion-media.eu/wp-content/uploads/2022/02/FusionMedia_logo.png
chrisbassett
2016-05-10 11:16:26
2016-05-10 11:16:26
Complete Weed Control London Invests in New Equipment