Contractor Chooses Dennis for Reliability & Robustness
Sports Turf Services (STS), one of Scotland's leading sports and amenity turf maintenance contractors has chosen Dennis as a key supplier of maintenance equipment.
The contractor has recently purchased a range of Dennis FT510 interchangeable cassette mowers and Verticut TT machines. Managing Director Peter Campbell, who purchased the company in 2007, explained that they have used Dennis at cricket, bowls and golf clubs across Scotland for over twenty years.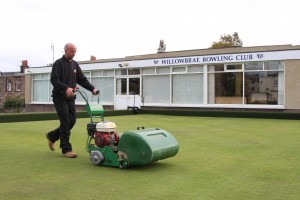 "When I purchased the company, I consulted our greenkeeping teams as to what machines they wanted," said Peter. "I felt it was important to ask the guys what machines they preferred using as it's them that use them every day. All they wanted was Dennis, so it was an easy decision to make.
"The build quality of the Dennis machinery is so good. They consistently perform to the same standard no matter what venue we use them at. Our greenkeepers particularly like the interchangeable cassette system of the FT510 mowers, which enable us to carry out more than one job, using just one power source. This obviously cuts down on the number of machines we need to purchase and saves us space – both in terms of storage and also transportation from site to site.
The contractor uses the Dennis machines at around 40 bowls clubs across the country in the autumn period when renovations of the greens are at the busiest, with the tungsten-tipped verti-cutter cassette a particular favourite to remove any thatch that has built up through the summer playing season.
The Dennis FT510 professional mower is unrivalled as a mower and turf maintenance machine on all areas of fine turf. A cutting width of 510mm (20") and a range of 11 interchangeable cassettes mean that one machine can be used for several different jobs from scarifying, verticutting or brushing.
The Dennis Verticut TT is a dedicated machine which brings professional verticutting to any facility. With a 510mm (20") operating width and tungsten tipped blades, it is ideal for golf greens, bowls, cricket and ornamental lawns. Regular use of this machine will help reduce thatch, improve the sward and encourage finer grasses to flourish and will see increased ball speed on all surfaces.
"We particularly like the Verticut TT, which we use daily, along with the mowers, because it's very easy to use. The rear roller is in 2 pieces with a differential which means turning in tight spaces, like on a bowling green is achievable.
"Dennis manufactures good, solid machines. As a contractor, you need a machine that is reliable and fit for the job in hand, which we know we get."
For further information or a no obligation demonstration, please contact Dennis 01332 824 777 or visit www.dennisuk.com
For more news, reviews and insightful views, you can follow Dennis on Twitter @DennisMowers and like the company's Facebook page – www.facebook.com/DennisMowersUK. You can also view the latest Dennis videos by visiting www.youtube.com/DennisMowers.
https://www.fusion-media.eu/wp-content/uploads/2014/02/IMG_3795.jpg
2592
3888
chrisbassett
https://www.fusion-media.eu/wp-content/uploads/2022/02/FusionMedia_logo.png
chrisbassett
2014-02-27 10:13:26
2014-02-27 10:14:39
Contractor Chooses Dennis for Reliability & Robustness