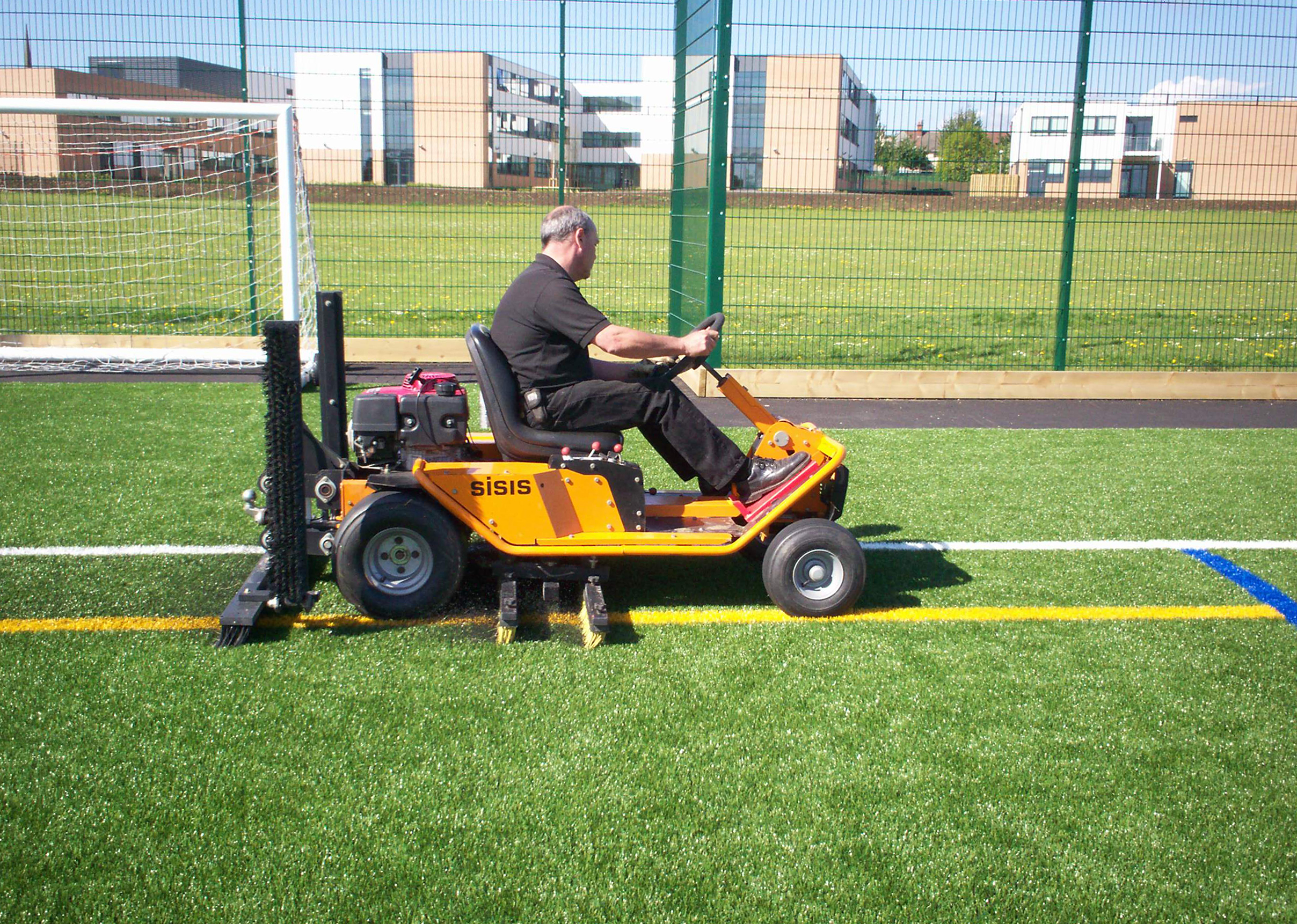 Contractor Chooses SISIS for Synthetic Surface Maintenance Equipment
Natural and artificial sports ground contractor, White Horse Contractors, continually invest in specialised plant and machinery. This policy has seen the Northern arm of the company recently purchase a SISIS Brush-Pro ride-on brushing system and SISIS SSS1000 towed rotary brush sweeper for all regular synthetic surface maintenance contracts.
White Horse Contractors offers a total turn-key solution for anyone looking to construct or refurbish their synthetic turf sports facility. They are also actively involved in the on-going maintenance after hand-over and it is something that Contracts Director Jim Crabbe sees growing to a wider client base.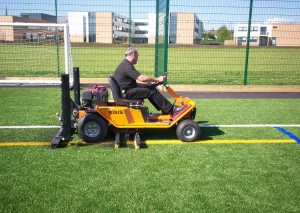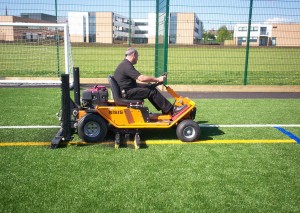 "We are constructing a growing number of synthetic facilities, so it's only natural that we offer our clients the correct maintenance with the right equipment after the pitch has opened and is being used, said Jim."
"We have contracts running throughout the year for regular maintenance of synthetic turf pitches and the new SISIS equipment is out most weeks, depending on weather and also according to the intensity of play on our client's pitches."
Jim says that he extensively researched the market when he was looking for a new machine that would give a good, groomed finish and was easy to transport from site to site.
"We looked at various combinations of small power units with add on attachments, but in the main they seemed a bit cumbersome. We knew SISIS has a long history of producing well-built machines and after a demonstration, we knew the combination of the Brush-Pro and SSS1000 sweeper would meet the requirements we were looking for."
The Brush-Pro ride-on system consists of a pair of mid-mounted oscillating brush units and three foldable rear mounted brushes spreading 3 metres for more regular maintenance, which means fewer passes are needed compared to more conventional drag brushing, causing less compaction.
"The brushes are integral to the power unit, fold up for easy transportation from site to site and then spread to 3 metres. This machine provides a quality finish with the oscillating brushes cleaning the top layers of rubber infill whilst ensuring an even distribution across the surface and helping the carpet fibres stand up which keep the pitches looking great."
The SISIS Brush-Pro has been designed for maximum manoeuvrability and operator comfort which features an electric start, hydrostatic drive for forward/reverse and its brush combinations – oscillating for thorough periodic work and rear mounted brushes for more routine work.
The unit is powered by a powerful Honda GXV390 engine and includes a tow hitch suitable for use with the SSS1000, a one metre wide sweeper and rotary brush for use on synthetic turf surfaces to remove debris.
"The SSS1000 sweeper attachment is simple and easy to use that does the job. Both products are robust with staff quickly becoming familiar with them. The Brush-Pro provides a quality finish, allows us to quickly and easily keep an even rubber distribution on pitches whilst the SSS1000 sweeper removes litter, leaves, etc. efficiently and fast," said Jim.
For further information or a no obligation demonstration, please contact SISIS on 01332 824 777 or visit www.sisis.com
For more news, reviews and insightful views, you can follow SISIS on Twitter @SISISMachinery and like the company's Facebook page – www.facebook.com/SISISMachinery. You can also view the latest SISIS videos by visiting www.youtube.com/SISISMachinery.
https://www.fusion-media.eu/wp-content/uploads/2014/02/SISIS-Brush-Pro.jpg
1722
2416
chrisbassett
https://www.fusion-media.eu/wp-content/uploads/2022/02/FusionMedia_logo.png
chrisbassett
2014-02-26 10:23:45
2014-02-26 10:24:52
Contractor Chooses SISIS for Synthetic Surface Maintenance Equipment