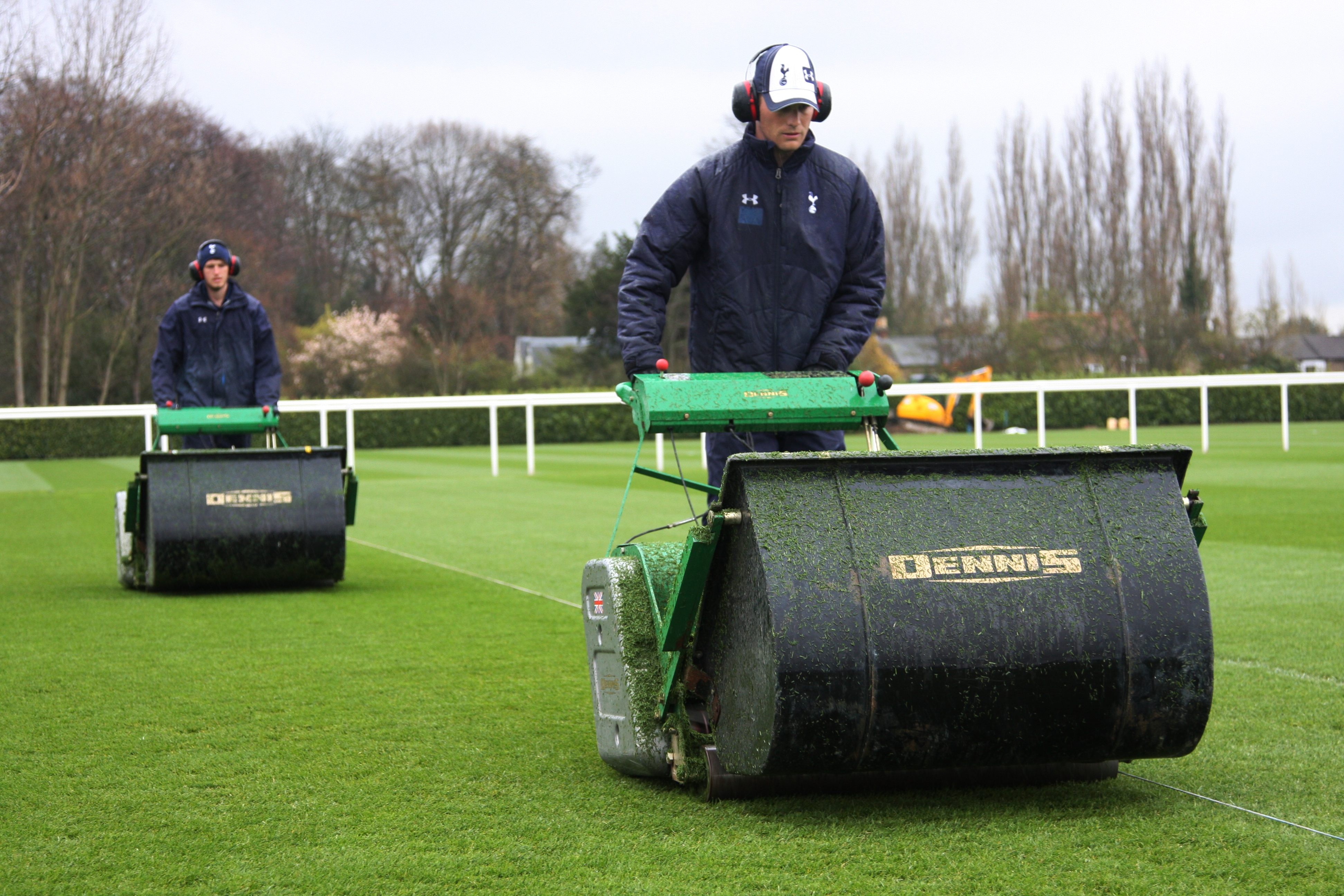 Dennis a Premier Supplier to Tottenham Hotspur
Tottenham Hotspur Football Club grounds manager Darren Baldwin considers Dennis as a key supplier of maintenance equipment for use at both White Hart Lane stadium and the club's new state-of-the-art training complex in Enfield.
The award winning groundsman and his team of 27 grounds staff use a range of Dennis Premier cylinder mowers and G860 interchangeable cassette mowers, which allow a range of key maintenance tasks to be carried out, using just one power source.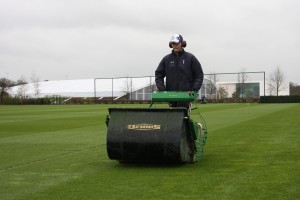 Darren, who has been at Tottenham for 18 years and involved in the industry for 24 years, has had an association with Dennis for the past 20 years. He said: "One of the fundamental things for me is to be able to work with a number of key suppliers; especially our mowing machinery. We cut 50/50 with a range of ride-on and pedestrian machines at the training ground, but predominately we will use the Dennis Premier at White Hart Lane because there is not a better mower on the market that has the quality of cut and which produces the perfect stripe – imperative in today's televised Barclays Premiership games."
Fitted with either a powerful Honda Petrol or Kubota diesel engine, the Dennis Premier is available in 30" and 36" cutting widths. A 3 section rear roller and steering brakes make it easy to manoeuvre giving an excellent stripe pattern and rolling characteristics. Complete with a large diameter front roller with adjustable scraper, for precise height of cut control, the machine is easy to adjust on both sides with the use of a single spanner.
"I've had an excellent product relationship with both the Premier and the G860. The key reason for me choosing the Premier is its design – it has an excellent weight distribution. For me, another key feature is the fact that you can see the front roller whilst using the machine. For us at Tottenham, presentation is paramount and cutting with string lines you need to be able to see the front roller."
"The G860 has been a fantastic addition to the Dennis fleet. The versatility of being able to change cassettes means that you have four machines in one which is fantastic. We have a cutting cylinder, a brush, a sorrel roller for opening up the first 5mm of our Desso Grass Master surface after games and in the height of the cutting season; the verticutter cassette – all in all, it's a fantastic versatile machine."
Built on the FT principle and with a cutting width of 34", the Dennis G860 professional mower has an interchangeable cassette system, with one minute changeover, giving options to fit 6 different types of heads including scarifiers, verticutters, brushes, spikers, and slitters as well as 6 or 8 bladed cutter cassettes.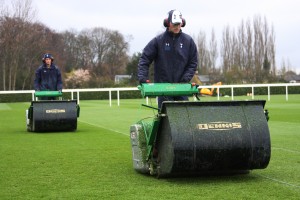 "With the challenges that the modern day groundsman faces; I would thoroughly recommend both the Dennis Premier and the Dennis G860. The fact that the Premier comes in either a 30" or 36" cutting width just adds to their quality."
For further information or a no obligation demonstration, please contact Dennis 01332 824 777 or visit www.dennisuk.com
For more news, reviews and insightful views, you can follow Dennis on Twitter @DennisMowers and like the company's Facebook page – www.facebook.com/DennisMowersUK. You can also view the latest Dennis videos by visiting www.youtube.com/DennisMowers.
https://www.fusion-media.eu/wp-content/uploads/2014/09/Dennis-Premier-Tottenham-Hotspur-FC-01.jpg
2592
3888
chrisbassett
https://www.fusion-media.eu/wp-content/uploads/2022/02/FusionMedia_logo.png
chrisbassett
2014-09-09 09:11:29
2014-09-09 09:11:29
Dennis a Premier Supplier to Tottenham Hotspur