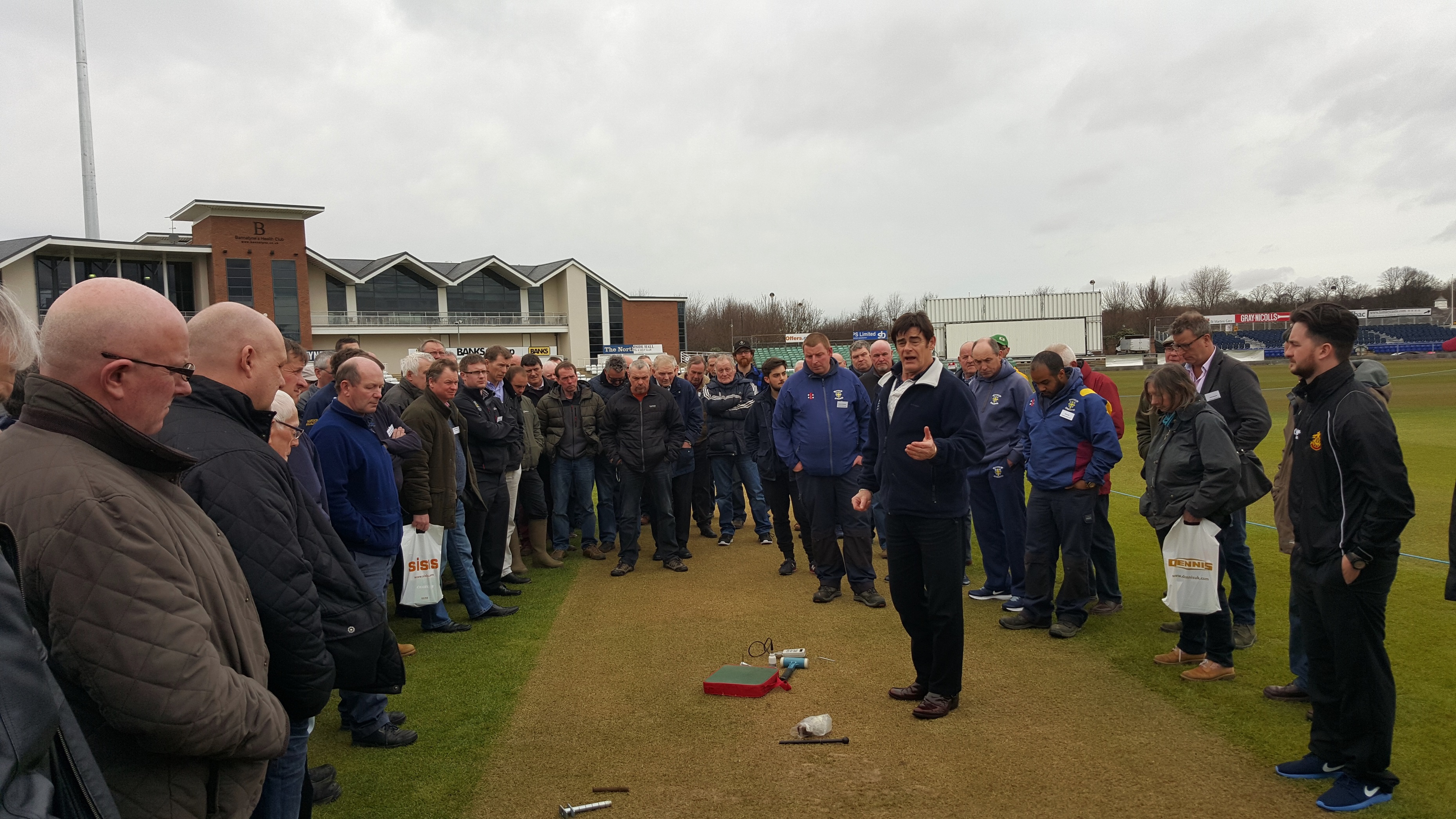 Dennis and SISIS Cricket Seminar Impresses at Durham CCC
The recent Dennis and SISIS Cricket Groundsman's Seminar, held at Durham County Cricket Club, saw 110 delegates in attendance all looking to refresh and enhance their education on a variety of topics.
The seminar, which was supported by Boughton Loam, CricketWorld.com, Turfcare Specialists Limited, Limagrain UK, Greenlay, Stuart Canvas Products and Poweroll, proved to be a resounding success after an impressive line-up of speakers delivered insightful presentations.
It brought together a wide range of cricket groundsmen representing grass roots, schools, local clubs and international test venues. It was a great chance to meet other like-minded individuals, share and gain knowledge, learn best practises and ultimately enhance their education.
Following an introduction by Dennis and SISIS area sales manager Ewen Wilson and Durham County Cricket Club's chief executive David Hacker; Ian Powell, regional pitch advisor for the Institute of Groundsmanship (IOG), offered some very helpful tips in his 'Spring Renovation on a Budget' presentation before Vic Demain, head groundsman at Durham CCC, presented an entertaining and insightful seminar entitled 'A Groundsman's Life'. Vic detailed his journey to the top and showed that anything is possible through hard work and determination.
Vic was then joined on stage by Chris Wood, ECB pitch consultant, and Terry Charlton from Turfcare Specialists Limited, to present the 'Past, Present and Future' which focused on the development of the Emirates Riverside Stadium through a selection of great photographs.
Following a complimentary lunch, which also offered some fantastic networking opportunities, Dave Leighton, ECB club programmes manager, raised some thought provoking topics in his presentation 'Get the Game On,' – an ECB campaign designed to boost participation in the sport. The popular Barry Glynn, a former volunteer groundsman, then filled the room with laughter with his humorous and insightful views concerning the 'Frustrations of a Cricket Groundsman.'
All attendees warmed themselves with tea and coffee before making their way outside onto the Emirates Riverside Stadium's illustrious pitch where Chris Wood revealed the contents of his trusty tool-kit. Complete with practical demonstrations he then proceeded to discuss 'Pitch Rolling' and 'International Pitch Inspections,' and even spoke at length about some modern mowing techniques which could help produce and repair pitches efficiently in the coming years.
The day was brilliantly rounded-off with a question and answers session – where all delegates received the opportunity to ask the experts any questions they had.
Commenting on the successful seminar, Vic Demain said: "Having been involved with the Dennis and SISIS Cricket Groundsman Seminars since their launch in 2011, it has been fascinating to see the growth of the events, together with the interest shown by the industry."
"It was a great pleasure to see the people of the North East flock along to the Emirates Riverside – the first held in the north of the country. Hopefully they brought along open minds and went away having listened to a wide selection of speakers giving their views on cricket in general and the groundscare industry. There was also opportunity to meet and discuss needs with various suppliers covering a range of turf products."
"The beauty of many of these events is being able to share time with likeminded folk, making new contacts and discovering that no matter what level one works at, we all have the same passion. As was discussed, there is no magic formula for making cricket pitches, one has to follow long held guidelines, but also be prepared to trial different methods to find what suits each individual ground. Hopefully the interaction between presenters and delegates will have given the audience a desire to get back onto their grounds."
"Normally after a few years these sort of events tail off, but due to the diligence of Dennis and SISIS, their cricket seminars just seem to grow and grow."
Martin Stephenson from Ashbrooke Sports Club, certainly found the day worthwhile: "I came to the seminar today to learn and also to do some networking. It's been great talking to people who have encountered the same kind of problems as me and we've exchanged some ideas. I have found this seminar really helpful and it would be great to have more of these."
Rod Heyhoe, a volunteer at Lightcliffe Cricket Club, also found the day extremely beneficial: "This seminar has been full of great advice – amusing as well. I'm always learning and these kind of seminars really help me to evolve. It has also provided me with a fantastic opportunity to talk in person to some of the experts."
For further information about future seminars, please email roger.moore@dennisuk.com
For more news, reviews and insightful views, you can follow Dennis on Twitter @DennisMowers and SISIS @SISISMachinery. You can like the Facebook page – www.facebook.com/DennisMowersUK and www.facebook.com/SISISMachinery. You can also view the latest Dennis and SISIS videos by visiting www.youtube.com/DennisMowers and www.youtube.com/SISISMachinery.
https://www.fusion-media.eu/wp-content/uploads/2016/03/20160308_145654.jpg
2092
3719
chrisbassett
https://www.fusion-media.eu/wp-content/uploads/2022/02/FusionMedia_logo.png
chrisbassett
2016-03-29 13:40:53
2016-03-29 13:40:53
Dennis and SISIS Cricket Seminar Impresses at Durham CCC