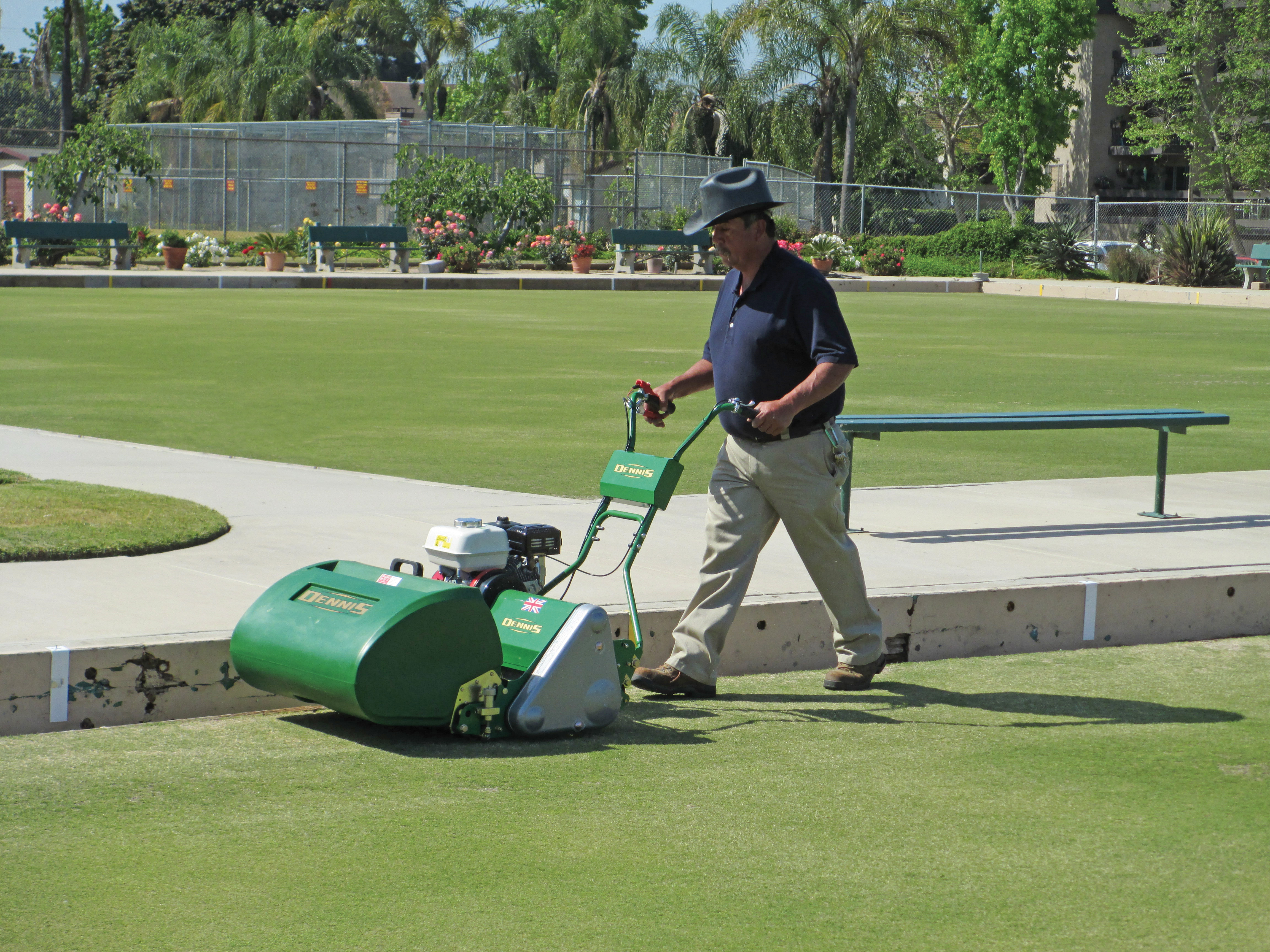 Dennis and SISIS Sponsor US Bowls Championships 2015
British manufacturers sponsor US Bowls Championships
Dennis and SISIS, along with their distributor CS Trading, were delighted to sponsor the US Bowls Championships, recently held in Long Beach, California from 20-25 October 2015.
The British manufacturers of world class turf maintenance equipment have a long history of supporting the sport of bowls and often host educational bowling green maintenance seminars. With an extensive range of equipment designed specifically for maintaining and enhancing, Dennis and SISIS products are the preferred choice for greenkeepers all over the world.
The venue where the US Bowls Championships were held – Long Beach Lawn Bowls Club, is already a proud owner of the Dennis FT610. Featuring an innovative interchangeable cassette system, the FT series is unrivalled as a mower and turf maintenance machine on all areas of fine turf. A cutting width of 24" and a range of 11 interchangeable cassettes mean that one machine can be used for several key maintenance tasks including de-thatching, verticutting or brushing.
Long Beach Lawn Bowls Club turned to Dennis and SISIS after the nearby Laguna Beach Bowls Club was full of praise for the SISIS Auto Rotorake MK5. After play was suffering from poor quality greens, Laguna Beach Bowls Club conducted extensive research to find the best machines on the market. Their search led them to the SISIS Auto Rotorake MK5 and it is easy to see why this machine is so popular.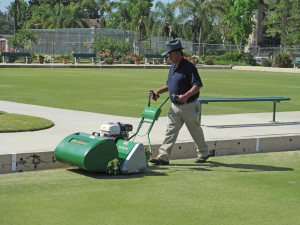 Excellent weight distribution, wide smooth tyres and full differential ensuring ease of turning with minimal surface makes the Auto Rotorake MK5 a dream to operate. It can be used regularly on fine turf – aggressively before and after the playing season and lightly throughout the growing season. A range of interchangeable reels consisting of thatch removal, thatch control and a range of brush reels for both natural and synthetic turf makes it a machine which can be used all-year-round.
Both the Dennis FT Series and the SISIS Auto Rotorake MK5 are part of an elite line-up of bowls green maintenance equipment manufactured by the two companies. In this collection SISIS boast an excellent range of independently powered pedestrian aerators which are ideal tools for outstanding turf and lawn treatment. The vertical action Dart is a hugely popular aerator as is the SISIS Supaturfman. Both have a maximum working depth of 100mm (4 inches), a wide range of interchangeable tines and are designed to be easy to handle.
Dennis is renowned for its world-class cylinder mowers and they are a very common feature at many bowls club. Take the Dennis Razor for example; superbly balanced, easy to manoeuvre and with an 11 bladed cutting cylinder an ultra-fine finish is guaranteed every time. The Razor Ultra 560 also possesses the fine qualities of the Razor, except it has the added bonus of a powerful tungsten tipped groomer, which is ideal for lateral growth control.
Last but certainly not least is the Dennis Verticut TT, which brings professional verticutting to every facility. With a 510mm (20") operating width and tungsten tipped blades, it is ideal for bowls greens. Regular use of this machine will help reduce thatch, improve the sward and encourage finer grasses to flourish and increased ball speed on all surfaces.
Both Long Beach and Laguna Bowls Clubs purchased their machines through CS Trading – the North American distributors for Dennis and SISIS who are seeing an increasing demand for their products.
The British manufacturers were already a big hit on American soil at the GIS show in San Antonio earlier this year, and their sponsorship of the US Bowls Championships is testament to their global reputation.
Peter Sinclair, former president of Long Beach Lawn Bowls Club, believes that the use of Dennis and SISIS equipment played an integral role in the success of the Championships.
"We are happy to say that we received many rave reviews about the condition of our greens. This was due to the hard work by our greens keeper and the use of our Dennis and SISIS equipment.
"When the club decided it needed new mowers I did a lot of on-line research and finally approached Dennis and SISIS. I was handed over to C.S Trading and dealt mainly with them – I was even given a list of users in the UK, many of whom I contacted before going ahead with the purchase. We are more than happy with both the equipment and the service and take every opportunity to let that be known," he said.
Further information about the range of maintenance products available can be found by visiting www.dennisuk.com / www.sisis.com.
For more news, reviews and insightful views, you can follow Dennis on Twitter @DennisMowers and SISIS @SISISMachinery. You can like the Facebook page – www.facebook.com/DennisMowersUK and www.facebook.com/SISISMachinery. You can also view the latest Dennis videos by visiting www.youtube.com/DennisMowers and www.youtube.com/SISISMachinery
https://www.fusion-media.eu/wp-content/uploads/2015/11/Dennis-at-Long-Beach.jpg
3456
4608
chrisbassett
https://www.fusion-media.eu/wp-content/uploads/2022/02/FusionMedia_logo.png
chrisbassett
2015-11-13 11:47:00
2015-11-13 12:02:36
Dennis and SISIS Sponsor US Bowls Championships 2015