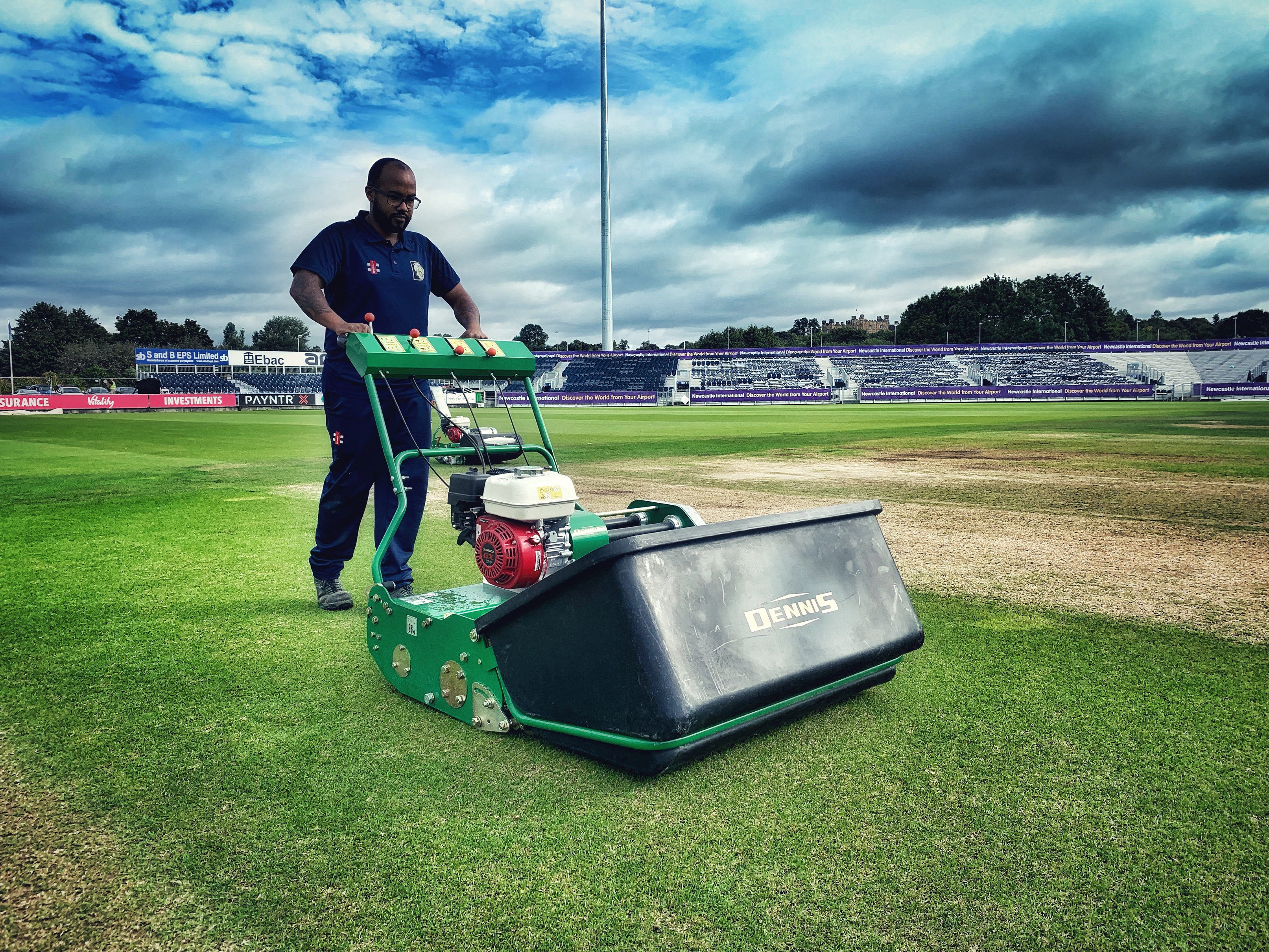 Dennis G34D picture perfect at Durham CCC
The Dennis G34D cylinder mower is helping to provide a fantastic finish on the pitch at the Emirates Riverside Stadium according to Durham CCC head groundsman Vic Demain.
This year has been particularly testing for Vic and his team especially with the pressures that come with hosting games for the Official ICC Cricket World Cup 2019. However, Vic alongside his team of four, rose to the challenge and received a number of plaudits along the way.
"We had three World Cup matches, but in addition to that we had approximately twenty days of World Cup practice sessions. At the end of the day we are competing against other international cricket venues such Lords, the Oval, Trent Bridge, Headingley and Old Trafford.
When the World Cup is on TV, viewers might see a game at Lords one day and then the next day they will watch a game here at Durham. That's a lot to live up to especially with the game being viewed by a global audience.
"The feedback we had about the pitch off the back of the World Cup was absolutely amazing and that was from people all over the world. We have to be realistic in the sense that we don't have the same kind of budget as most of the other venues, so to be able to achieve what we did with the resources that we have, really meant a lot to me."
Dennis G34D picture perfect at Durham CCC
For that all important, presentation Vic relies on the Dennis G34D which has been designed and built following the same concept as the popular Dennis G860 cylinder mower. Available in three different cutting sizes – 26", 30" and 34" – the mowers incorporate a large-diameter eight bladed cutting cylinder to cater for a wide range of uses to leave a precision cut. The handlebar design makes manoeuvring easy and the wide adjustment makes it comfortable for all cutting heights.
"The G34D is a designated mower for cutting the squares and we probably cut them anywhere between once a week and fifteen times a week – depending on what presentation we need. Obviously, the more cuts the better the definition and the better it looks on television. The G34D offers superior presentation – it's always a picture-perfect cut."
"There are other mowers on the market and we did try a variety. However, as a grounds team we talk as a collective unit when it comes to new equipment. It was a unanimous decision to go with the G34D.
"The staff at Dennis are very amenable, have fantastic industry knowledge and the spare parts are easy to get hold of. If I build up a working relationship with someone and that relationship goes well, I will tend to stick with them. I have always put my trust in Dennis."
For further information or a no obligation demonstration, please contact Dennis 01332 824 777 or visit www.dennisuk.com
https://www.fusion-media.eu/wp-content/uploads/2019/11/Dennis-G34-D-Durham.jpg
2420
3226
chrisbassett
https://www.fusion-media.eu/wp-content/uploads/2022/02/FusionMedia_logo.png
chrisbassett
2019-11-11 15:13:34
2019-11-11 15:13:34
Dennis G34D picture perfect at Durham CCC