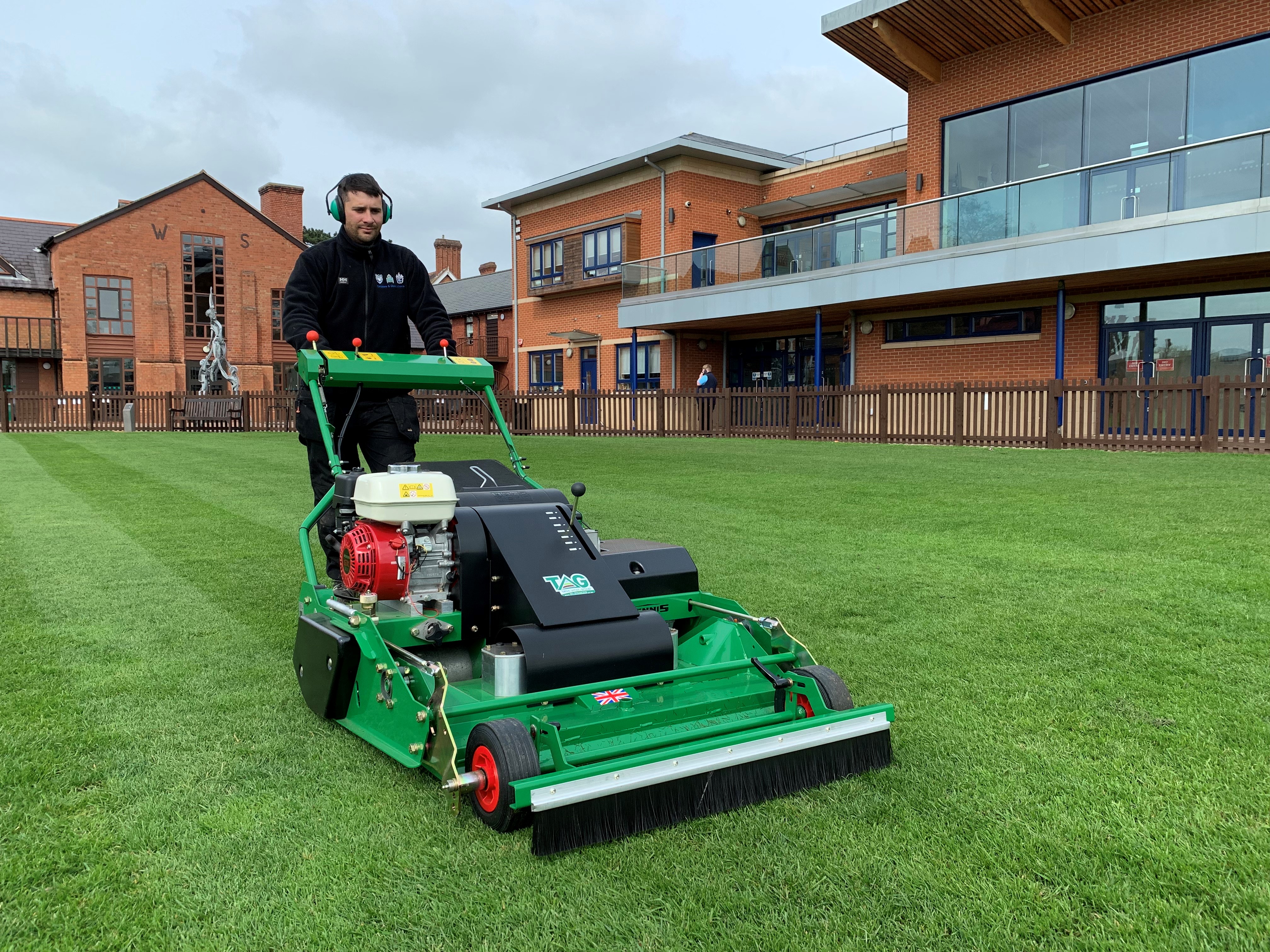 Dennis PRO 34R tops the wish-list at Warwick
Duncan Toon, Grounds Manager for Warwick Independent Schools Foundation, says that when he heard rumours about the new Dennis PRO 34R rotary mower, he added it to his wish-list straight away.
Warwick School, Warwick Junior School, King's High School and Warwick Preparatory School are justly proud of their sporting success, including national awards, and the ability to provide all its pupils the opportunity to play their chosen sport.  Essential to their achievements are high quality and well-maintained sports pitches.  Therefore, the Foundation has recently made additional investments in its grounds in a bid to ensure the very finest sporting facilities.
After joining the Foundation from Birmingham City FC nine months ago, Duncan's first port of call was to acquire a new fleet of machinery which would help him to maintain the sports surfaces to the highest standards. It was while he was researching an extensive list of equipment that he first caught wind of the news Dennis was bringing out a new product.
"I had heard rumours about this new machine which was set to be a game changer and Dennis was always on my wish-list because I know they manufacture reliable machinery. I arranged a demonstration as soon as I could and based on what I saw I knew I just had to have one. I was amazed with how well built it was – it was robust and the finish was fantastic."
As Duncan says, the rumours started to mount after the PRO 34R was first introduced to the industry at SALTEX 2017 with the sole purpose of gathering feedback from potential end users. Over the course of the next twelve months, the mower was refined and developed based on the input from the groundsmen who would eventually be using it. With no stone left unturned, the all new PRO 34R was unveiled at SALTEX 2018.
The Dennis PRO 34R is a 34" (860mm) rotary mower which has been designed to help groundsmen achieve an aesthetically pleasing appearance and desired playing surface. It is ideal for sports pitches and lawns producing the enviable 'Dennis Stripes' while a powerful vacuum flow collects debris quickly and efficiently.
The angle of the cutting deck and twin blades can be easily adjusted using a single 'click adjuster' ensuring the mower is suitable for changing conditions and meeting groundsmen's requirements.
"The best feature about the PRO 34R is the presentation and the incredibly fast clean-ups. We use it to clean the pitch up after rugby matches and also after training sessions and the brush on the front is a big bonus as it enables you to really get into the sward.
"You're achieving two key maintenance tasks with it – you are cleaning up all the debris and you are also getting that amazing finish. I'm really impressed with it.
"It is also incredibly simple to use, especially if you have previously used a Dennis G860 cylinder mower. The handlebars are similar and it is just like riding a bike – you never forget.
"In fact, I'm seriously considering ordering more because of the speed of the clean-ups. We just haven't got the staffing levels to use our other rotary mowers but because the PRO 34R's are so much bigger, it would enable us to get the task done in no time at all."
Based on the success of his PRO 34R, Duncan did indeed order more and is now the proud owner of four Dennis PRO 34R rotary mowers.
For further information or a no obligation demonstration, please contact Dennis 01332 824 777 or visit www.dennisuk.com
https://www.fusion-media.eu/wp-content/uploads/2019/07/Warwick-School-5.jpg
3024
4032
chrisbassett
https://www.fusion-media.eu/wp-content/uploads/2022/02/FusionMedia_logo.png
chrisbassett
2019-07-10 09:43:30
2019-07-10 09:43:47
Dennis PRO 34R tops the wish-list at Warwick