Dennis PRO 34R's are 'supreme' at BT Murrayfield
A trio of Dennis PRO 34R rotary mowers have impressed Jim Dawson, Scottish Rugby's Head Groundsman at BT Murrayfield, with him labelling them "supreme machines".
Having been a greenkeeper and a groundsman, the well-respected Jim Dawson has worked in the turf industry throughout his whole career picking up several prestigious awards and accolades along the way. After leaving his last position at Falkirk FC he has nurtured the pitch at Scotland's largest stadium for just over a decade.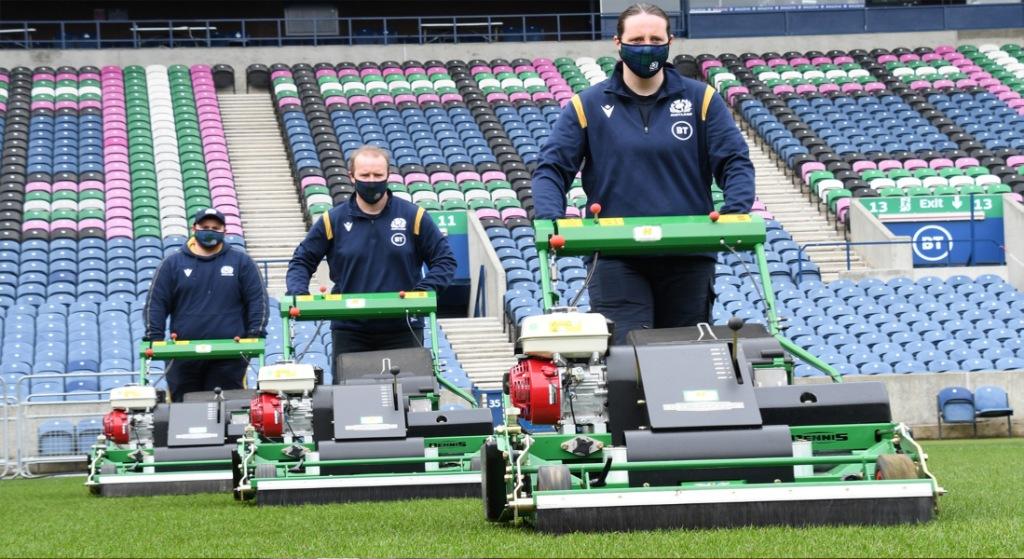 Throughout his career, Jim has always been familiar with the Dennis brand.
"When I first think of Dennis I think of very sound and robust machines," he said. "They are very trustworthy, reliable and the construction of them is first class whether it be one of their cylinder or rotary mowers."
Jim has been a long-term admirer of the Dennis G860 cylinder mower claiming it was a 'game-changer' when it was first launched. Therefore, he welcomed the news of Dennis manufacturing a 34-inch rotary mower.
"Dennis made sure they got the right machine in terms of quality, usability and for the overall customer experience. It was key for them, and it absolutely worked.

"We got a demo of the mower and we thought it was out of this world. I put it to the board to request three PRO 34R's and they supported my decision."
The Dennis PRO 34R is a 34-inch (860mm) rotary mower which has been designed to help groundsmen achieve an aesthetically pleasing appearance and desired playing surface. It is ideal for sports pitches and lawns producing the enviable 'Dennis Stripes' while a powerful vacuum flow collects debris quickly and efficiently.
Many operators of the PRO 34R have praised the size and speed of the machines, claiming that they save a huge amount of time and resources. Jim and his team at BT Murrayfield are no exception.
"We used to have four 24-inch rotary mowers and it took four members of staff approximately three hours to do the pitch, but now we can go over the whole pitch with three PRO 34R's in about 1 hour and 20 mins.
"They are brilliant at cleaning up after any game or event we have on the pitch, and we use them on our back pitches to thin them out as well. The good thing about the PRO 34R is that you can go as slow as you want with maximum uplift, which is beneficial especially in winter or when the grass is damp. When the dry weather arrives, we'll increase the speed to level 2 or 3. They are supreme machines."
Jim was also quick to acknowledge the support he has received over the years from Ewen Wilson, Area Sales Manager for Dennis and SISIS.
"I've known Ewen ever since I was working at Falkirk," he said. "He's happy to help and is great for technical information. He always takes the time to talk you through how the machines work.

"Once you've used a Dennis machine, they are very hard to go away from."
For further information or a no obligation demonstration, please contact Dennis 01332 824 777 or visit www.dennisuk.com
https://www.fusion-media.eu/wp-content/uploads/2022/08/Murrayfield-Dennis-PRO-34R-Social.jpg
559
1024
chrisbassett
https://www.fusion-media.eu/wp-content/uploads/2022/02/FusionMedia_logo.png
chrisbassett
2022-08-18 14:27:32
2022-08-18 14:28:11
Dennis PRO 34R's are 'supreme' at BT Murrayfield