Dennis – The Jewel on the Crown At The Waterloo
The British Crown Green Bowling Association's (BCGBA) Champion of Champion's event, held at Waterloo Hotel, Blackpool last month, had a playing surface fit for the country's best players thanks to the help of a Dennis FT510 mower and range of interchangeable cassettes.
The event brings together thirty-two of the major event winners from all over the country – each vying to become the champion of champions. Therefore it is imperative the playing surface is in pristine condition; something which unfortunately hasn't always been the case in previous years.
"One of the biggest problems we had here was thatch and compaction. The Dennis FT510 mower really has improved the green. I've been speaking to some of the top players here today, and they've all said they have never played on the green when it's been running as well as it has today. It's actually caught a few of the players out because it's playing so well!" said Mel Evans MBE, organiser of the event.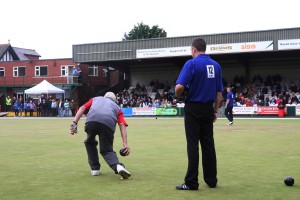 With an innovative interchangeable cassette system, the 510mm (20") cylinder mower is proving to be the top choice for venues requiring more than just a mower. A range of 11 interchangeable cassettes means that one machine can be used for several key maintenance tasks including scarifying, verticutting or brushing; something which Mark Audin, bowls manager at the Waterloo hotel, particularly likes.
"What I like most about the Dennis FT510 is how easy it is to change the cassettes over; it's literally a thirty second job. Prior to the FT510, we used to have a mower which used to take up to 5 or 10 minutes to change just the cutting cylinder, so it's the machine's ease of use and the quality of cut that I like most," he said.
Mark uses the Dennis FT510 along with four cassettes; a ten-bladed cutting cylinder, sorrel roller, scarifier and verti-cutter; which Mark says has been "an absolute God-send." Responsible for looking after the playing green and the various surroundings at the Waterloo Hotel, the introduction of the FT510 has certainly made his life that much easier. Mark is also pleased with the feedback he has received.
"All of the comments from the bowlers have been absolutely brilliant; there have been no negatives from anyone. The green has improved no end from last year and it's all down to this machine.
"In my opinion, Dennis is the best in the market and I would advise anyone involved at a bowling club to get this machine."
Dennis and SISIS are proud supporters of The British Crown Green Championship which is the flagship event for British Crown green bowling.
For further information or a no obligation demonstration, please contact Dennis 01332 824 777 or visit www.dennisuk.com
For more news, reviews and insightful views, you can follow Dennis on Twitter @DennisMowers and like the company's Facebook page – www.facebook.com/DennisMowersUK.You can also view the latest Dennis videos by visiting www.youtube.com/DennisMowers
https://www.fusion-media.eu/wp-content/uploads/2014/11/IMG_7654.jpg
2592
3888
chrisbassett
https://www.fusion-media.eu/wp-content/uploads/2022/02/FusionMedia_logo.png
chrisbassett
2014-11-03 11:34:44
2014-11-03 11:34:44
Dennis – The Jewel on the Crown At The Waterloo