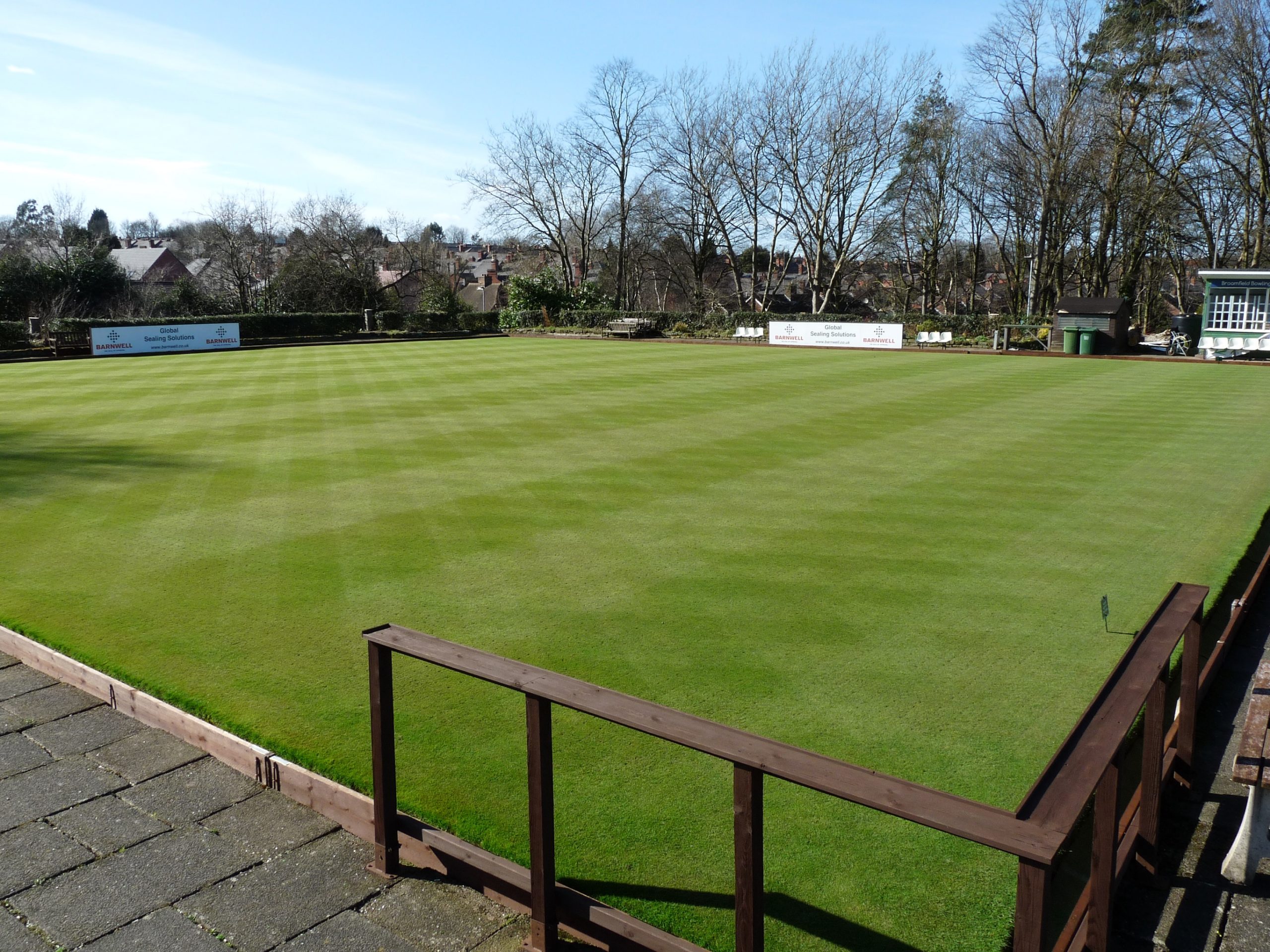 Drive, determination and MM seed
The secret behind one of the best greens in the Midlands
Broomfield Bowls Club is considered to have one of the best surfaces, if not the best in the Midlands. The immaculate green is thanks to the drive and determination of a volunteer greenkeeper and a little help from Limagrain UK's MM range of grass seed.
Jonathan Blakeman has a long affinity with his beloved bowls club dating back to when father Steve joined in 1985. Steve tended the green at Smethwick Cricket Club between 1988 and 2006 with Jonathan taking the reigns during the 2008 season, he then proceeded to continue to maintain the green to the high standards that the club had come to expect.
Two years later and the club was forced to start looking for a new home. After a lengthy search they eventually moved to the nearby Mitchells & Butlers Bowling Club, Portland Road – who were more than happy to accept their neighbours. The former Cape Hill Brewery Sports Ground was opened in August 1930 and once boasted three crown green bowling greens. Broomfield was given its own green for its members but unfortunately it was not exactly at the standards they were used to.
"I think it is fair to say that the green we were given had fallen into disrepair," said Jonathan. "The members of the club had tried their best to maintain it but unfortunately it needed a lot of work."
Jonathan, who was also working full-time, came up with a plan. Armed with the knowledge passed onto him by dad Steve, Jonathan began working round the clock to transform the green.
Ten years later and the green is regarded as one of the best with many players praising its immaculate surface. It's no surprise to see why the green is so widely lauded when you consider how much time Jonathan puts into maintaining it.
"In the growing season it is cut four times a week and we do verticutting once a month depending on conditions. Then there are the usual treatments and taking the dew off in the mornings.
"Rather than leaving work and doing a hobby somewhere else my interest just happens to be looking after the green for Broomfield."
Ever the perfectionist, Jonathan decided to start looking for a grass seed which would help the green stand up to such heavy usage, and that was when he first became acquainted with Limagrain UK.
"At Broomfield we have eight league teams so that amounts to about 80 or 90 visiting clubs and that's just competitive use. On top of that, we have internal competitions and players practicing or playing socially. It's safe to say that the green has a lot of use between April and September.
"Historically I had always used another brand, but I eventually started looking elsewhere. I knew Mark Allen from Agrovista Amenity and he highly recommended the seed mixtures from Limagrain. That was five years ago, and I have been using the MM range ever since."
Jonathan relies on both the MM10 and the MM11 mixtures – both of which are traditional 80:20 Fescue and Bent mixtures ideal for overseeding, renovation and construction. The cultivars used in these mixtures have low nutrient and irrigation requirements but still produce a fine, dense sward which creates a superior playing surface. The mixtures are tolerant of close mowing and have excellent disease resistance. Good tolerance to wear makes both MM10 and MM11 suitable for use in high traffic areas.
Although similar mixtures, a variance in the formulation brings out the best in Broomfield's green according to Jonathan.
"We are always trying to introduce different cultivars and finer species into the surface and the reason for rotating between MM10 and MM11 is because each mixture has a different make-up of cultivars. I just think that the more you have in your surface, the more resilient it can be against the challenges of disease, wear, and drought tolerance. They also produce a fantastic colour all year round.
"One application of either the MM10 or MM11 is all we need and that sees us through the season. We tend to overseed with the mixtures after end of season renovations which are normally within the first ten to fourteen days in October. We've got a routine which has worked incredibly well. Firstly, we will scarify heavily and then we overseed with MM10 or MM11. Finally, we top dress and then we don't have to use any more seed throughout the season because we maintain a good coverage."
Given the level of commitment and technical excellence Jonathan has demonstrated over the past twelve years, it is obvious that he needs little guidance. However, he was still keen to praise the service and support provided by both Agrovista Amenity and Limagrain UK.
"Their collaboration makes for a great team," he said. "I frequently see Mark from Agrovista Amenity and then twice a year both him and Matt Gresty from Limagrain will visit me at Broomfield. They will look closely at how the greens are performing and will always offer sound advice. It's great customer service and I always receive my delivery quickly and efficiently.
 "I would absolutely recommend MM10 and MM11 to other crown green bowling clubs – because they really can make a difference."
For further information, please contact Limagrain UK on 01472 371471 or visit the company's website www.lgseeds.co.uk/mm
https://www.fusion-media.eu/wp-content/uploads/2020/05/P1080144-scaled.jpg
1920
2560
chrisbassett
https://www.fusion-media.eu/wp-content/uploads/2022/02/FusionMedia_logo.png
chrisbassett
2020-05-22 14:38:29
2020-05-22 14:38:29
Drive, determination and MM seed