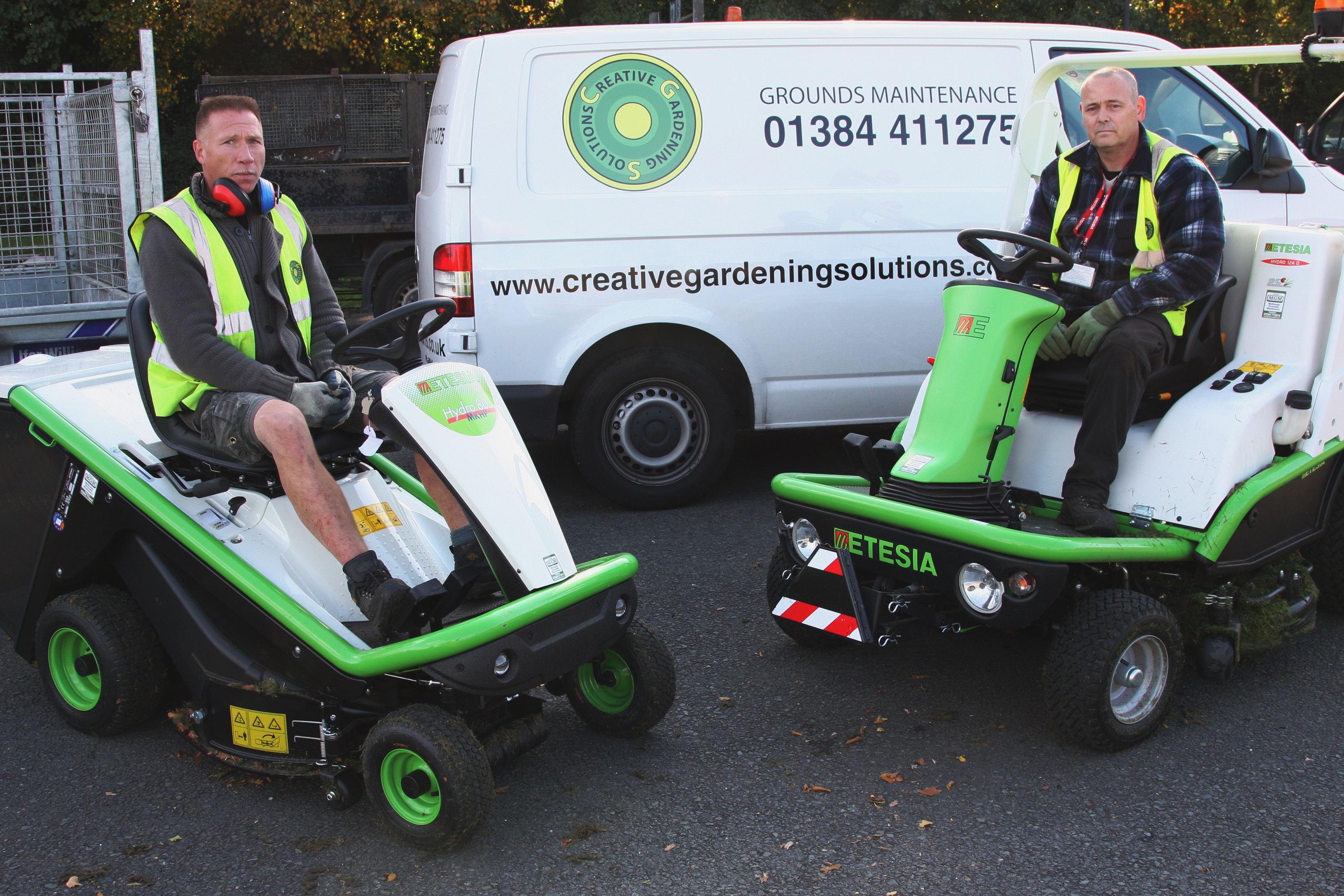 Etesia ensures quality for Creative Gardening Solutions
Creative Gardening Solutions, based in the West Midlands, is the proud new owner of two new Etesia ride-on mowers and directors Andrew Rossiter and Matthew Tromans couldn't be happier.
Great things are happening at Creative Gardening Solutions in Dudley, West Midlands. The family run business, which specialises in domestic and commercial grounds maintenance, has gone from strength to strength since father and son, Matthew and Chris Tromans, decided to create a grounds maintenance company with a difference.
The company now has a dedicated arboriculture team, a landscape team, a number of qualified horticulturists and a fully trained grounds maintenance team. One of their business objectives is to continue a local recruitment drive and over the last two years they have created an impressive sixteen new jobs. The company continues to expand and win new contracts and Matthew commented on the key ingredients behind the company's rapid growth.
"All of our business has been achieved through word of mouth. It's been based on the work that we have done on other sites, and the fact that we want our sites to be the best that they can possibly be. In order to do that; we need to ensure that we have the best possible team and equipment in place.
"Every penny has been re-invested in staff training and machinery and because we have such high standards we insist on using only the best products – that's why we came to Etesia."
Creative Gardening Solutions had its first taste of Etesia a few years ago when they purchased an Etesia Hydro 80 MKHP ride-on mower. From day one, Andrew – Matthew's brother in-law, knew that they were working with something special.
"We were starting to win more sites and contracts so we decided that we needed to speed things up a little bit. The Hydro 80 was perfect – it wasn't too big, it could fit through small gates, it was quick and it could collect just as well as any pedestrian mower – better in some cases. Quite simply, it was out performing everything else that we had which included machines from some very well-known brands."
So when the time came for Creative Gardening Solutions to further enhance its equipment, Matthew had a pretty good idea of which company to turn to. Nonetheless, ever the perfectionist, Matthew wasn't going to rush into a quick-fire decision – he needed to ensure that the new machine would live up to the exceptionally high standards of the company.
"I tested a whole host of machines which included pretty much every premium ride-on mower in the marketplace. I was willing to spend a large amount of money but it wasn't about the money – it was about the quality of cut. So I contacted Etesia and they came to give me a demonstration. In fact, I had tried another mower the day before the demonstration and I thought my mind was made up. I knew that the Hydro 124 DN would have to be at least twice as good for me to go for it.
"I trialled it and it was absolutely brilliant. I tried to break it and I tried to clog it – I've been doing this for a long time now and I know how to clog a mower but I just couldn't do it. I knew that this was one hell of a machine and that we just had to have one. I took the demo mower there and then and I even purchased another Hydro 80 machine as well."
The Etesia Hydro 124 DN is the first mower that combines direct rear-ejection, integrated collection and high-lift emptying. Designed to mow up to 19,000 square metres per hour with a grass box capacity of 600 litres, the Hydro 124 DN is one of the most highly efficient machines on the market.
The Hydro 124 DN's best feature according to Andrew "is that you don't have to get off it and that is all any company can want from their operators. That is how you hit your top speeds and how you hit your cutting times. Our other machines were just too slow – we had to keep getting off to unblock and change blades but everything is just so smooth with the Hydro 124. In my mind – this is money very well spent," he said.
So as Creative Gardening Solutions continues to spread its wings throughout the West Midlands, Worcestershire and Gloucestershire, it also takes another step towards achieving Matthew's goal of taking the company nationwide. It appears that everything is already taking shape; a new branch is due to be opened in Stafford, a highly experienced chairman has just come on board and one thing is for certain – the company will continue to use only the finest equipment.
"I'm more than happy to move everything to Etesia if they keep cutting like this. As we continue to expand we need to always ensure that we keep the quality up – it's as simple as that. We need the best machinery that does the job as quickly as possible and to the best possible standard. That is why we bought Etesia and why we will continue to do so," said Matthew.
For further information, please contact Etesia UK on 01295 680120 or visit www.etesia.co.uk
For more news, reviews and insightful views, you can follow Etesia UK on Twitter @EtesiaUK and like the company's Facebook page – www.facebook.com/EtesiaUK. You can also view the latest Etesia videos by visiting www.youtube.com/EtesiaUK.
https://www.fusion-media.eu/wp-content/uploads/2016/04/IMG_0851.jpg
2074
3111
chrisbassett
https://www.fusion-media.eu/wp-content/uploads/2022/02/FusionMedia_logo.png
chrisbassett
2016-04-26 10:58:17
2016-09-13 17:42:22
Etesia ensures quality for Creative Gardening Solutions