Everris Play Starring Role in Development of 'Special' Golf Course
Course Manager praises Everris products
Horsham Golf and Fitness is already the proud owner of two magnificent golf courses but it appears that they are saving the best for last. The 'Oaks' – a stunning 18-hole course, is set for its grand opening in spring 2016 and it has already reaped the rewards by choosing to work with Everris – part of the ICL Group, and distributor Avoncrop Amenity Products Limited.
Set in the beautiful West Sussex countryside and nestled in the picturesque setting of Denne Hill, the 'Oaks' Golf Course is nearing completion. In fact, members – both new and old are already receiving a taste of what is to come by sampling the first nine holes. No expense has been spared in creating the 'Oaks' and expectations are high according to course manager Dan O'Rourke.
"This will be one of the best golf courses around and it will accommodate everybody from the beginner to established players. We really have gone for it and no corner has been cut. The greens have all been constructed according to USGA (United States Golf Association) specification, as have the tees and our fairways and approaches are features within themselves. The construction team Contour Golf, have a huge background in drainage and are one of the best in the industry."
"You've got to build something different – something special. I've worked and played at a lot of different golf clubs and this will definitely be up there among the best."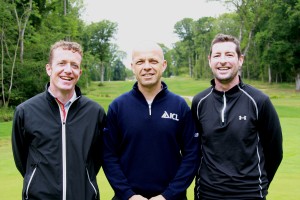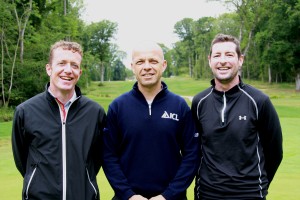 Dan, who is somewhat of a golf course connoisseur having been a pro golfer and represented Sussex at all levels from junior to senior, currently looks after Horne Park and Foxbridge Golf Club and is playing an integral part in the development of the 'Oaks'. After gaining the necessary qualifications in sports turf management, Dan rose swiftly through the ranks and joined Horsham Golf and Fitness as the Course Manager.
Having been involved in the 'Oaks' project from day one, Dan encountered a few obstacles to begin with and it is for this reason that he turned to Everris products.
"We actually didn't start on the 'Oaks' with Everris. We were using different products and unfortunately the products simply were not doing what we wanted them to do. So I sat down with Andrew Wood from Avoncrop, the Everris distributor for our area, and we had conversations about what I wanted from a product, what I wanted going forward into the season, and he recommended Everris."
"I started with the controlled release fertilizer SierrablenPlus Stress Control, which was used on the fairways, outfields and rough, and it was absolutely fantastic. We then moved onto our greens, approaches and tees, where we used SierraformGT and again it was great. It's easy for me to say this, but quite honestly they are better than I expected," he said.
With a number of woodland holes on the course where growth is hard to come by, Dan and Andrew decided on using a combination of Primo Maxx, the growth regulator manufactured by Syngenta and SierrablenPlus in order to achieve more of a dense sward. Based on its success, the two of them again turned to the combination following a series of torrid weather conditions after the first nine holes were opened last year.
"We opened the first nine holes in November and pre-Christmas the weather was torrid. It was very wet and because it was newly established it struggled a little bit. We had some scarring because of new growth, and we wanted to fill those areas in as quickly as possible. So coming into spring we needed to get it manageable, from both a maintenance point of view and also from a golfing point of view. We applied the SierrablenPlus / Primo Maxx combination and it has worked wonders. We were looking at it and thinking that it was going to take a very long time but we put them down at the back end of March and within six weeks we were up and running."
As well as Primo Maxx and SierrablenPlus, Dan relies on Heritage Maxx which is a long lasting fungicide with quick and efficient root uptake. To enhance the turf's health and colour he also uses STEP Hi-Mag fertilizer, which contains all the micro nutrients required for healthy greens, tees and fairways.
Dan is starting to see the benefits of his and the team's hard work now and as a man who is not easily swayed, he believes he has certainly made the right decision in choosing Everris products.
"When you speak to people and they say this and that about products, I'm always slightly pessimistic. At the end of the day you want to trial it and find out for yourself – which I have done now. I'm not going to lie – the Everris products have been fantastic. They have done exactly what we wanted them to do and I can't ask for anything else from the products that I've bought," he said.
For further information, please contact Everris on 01473 237100 or visit www.icl-sf.co.uk
For more news and insightful views, you can follow Everris on Twitter @ICL_Turf
https://www.fusion-media.eu/wp-content/uploads/2015/11/Everris-at-Horsham-Golf-Course.jpg
2592
3888
chrisbassett
https://www.fusion-media.eu/wp-content/uploads/2022/02/FusionMedia_logo.png
chrisbassett
2015-11-11 09:49:37
2015-11-11 09:49:37
Everris Play Starring Role in Development of 'Special' Golf Course