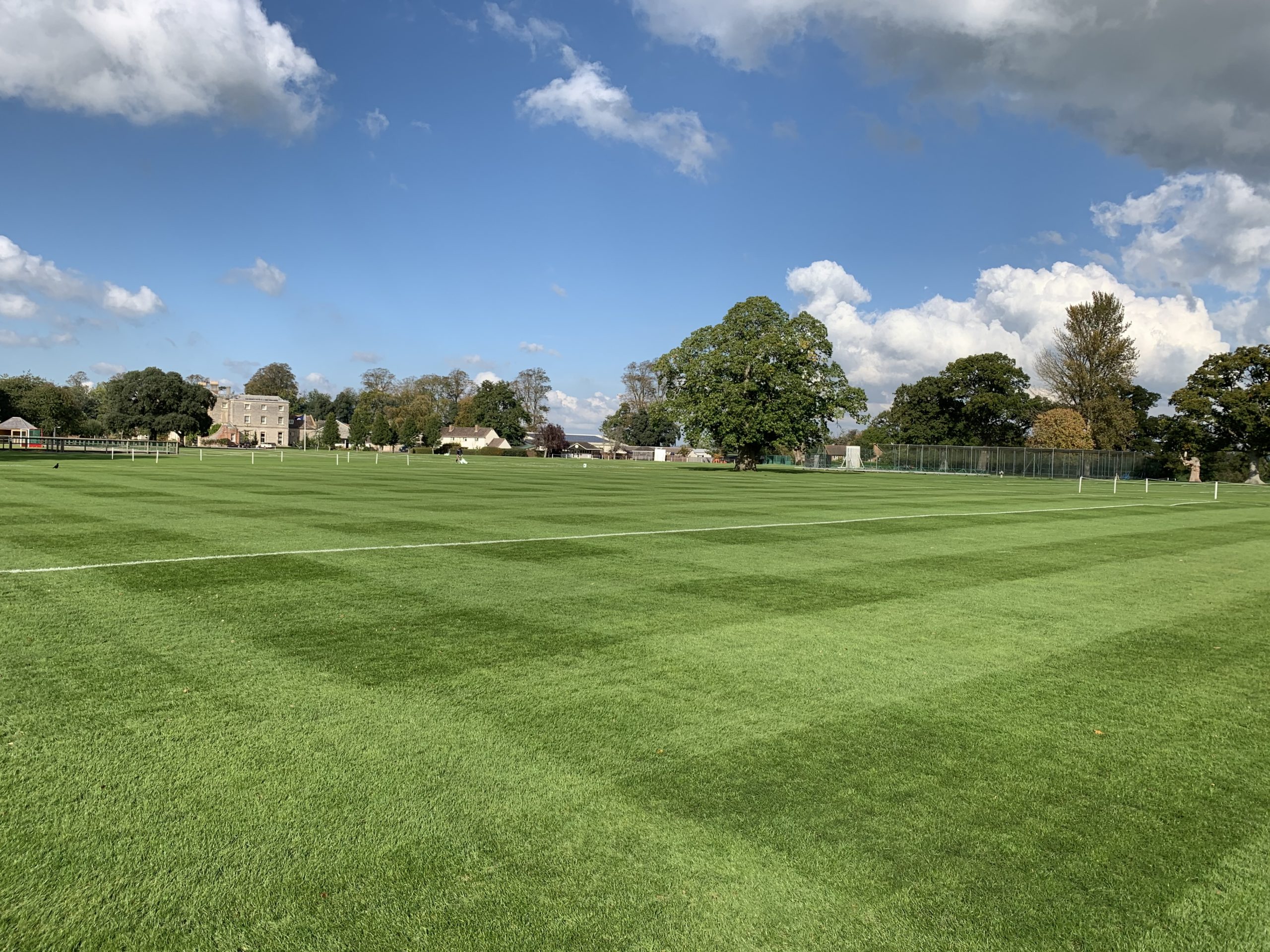 Evolution is the solution at Hazlegrove Preparatory School
Graham Kitley, head of grounds at Hazlegrove Preparatory School in Somerset, needed a premium controlled release fertiliser with no excessive flushes of growth. He found exactly what he was looking for in Agrovista Amenity's Evolution Controlled Fine 25-5-10.
The vastly experienced Graham, along with two other members of staff, tends to approximately twenty-two acres of gardens and grounds at the prestigious Hazlegrove Preparatory School. This includes the maintenance of a six-hole golf course, a putting green, four cricket squares, two synthetic turf pitches, cricket nets and five rugby pitches.

Sport is an integral part of the experience at Hazlegrove and Graham, quite rightly, takes great pride in his work. "I insist on preparing every pitch to a standard that I would like to and expect to play on myself," he says

.

Graham demands the best out of his products and equipment, and therefore, when he felt he wasn't getting the desired results out of a particular product he knew it was time to look elsewhere.
"I was previously using another fertiliser on our rugby pitches, but I was finding that it was giving me a really bad flush of early growth and I couldn't keep up with cutting them – it got out of control. I then tried out another couple of different products and none of them really worked for me. It was as this point that I consulted with David Bevan from Agrovista Amenity." 
After David visited Graham and assessed the situation and the pitches, he recommended Agrovista Amenity's Evolution Controlled Fine 25-5-10 (3-4 months).
Evolution Controlled is a fertiliser range consisting of nutrients packaged in a coated granule that are released over an extended period of time. Longevity is determined by the thickness of the granule coating and by soil temperature. High temperatures accelerate nutrient release, while lower temperatures reduce the process. Evolution Controlled products are therefore very effective in supplying nutrients to the grass relative to current growth requirements.
The Evolution Controlled Fine analysis provides a triple action nitrogen source to promote growth in a range of conditions and the immediate availability of nitrate ensures a rapid response. Polymer coated urea controls further release and ensures the grass continues to receive nitrogen over an extended period, which is exactly what Graham was looking for.
Furthermore, the product boasts significant calcium and magnesium content to support turf health and colour.
Graham took David's advice on-board and he first applied Evolution Controlled Fine to two of the five rugby pitches. However, he admitted to keeping his options open and wanted to make sure he had the right product before applying it to all five.
"First, we applied Evolution Controlled Fine to two of our rugby pitches in August, but it wasn't until a bit later that we carried it over to the other three," he said. "The reason for doing so was because I was conducting a trial with a competitor product. I quickly found that it didn't work as well as Evolution Controlled. Based on the results, Evolution Controlled is now on all five rugby pitches.
"I cannot fault it at all," continued Graham. "It has nearly been four months and I still have good colour, plenty of growth and the turf is really healthy. It just continues to tick along nicely and most importantly it hasn't given me that excessive growth. It is also cheaper than the previous product I was using, which is also another huge bonus.
"It has done exactly what David said it would do. The all-round customer service from Agrovista Amenity has been fantastic throughout the process. What I particularly like about David is that I get the impression he is not just trying to sell me the most expensive products – he genuinely has an interest in your grounds and he works hard to identify the products that will benefit you the most."
For more information about Agrovista Amenity, visit www.agrovista.co.uk/amenity
https://www.fusion-media.eu/wp-content/uploads/2021/02/IMG_0359-scaled.jpg
1920
2560
chrisbassett
https://www.fusion-media.eu/wp-content/uploads/2022/02/FusionMedia_logo.png
chrisbassett
2021-02-12 10:37:36
2021-02-12 10:37:36
Evolution is the solution at Hazlegrove Preparatory School