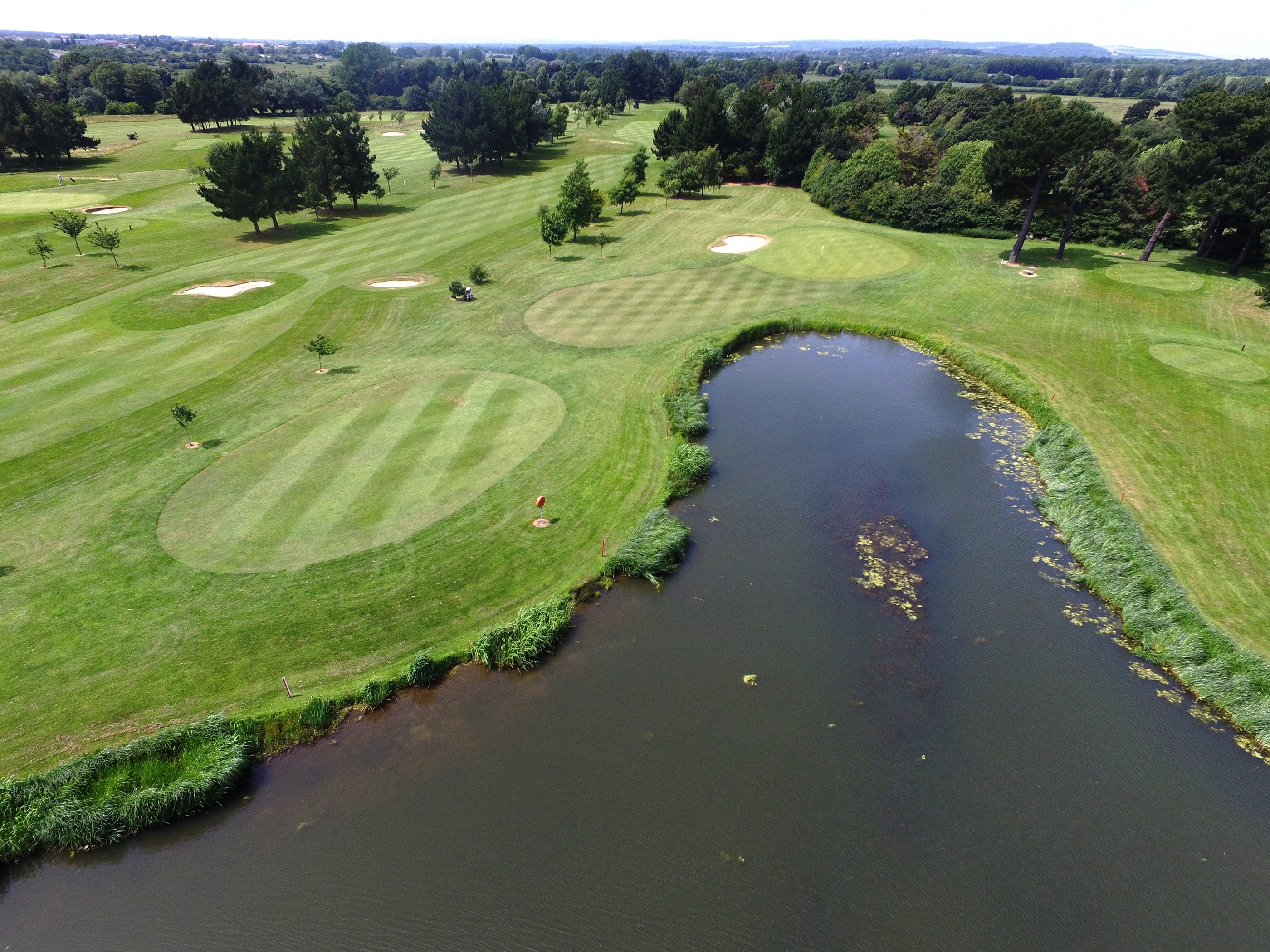 Flexible GoGreen gets instant results at Rustington
Flexible GoGreen gets instant results at Rustington. According to Head Greenkeeper Rob Hill the unique nine-hole course at Rustington Golf Centre in West Sussex is looking the best it has ever been thanks to Sherriff Amenity's GoGreen Select.
Rustington Golf Centre was opened in 1992 and offers a number of unique facilities for golfers of all abilities. It boasts a driving range, a putting green, a par 3 academy course and a nine-hole, 18-tee par 70 course.
Rob, who has been in the greenkeeping industry throughout his whole career, has been the Head Greenkeeper for just over two years. His team consists of four greenkeepers, including himself, as well as a horticulturalist.
"There is a common misconception that we have quite a large team for a nine-hole course," says Rob. "However, it is actually very challenging because there are 18 tees and effectively people are playing the course twice which means we have a lot of wear – it is double the traffic of a normal 9-hole golf course. We also have a hectares worth of greens and land wise we look after a 4 acre garden which belongs to the owner.
"We tend to every facility here and I feel we have to be slightly more intense with our maintenance procedures."
To maintain the impressive course and teaching facilities at Rustington Golf Centre, Rob chooses to use a variety of Sherriff Amenity products which includes the GoGreen range. Throughout his career Rob has seen impressive results from the long-lasting iron granules (GoGreen Granules) and in liquid form (GoGreen Plus), as well as GoGreen Energy – a concentrated bio-stimulant, formulated to assist plant health and relieve stress symptoms. It was the performance of these products which led to him using GoGreen Select.
"With GoGreen Select you apply it out and an hour later you see a dramatic change in colour – it provides an instant green-up. In fact, I bought one drum and before I had even finished it I was on the phone ordering another one – it is that good."
GoGreen Select is a unique complex iron sulphate that may be used as a stand-alone product for rapid greening of turf or more flexibly, as a tank-mix partner with fertiliser and herbicide. Unlike ferrous sulphate and chelated iron, that can react forming precipitate and rendering the spray solution unusable, GoGreen Select is stable and provides a range of spraying options not normally associated with the use of iron.
"It works incredibly well as a tank mix partner," says Rob. "Initially, I used it at the start of May on my fairways which was mixed in with a three-way selective herbicide mix and Evolution Xtra 46.0.0 Soluble. The results were brilliant and it was a great boost to start the season – not only did it get rid of the weeds thanks to the herbicides, but it gave us really good colour and presentation.
"It is such a versatile product and I have started mixing GoGreen Select with Primo Maxx II on my tees and approaches as well. The course presentation is arguably the best it has ever been and that is based on feedback from the golfers as well."
GoGreen Select was recommended to Rob by Joseph Dormer, Amenity Specialist for Sherriff Amenity, and Rob was quick to praise the support he receives.
"Joseph offers fantastic knowledge and will always give me that little bit extra advice when I need it. Quite regularly we will go for a walk around the course, look at anything the turf might require and talk through what improvements we could make."
For further information, please contact Sherriff Amenity on 01638 721 888 or visit www.sherriffamenity.com
https://www.fusion-media.eu/wp-content/uploads/2018/08/DJI_0003.jpg
2100
2800
chrisbassett
https://www.fusion-media.eu/wp-content/uploads/2022/02/FusionMedia_logo.png
chrisbassett
2018-08-01 15:36:11
2018-08-01 15:36:11
Flexible GoGreen gets instant results at Rustington