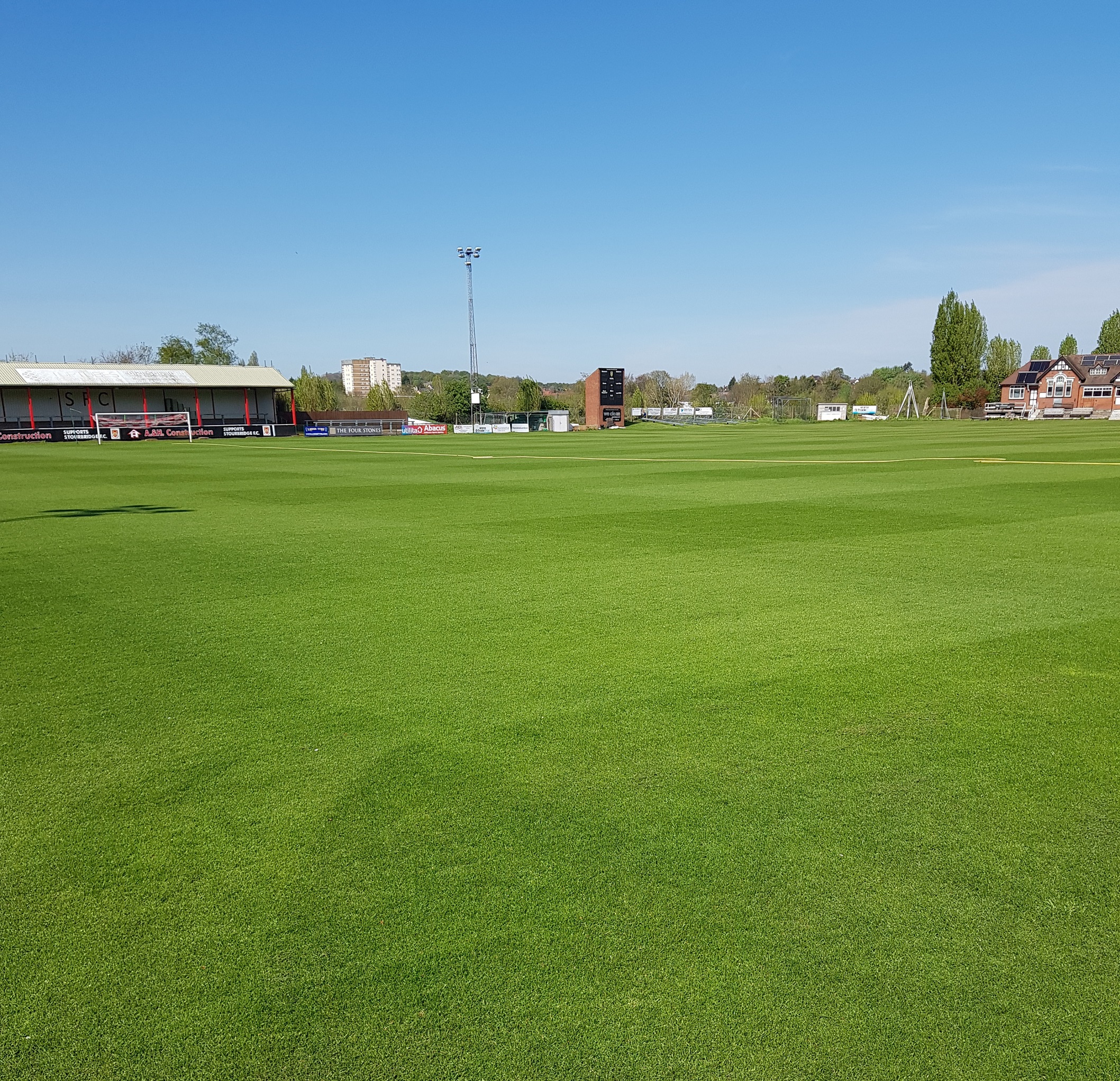 Glassboys raise a toast to MM60
Volunteers are the lifeblood of grassroots football and you would be hard pressed to find anyone as dedicated to the cause than Ian Pilkington.
In fact, he spends most of his free time tending to the pitch at Stourbridge FC's War Memorial Ground, which he says has been hugely benefited by Limagrain's MM60 grass seed.
Stourbridge through and through, Ian's involvement with his beloved club, who are also known as the Glassboys, goes back a long way. When he attended his first game as a seven-year old boy, little did he know that one day he would become a director and a groundsman.
"My dad started taking me to watch the matches at Stourbridge when I seven years old and I've followed them ever since," said Ian. "After the club got relegated in the year 2000 a number of us were invited to run the committee and then we evolved into a limited company and became directors.
"I started helping to run the club in a number of areas and was lending a hand to the groundsman. Unfortunately, he suffered an injury and there was no one to do the work, so I thought I'd better have a go myself."
That was 16 years ago, and Ian has tended to the pitch ever since. Without fail, he is at the ground every Sunday morning and every spare moment he has during the week, preparing, repairing, and treating every inch of the pitch to keep it in superb condition.
"I'm a keen amateur," he says. "I've found that you never stop gaining knowledge in the groundcare industry. There are always people that I can ask for help and advice and that is how I have managed to do this job for so long.
"To be honest, I could probably do with retiring, but I enjoy spending time at the club. I love being outside and working on the pitch. However, I have found that you can never do enough in this game, and I am always thinking about what else I can do to improve the pitch."
Ian claims that he saw a remarkable development in the pitch ever since he started using Limagrain's MM60 grass seed ten years ago after it was recommended to him by trusted supplier Agrovista Amenity.
Limagrain's MM60 grass seed is renowned for producing an excellent playing surface. It is a 100% Ryegrass formula which is perfect for renovation and divot repair, has a high disease resistance, fantastic aesthetic qualities and offers extremely fast germination – which is boosted by the inclusion of Headstart GOLD®.
"We use MM60 for our renovation at the start of May. We share the ground with a cricket club so as soon as we finish the football season there is change over to cricket. Therefore, we need something which is very quick in establishment and we've found that the MM60 is ideal for that – it gives us great coverage."
"I also tend to overseed in autumn – so I will use the MM60 on areas which need a bit of a boost, or where the fox has been or where the birds have been pecking at the surface.
"The colour is also very strong throughout the year – it's always a vibrant green and is healthy."
MM60 also includes Limagrain's Ryegrass cultivar Annecy which has outstanding disease resistance particularly against Leaf Spot. The mixture's high disease resistance coupled with its hard-wearing sward makes MM60 a seed that Ian can rely on.
"We never suffer from any disease here and I've found that the MM60 provides great recovery – even in bad weather conditions. Ultimately, we have consistently good results year in year out.
"I've been working with Mark Allen from Agrovista Amenity for more than 10 years and have been using the MM60 throughout that whole time. It's been a fruitful partnership, which combined with use of the Limagrain seed, only benefits the club and will continue to so in the future."
For further information, please contact Limagrain UK on 01472 371471 or visit the company's website www.lgseeds.co.uk/mm
https://www.fusion-media.eu/wp-content/uploads/2020/04/20200419_105946.jpg
2044
2117
chrisbassett
https://www.fusion-media.eu/wp-content/uploads/2022/02/FusionMedia_logo.png
chrisbassett
2020-04-24 09:01:11
2020-04-24 09:08:04
Glassboys raise a toast to MM60