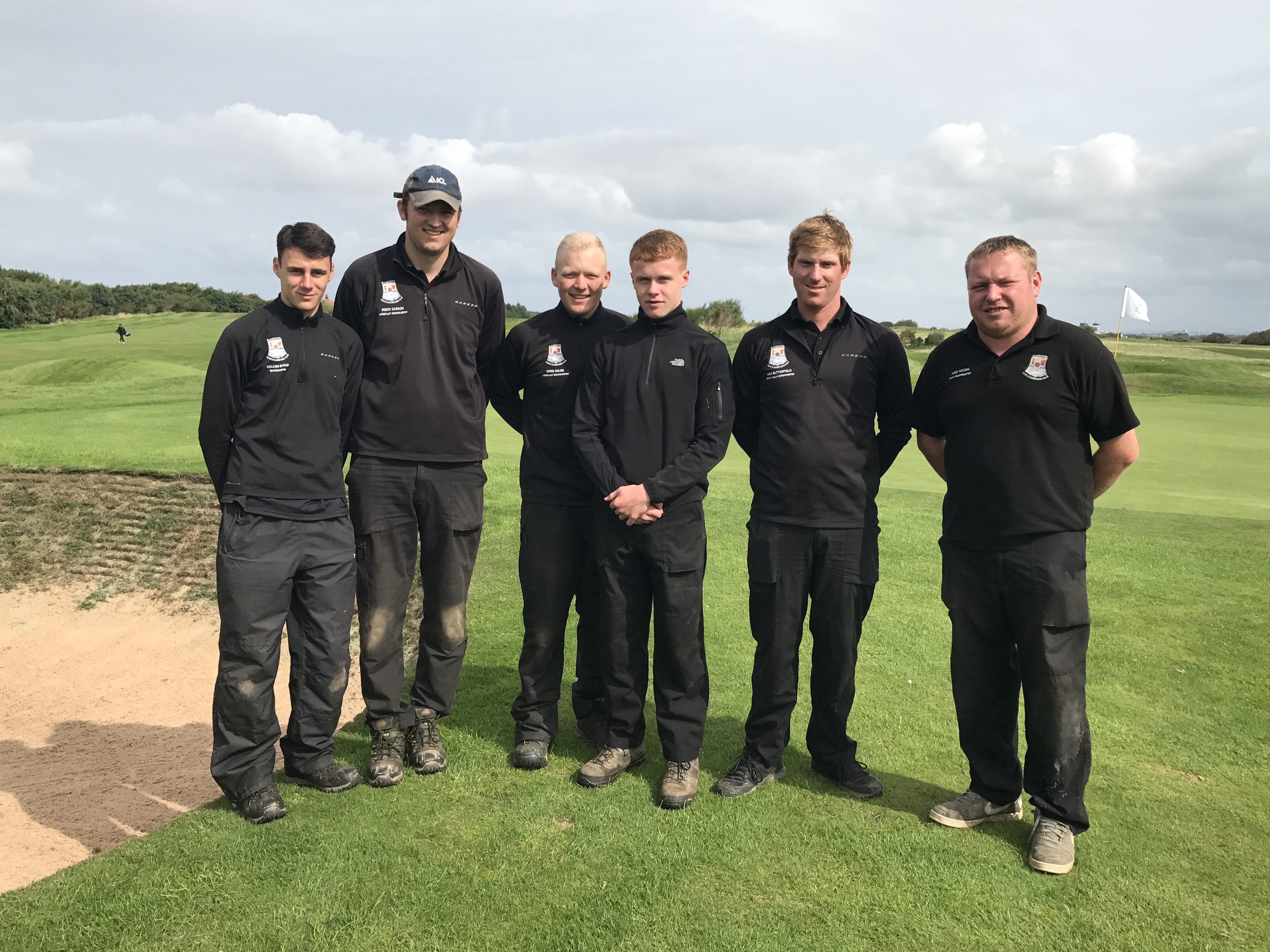 Greenmaster aids recovery at Blackpool North Shore Golf Club
Greenmaster aids recovery at Blackpool North Shore Golf Club. Following a severe Microdochium Nivale outbreak which left scars on the greens at Blackpool North Shore Golf Club, Head Greenkeeper Andy Moore, turned to two products in the ICL Greenmaster Pro-Lite range in order to aid the recovery.
Designed by legendary golf course architect Harry Colt, Blackpool North Shore was established in 1904, and has been an Open Championship qualifying venue. The course can even boast the fact that it hosted the first ever fund raising event of The Duke of Edinburgh Awards Scheme in 1963 and attracted a number of golfing greats such as Jack Nicklaus, Arnold Palmer and Gary Player. The course has continued to flourish and has been home to the PGA Lancashire Open for over 17 consecutive years.
Andy, who was promoted from Deputy to Head Greenkeeper in March 2017 immediately had his work cut out, as he explains:
"We got hit quite hard in autumn 2016 and almost every green was infected with Microdochium. After that we were left with a lot of scars and my first six months were all about trying to get the greens back and to try and achieve a truer surface," he said.
As a result from the outbreak, members were forced to play on temporary surfaces for a period of six months, and Andy knew he had to turn things around incredibly quickly.
"The members knew the full extent of it and although they were understanding they still needed to see improvements. If we were going into April, May or June and we still hadn't done anything about the scarring then the members could have remained on temporary greens for nine months. They pay good money to be part of this club and I wanted to give them something they could be proud of. I spoke to Phil Collinson (ICL Technical Area Sales Manager) and am pleased I did because the two Greenmaster Pro-Lite products have worked wonders for us."
Andy and Phil decided that ICL's Greenmaster Pro-Lite Cold Start 11-5-5 and Greenmaster Pro-Lite Invigorator 4-0-8, would be the best course of action, and it wasn't long before Andy started seeing the results.
"Initially, I felt that we had to alleviate the disease scars and encourage the poa so that we could produce a truer and smoother surface the members could start to enjoy playing on again.As well as providing nutrition we also carried out some solid tining maintenance  along with overseeding. We started with one application of Cold Start at 25g/m2 and then we applied Invigorator at 30g/m2every four weeks. We went with both products, to get the recovery as quickly as possible. The trial work carried out by ICL backed up Phil's recommendations and this gave me even more confidence in the approach.
"We started by applying Cold Start in February 2017 and it  gave us fantastic recovery at a time of year when conditions were challenging for growth. We followed this up with an application of Invigorator 4 weeks later to keep driving the recovery we needed. Once we got the greens to a good standard, and the recovery was gained, we appliedGreenmaster Cold Start at a low rate again in mid-April . They no longer required any further applications of Invigorator because its main use was to get the greens back to a puttable standard, and it did just that .It was at this point we switched to the ICL liquid products that have given us the consistency we wanted over the summer."
With the greens back to the excellent standard expected by both Andy and the club members, he has since embarked on a full ICL iTurf programme, which he devised with Phil Collinson.
"I'm fairly new into the management side of things but I was always aware of what products worked for us and what didn't. With that in mind I wanted to embark on an ICL iTurf programme and I always had a good relationship with Phil so it just felt right. A programme has now been put in place and we've had great success with it. I think the combination of the ICL products and the site conditions here have worked really well. The course is close to the best it has ever been and that is according to the members. In my opinion, that is the best feedback I can get."
"We are now working with Phil to put in place an integrated management programme that will help avoid a repeat of the disease problems that the club experienced last year."
Please contact ICL on 01473 237100 or visit www.icl-sf.co.uk or www.icl-sf.ie if you are in Ireland
https://www.fusion-media.eu/wp-content/uploads/2018/03/IMG_0342.jpg
3024
4032
chrisbassett
https://www.fusion-media.eu/wp-content/uploads/2022/02/FusionMedia_logo.png
chrisbassett
2018-03-12 16:33:24
2018-03-12 16:33:24
Greenmaster aids recovery at Blackpool North Shore Golf Club