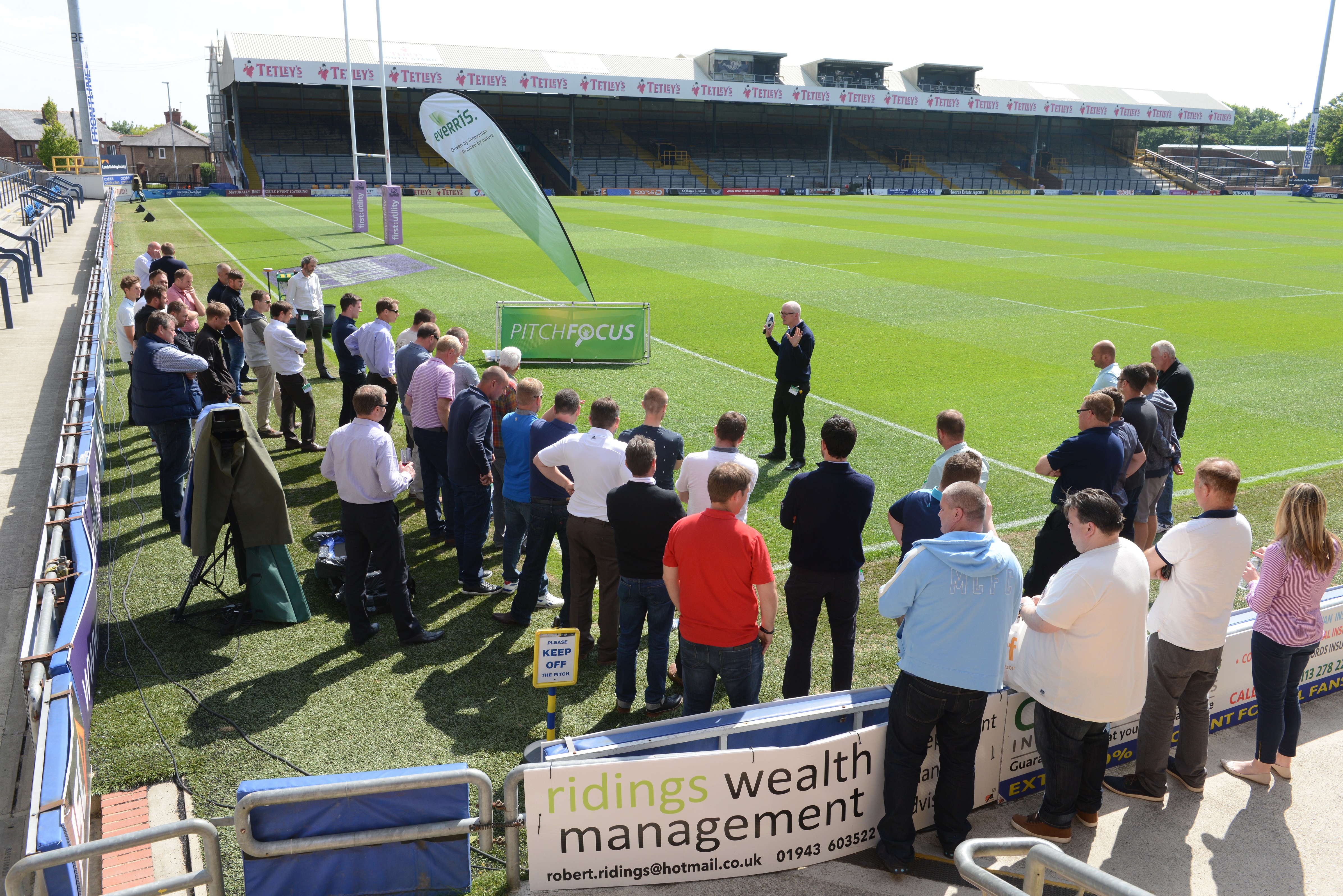 Groundsmen Get Focussed at Pitch Focus Event
Headingley Carnegie Stadium in Leeds played host to the recent Pitch Focus event – an interactive event that showcased the latest research, development and technological innovations in turf agronomy.
Organised by Everris and Syngenta, the educational event was attended by over 50 grounds managers, head groundsmen, contractors and distributors; giving them the opportunity to engage in active discussion and debate on the merits and potential for different techniques.
Andy Cole, head of agronomy services at STRI was a key note speaker giving the audience an insight into the science behind the surfaces used at the world's leading tournaments including the most recent FIFA World Cup in Brazil and also the problems that could face Russia when they host the event in 2018.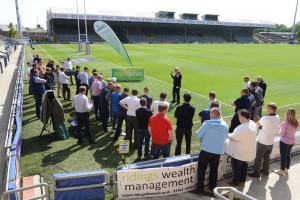 Next was Andy Owen, International Technical Manager for Everris giving an in depth look at the benefits of SeaMax, the premium soluable seaweed that is designed for enhanced foliar and root nutrient uptake and improved plant health. He demonstrated that a seaweed extract is a complicated product, and explained that the range of these products available for turf use vary tremendously in their composition and their effect on turf. It is important to understand these differences when selecting a seaweed product for use. Everris is undertaking a range innovative research to help inform the end user, and demonstrate the unique capabilities of the SeaMax product.
Marcela Munoz, Turf Technical Manager at Syngenta, gave an eye-opening 3-D microscopy presentation of how sports turf diseases can damage turf health and pitch quality – even before symptoms are visible to the eye. "A better understanding of pathogen activity and how they attack plants, will enable improved selection and timing of effective control options," she advised. Everyone was then invited to look at turf diseases under the microscope, using their mobile phones with a free Syngenta Turf Microscope to identify pathogens and take pictures, with the best photo taken on the day winning a prize.
Henry Bechelet, Technical Sales Manager at Everris, then talked about controlled release fertilisers and the research and development that go into the next generation of products before going outside onto the pitch where Owen Mullen from Intelligent Turf demonstrated the innovative sensors fitted to a mower to capture turf quality data, which when combined with hardness and moisture date provides a powerful tool for turf management. Potentially, the information collected can be viewed in real time through a series of maps, graphs and charts on a range of devices.
Syngenta Business Manager, Daniel Lightfoot, reported how new Qualibra wetting agent technology could positively enhance turf health and pitch management. Using hydrophobic sand increasingly found in sports surface construction, he demonstrated how scientifically engineered dual-action formulation could improve surface conditions, along with the beneficial retention of soil moisture in the root zone to promote root mass and optimise uptake of nutrients and water. "The potential benefits of an effective wetting agent programme could make a positive difference for turf health and surface performance," he added.
Finally Brian McDermott, Leeds Rhino's Head Coach gave a team talk ahead of the evening's game.
After dinner, delegates joined the full house to enjoy the league leaders play out a tightly contested game against local rivals Castleford Tigers.
Commenting on the success of Pitch Focus, Richard Walton, Everris Business Manager for the UK & Ireland, said: "The feedback we have received from groundsmen attending the day has been extremely positive, and we are looking forward to putting more educational events like this in the future."
Ryan Golding, Head Groundsman at Leeds Rhinos commented: "The day has been very enjoyable and we've been able to get a great insight into what goes on in terms of research and development of products that we use on our pitches. It's also been fantastic to meet up with so many other groundsmen to share experiences."
For further information, please contact Everris on 01473 237100 or visit www.everris.co.uk
For more news and insightful views, you can follow Everris on Twitter @Everris_Turf
https://www.fusion-media.eu/wp-content/uploads/2015/06/Everris-PitchFocus.jpg
3193
4784
chrisbassett
https://www.fusion-media.eu/wp-content/uploads/2022/02/FusionMedia_logo.png
chrisbassett
2015-06-26 12:32:40
2015-06-26 12:32:40
Groundsmen Get Focussed at Pitch Focus Event