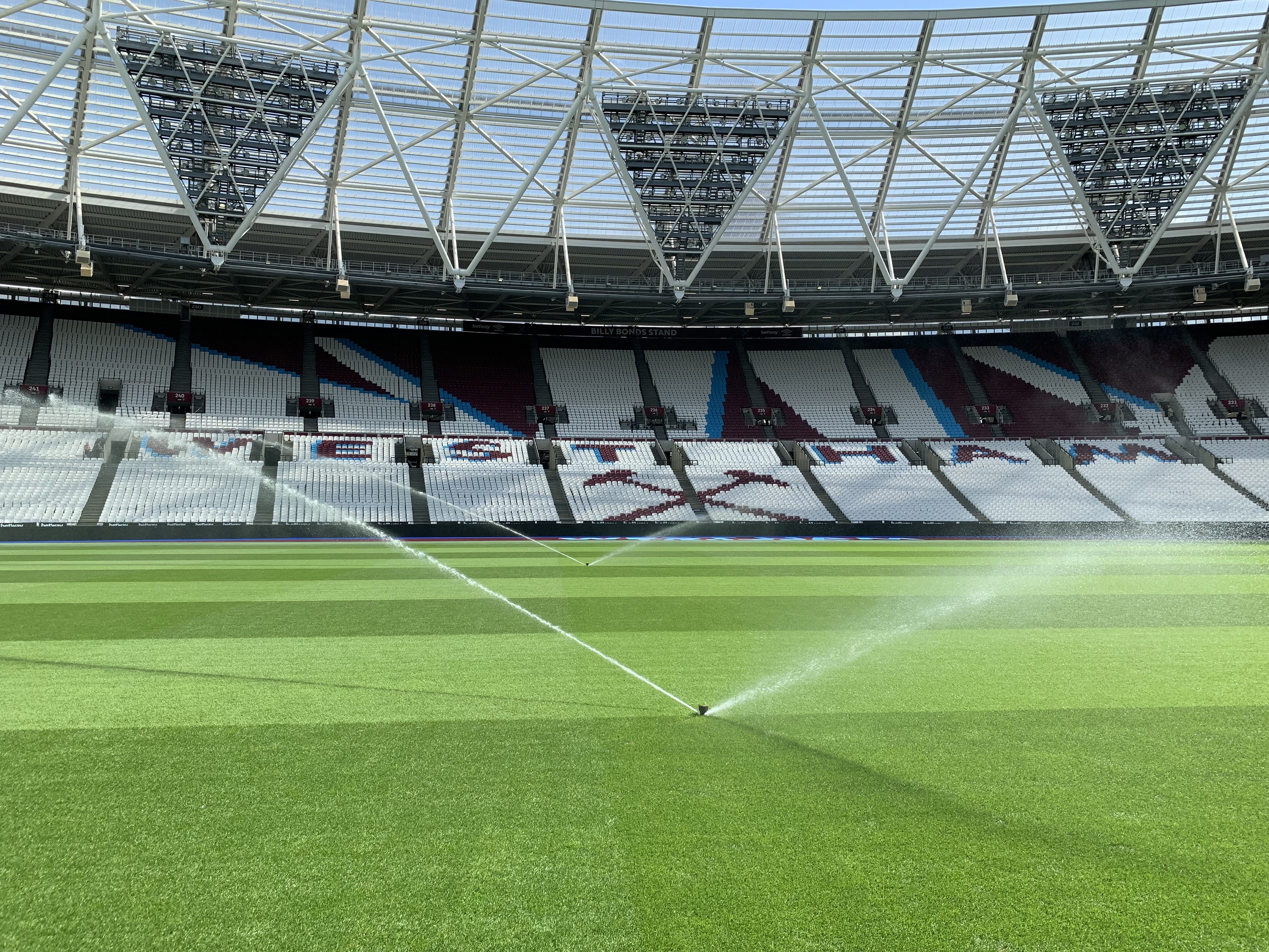 Hunter I-80 rotors impress at London Stadium
James Williams, Head Groundsman at the London Stadium, has praised the simplicity and efficiency of the new Hunter I-80 rotary sprinklers which were supplied by KAR UK.
Originally built to host London 2012, the Olympic Stadium, as it was formerly called, is now known as the London Stadium and is home to West Ham United FC – but that's not all. The stadium also hosts UK athletics and concerts and has been a venue for the Rugby World Cup, The Race of Champions, Major League Baseball and the RFL Four Nations.
James, who started in the industry as an apprentice at Swansea FC, is now the man responsible for overseeing the maintenance of the pitch at arguably one of the most iconic stadia in the UK.
With a team of five, the young groundsman does a stellar job in keeping the pitch in immaculate condition despite the heavy usage but, ever the perfectionist, James is continuously looking at improvements he can make to raise the bar even higher. Therefore, when he felt that he wasn't getting the best out of the previous irrigation system, he knew that it was time for a change.
James looked to see what was available on the market and it wasn't long before a meeting with KAR UK was arranged. KAR is the UK's leading wholesaler of irrigation equipment, and after admitting that he was hugely impressed with everything the company showed him, James' attentions soon turned to a new Hunter Industries irrigation system which included the most technologically advanced commercial rotor on the market – the all-new I-80.
Engineered for sports turf, the I-80 is built with a robust, dirt-tolerant gear drive that offers the highest torque output of any rotor in the commercial sphere, and extends a radius range from 11.3 to 29.6 meters. The I-80 features a wide range of highly efficient, dual-trajectory, wind-fighting nozzles for highly efficient performance in a range of applications. It also provides total top serviceability (TTS) via its integrated, surface-mounted snap-ring for no-dig easy maintenance – something which James is particularly impressed with.
"It is just so simple – you can take off the turf caps and grow them in in a shed or under a light and then you can just put them straight back on. Even cleaning them is so much easier because you just whip them out like a normal sprinkler instead of having to dig them all out every time."
James had eight I-80 rotors installed in the pitch and his system is further complimented by the ACC2 controller which is ideal for delivering advanced water management to meet the demands of large-scale commercial projects and the Roam remote – which eliminates the need to go back and forth to the sprinkler controller.
"This new Hunter system is so modern and advanced and the remote is brilliant," he continued. "In the click of a button you can change the times of the sprinklers, so for instance, on a match-day we can water at half time as and when required.
"The ACC2 controller is also easy to use and that is what I wanted. I didn't want it to be too technical because I want all of my staff to be able to use it as well as myself."
James reported that the manager and players are pleased with the new system and he went further in explaining how he uses it in the run up to match-days.
"Obviously a lot of it is dependent on weather, but we tend to give the pitch around 8mm of water on a Thursday or a Friday to prepare the surface for a game. We will then give it a top up before kick-off and then again at half-time if it is required.
"I see it similar to the way you would build a sandcastle. If you use wet sand to build a sandcastle then it will hold it all together and you'll have a good castle. If you use dry sand then it will just all fall out. It's exactly the same with a football pitch – keep it wet and it will stay nice and firm and hold together."
Hunter Industries is distributed in the UK by KAR UK. For more information, please visit www.karuk.com or www.hunterindustries.com.
https://www.fusion-media.eu/wp-content/uploads/2019/11/Hunter-I-80-rotors-impress-at-London-Stadium.jpg
2420
3226
chrisbassett
https://www.fusion-media.eu/wp-content/uploads/2022/02/FusionMedia_logo.png
chrisbassett
2019-11-05 15:45:01
2019-11-12 16:24:32
Hunter I-80 rotors impress at London Stadium