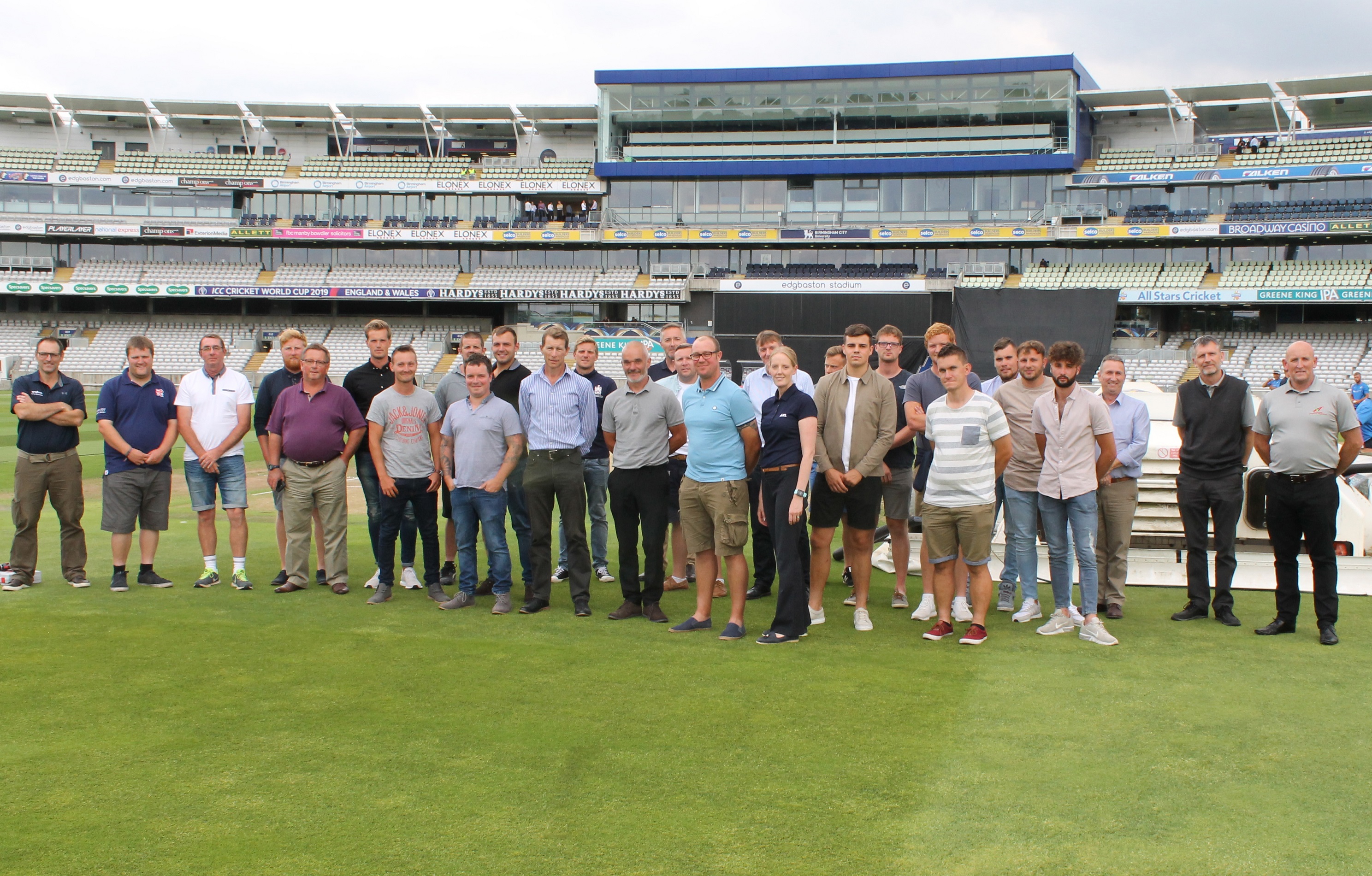 ICL Independent Schools Seminar is a hit for Six
ICL Independent Schools Seminar is a hit for Six. ICL marks its sixth Independent Schools Seminar in style. ICL recently held the sixth successive annual Independent Schools Seminar. The event, held at Edgbaston Stadium, Birmingham brought together turf professionals and provided an opportunity to network and enhance education and understanding on a variety of different turf management topics.
Following an introduction from event organiser Emma Kilby, ICL Area Sales Manager for the Midlands and West, Gary Barwell, Head Groundsman at Edgbaston Stadium, kick-started proceedings by offering an insight into pitch preparations at the stadium as well as disclosing some of his team's techniques.
In the midst of a particularly difficult summer, delegates welcomed the opening presentation by Dr Andy Owen, ICL International Technical Manager. Entitled 'Growing resilient turf', Andy focused on growing deeper rooted plants, which explored a number of strategies that groundsmen can apply in order to encourage rooting; explaining the importance of an integrated approach and that nothing should be undertaken in isolation. Furthermore, Andy went on to provide a plethora of hints and tips from research trials which included advice on best practice in utilizing nutrition, dealing with parasitic nematodes and ideal water management to get the best out of the grass plant.
Grass seed is an important aspect of ICL's product portfolio and an essential part of the company's integrated turf management solutions, and the next presentation 'Seed for all Seasons', provided delegates with a fascinating insight into this aspect of the business.
Simon Taylor, ICL Product & Business Development Manager, has more than 20 years' experience in the grass seed sector and he revealed the opportunities for potential genetic improvements in finding new traits in varieties that could benefit the turf manager. He explained the motives behind looking at the best of what US and European breeding programmes offer and how the finest of those characteristics can be applied into various new blends.
A complimentary lunch signalled the halfway point before Alex Vickers, Turf Consultant, spoke in detail about his experience of helping to build a cricket pitch in Rwanda. In this humorous and thought-provoking presentation entitled 'Making the most of what you have got – a lesson from Rwanda', Alex explained how the team achieved fantastic results when faced with a near-on impossible task.
The presentation seemed to strike a chord with the delegates. "I really enjoyed Alex's presentation and I think there is a great lesson to be learnt," said Tom Brotherhood, First Team Cricket Groundsman at Loughborough Grammar School. "Just seeing how they managed to achieve what they did in Rwanda with basically half of the equipment compared to what we have was amazing. We are always wanting more of the best equipment and perhaps we take what we already have for granted. I think it showed how to think outside of the box when you find yourself in a difficult situation."
Andy Richards, Grounds Manager at Shrewsbury School, was the next speaker to take to the stage. In this insightful presentation Andy revealed how he uses data recorded from his weather station and moisture metres to speak to the school's sports department bursar about playing conditions and to identify what equipment he needs in order to continue to make improvements. Andy encouraged the delegates to follow suit claiming that just that little extra bit of information can be used to their advantage.
It was the third ICL Independent School Seminar Andy has attended and he believes that events such as these are integral to raising the standards of groundsmanship.
"Independent schools groundsmanship is a completely different form of groundsmanship to say football, cricket or other sports grounds, because your usage is incredibly high over such a condensed period of time. This is the only event of its kind designed to specifically help independent school groundsmen and it's great to meet like-minded people where we can bounce ideas off one another. It's the only way we can continue to improve."
Attendees then received a glimpse into Syngenta's new turf pigment technology when Glenn Kirby, Syngenta's Technical Manager for UK Turf & Landscape, provided an overview on the new product – Ryder. This unique turf colourant delivers a consistent, natural green colour and gives turf managers an opportunity to colour up turf to their liking. Glenn explained Ryder's strong longevity qualities and how the technology protects turf from harmful UV rays and excessive light.
Former English first-class cricketer, Ashley Giles MBE, is arguably best known for his heroics in England's victorious 2005 Ashes series and he concluded the day's presentations by explaining his current role as Director of Cricket at Edgbaston as well as relaying some very interesting and humorous stories about how the successful Ashes team celebrated their monumental victory over Australia.
After dinner the day was rounded off in style as all attendees stayed behind to watch the T20 game between Birmingham Bears and Leicestershire Foxes.
Reflecting on the event, Lee Marshallsay, Grounds Manager at Charterhouse School, said: "I've been coming to these events almost every year and they just keep getting better. There are plenty of speakers to learn from and there is a lot that us groundsmen can take back. I particularly like the networking side of it because you can find out that you're not the only one who may have had a hard season. It's also a good chance to bring other members of staff along because it means that some of the younger guys can learn things from other people rather than just listen to me all the time!"
That was certainly the case for Aaron Skyrme, Assistant Groundsman at King Henry VIII School in Coventry: "Today has been really beneficial," he said. "I'm currently studying an NVQ Level 2 in Sports Turf Management and learning about the different technologies in seeds and various grasses today has really helped me. There are also so many aspects that I will take away with me and put into my practical work at the school."
Please contact ICL on +44 (0)1473 237100 or visit www.icl-sf.co.uk or www.icl-sf.ie.
https://www.fusion-media.eu/wp-content/uploads/2018/08/ICL-Independent-School-Seminar-2018.jpg
1901
2976
chrisbassett
https://www.fusion-media.eu/wp-content/uploads/2022/02/FusionMedia_logo.png
chrisbassett
2018-08-06 10:46:25
2018-08-06 10:46:25
ICL Independent Schools Seminar is a hit for Six