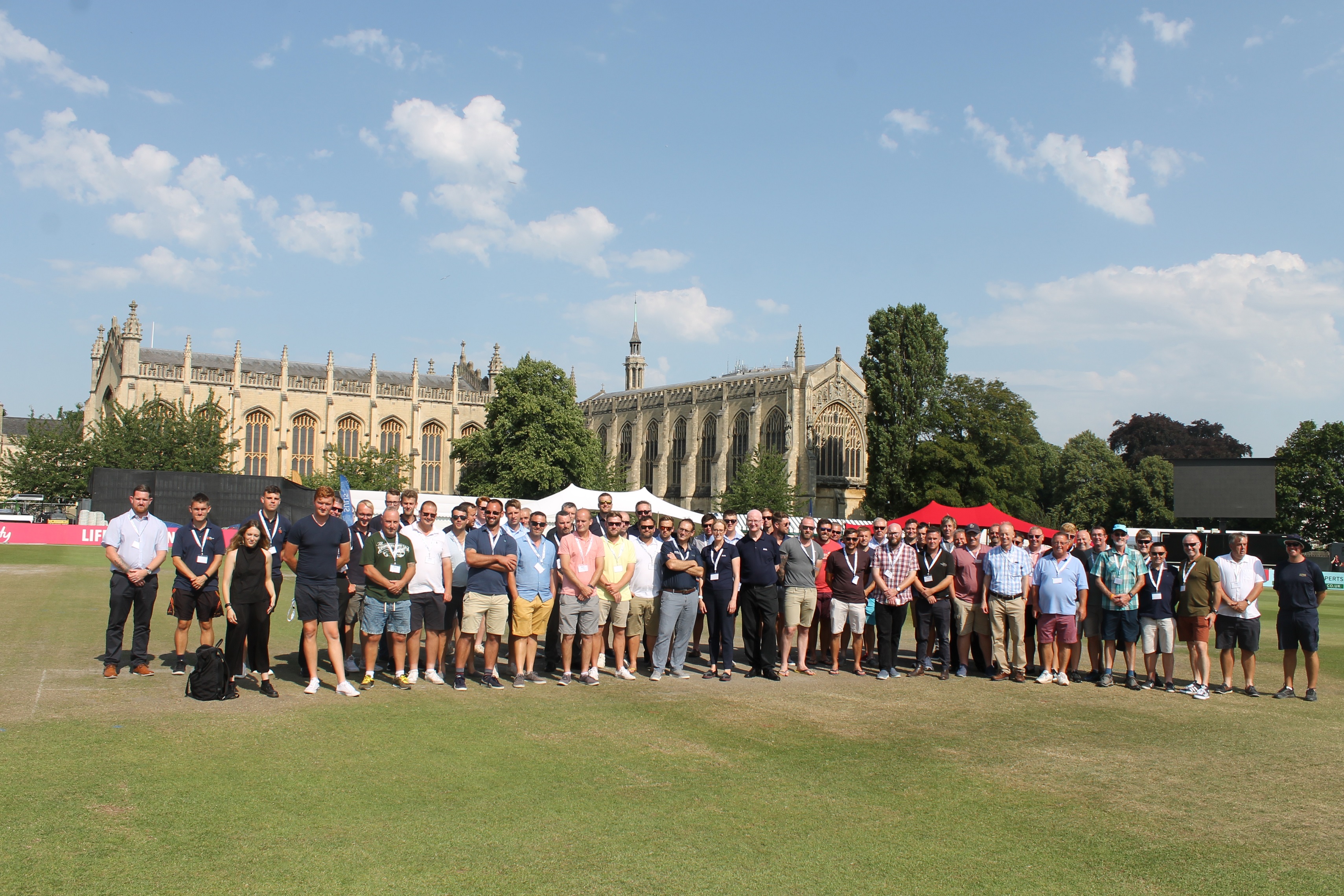 ICL School Seminar Shines in Cheltenham
In what turned out to be the hottest day of the year, the 2019 ICL Independent School Seminar, held at the illustrious Cheltenham College, saw a record-breaking number of attendees soak up a memorable day of knowledge, networking and first-class cricket.
Over 70 turf professionals made their way to the historic spa town of Cheltenham to network and enhance their education on a variety of different turf management topics in a seminar tailor-made for those working within the Independent Schools sector.
The seminar was held in the College's Thirlestaine House, which over the years has housed some of Cheltenham's most creative and forward-thinking students. It was therefore an appropriate setting to discuss the future of turf care and explore new and innovative methods.
Christian Brain, Head of Grounds at Cheltenham College, was the first to take to the stage and proceeded to offer a wonderful glimpse into the College's rich history in which he reflected on the years, the great changes that have taken place, and the significant marks that history has carved in its life.
It was then down to business as Henry Bechelet, ICL Technical Sales Manager UK & Ireland, delivered his thoughts on The Future of Fertilizer. After nearly two years of negotiations the European Parliament have agreed on a new regulation for fertilizers. Set to commence in 2022, many questions have been raised as to how the new regulations might affect the industry and Henry was on hand to clarify the situation.
"The whole point about the regulations is to protect the end user," he said. "The other key aim of the legislation is to bring into play added transparency and more sustainable and circular economy ingredients. At ICL we view the new regulations as being progressive because we can always demonstrate the performance of our products, but they are going to have a big impact on how some companies sell their products. No longer will companies be able to falsely market their products – which is a step in the right direction because hopefully it will take out of the marketplace those companies that don't have the evidence to support their product claims."
After addressing the new forthcoming fertilizer regulations, Henry discussed the use of the new Pearl granules that ICL is incorporating into the renovator grades in the SierrablenPlus range.
"These are slow release forms of nitrogen but mainly phosphorus which have been proven in trial work to really encourage root development. We are very excited about these new materials because we feel that they will massively enhance renovations and encourage better rooted plants," he said.
Attendees then got the opportunity to receive a tour of the grounds and Christian explained how he and his team prepare for the Cheltenham Cricket Festival. At over 140 years of age, Cheltenham is the world's oldest cricket festival and has, over the years, witnessed some legends of the game such as Wally Hammond, Allan Border and WG Grace. Taking place every July, over a two-week period, the festival now features a selection of T20 Blast games – something which the delegates would later enjoy.
As everyone gathered back in Thirlestaine House and re-took their seats, student Tamsin Williams captivated the audience with an insight into ICL's unique four-year research project which is exploring the effects of seaweed products on turfgrass plant parasitic nematodes.
The project, which is taking place at Royal Holloway, University of London, was founded due to the apparent rise of nematodes. As it stands, there are few options available for the turf manager who has a nematode problem but ICL is currently researching whether seaweed could offer a solution. Tamsin is of the opinion that when the right seaweed is applied to a grass plant it could change the resistance of the plant to disease and insect attack and she revealed her current findings.
"The research into the nematodes and how seaweed can be used as a preventative was very interesting," said Matt Wharton, Grounds Manager at Reading Blue Coat School. "The technical detail was outstanding – Tamsin is working on something really special that will increase our knowledge and benefit the whole industry."
At the 2018 ICL Independent School Seminar held at Edgbaston Stadium, Andy Richards, Grounds Manager at Shrewsbury School revealed how he uses data recorded from his weather station and moisture metres to improve playing conditions and to identify what equipment he needs in order to continue to make improvements. Inspired by Andy's seminar, Glenn Kirby, Syngenta's Technical Manager for UK Turf & Landscape unveiled a year's worth of recorded data which undoubtedly piqued the delegates' curiosity.
"The talk from Andy last year ignited my excitement to get out there and have a look for myself," said Glenn. "It was an opportunity to talk to the delegates about the limitations I have found within some of the data and how I feel it could help people manage their turf moving forwards.
"Weather conditions are changing all the time and due to this turf managers are becoming under increasing pressure so having a really firm hand on exactly what is going on in the soil can only help them. It is going to be very challenging and will be very different to what they have seen before."
Glenn's presentation seemed to strike a chord with attendee Carl Reeves, who is enjoying his first role in a Head Groundsman position at Bradfield College. "I think the last seminar about climate change and how it's continuing to adjust was a real eye opener because we have obviously affected the planet quite badly. Yes, we have some huge challenges ahead but this seminar demonstrated how to use certain technology to ensure that we are always that one step ahead."
As the delegates reflected on yet another insightful ICL seminar, keeping on top of turf management and looking to the future in an ever-changing industry seemed to be the general consensus.
"I think that a lot of the research and the projects ICL are working on are key to how we change turf management in the next ten years," said Charlie Seager, a Groundsman at Warwick Independent Schools Foundation. "You have got to be ahead of the times because of the way technology is changing so it is very beneficial to come to events like these."
Charlie was one of four grounds staff from Warwick who attended and Duncan Toon, Grounds Manager, explained why it was so important to make the seminar a team outing.
"These seminars are essential because it isn't just all about what we learn in the seminars – it's also about networking and what you get from chatting to other groundsmen. I can guarantee that we will be sitting round the table on Monday and I'll have twenty new ideas from everyone who attended and that is why I like to bring the whole team."
Gary Austin, Deputy Head Groundsman at Radley College, praised the event for simplifying what can potentially be some incredibly overwhelming topics.
"What I like about these seminars are that you can tell that ICL are genuinely trying to help groundsmen like us – they are on our side. I also think ICL present all of their data and research in a non-scientific manner which general groundsmen can understand. They break the research data down really nicely for you, in an easy to understand way and you can then go ahead and put it into practice."
The day was rounded off in style as the delegates joined a sell-out 5,000 strong attendance to watch Gloucestershire inflict a first defeat on Middlesex in this season's Vitality Blast.
Organiser of the event, ICL's Emma Kilby, first launched the Independent School Seminar back in 2011 and is pleased to see just how far it has come over the years.
"This is a huge sector and consists of a very particular group of people that look after schools which have a multitude of different surfaces – all of which require very different approaches.
When I first joined ICL eight years ago I just felt that they were not receiving the kind of support they needed. It was at that point I started discussing the idea of an event with various school groundsmen and we launched the first seminar in 2011 at Radley College.
"The event has run every year since at different venues and the bar is raised each time. These guys are real experts in lots of different disciplines and their requirements are quite individual so to actually focus on them and to get them along to an event where all the seminars are aimed at topics they are interested in is one thing but also the opportunity to get them all together so they can talk with one another and network is invaluable."
Please contact ICL on 01473 237100 or visit www.icl-sf.co.uk or www.icl-sf.ie if you are in Ireland.
https://www.fusion-media.eu/wp-content/uploads/2019/08/IMG_0144.jpg
2279
3418
chrisbassett
https://www.fusion-media.eu/wp-content/uploads/2022/02/FusionMedia_logo.png
chrisbassett
2019-08-08 15:59:09
2019-08-08 15:59:09
ICL School Seminar Shines in Cheltenham