ICL Schools Seminar Returns in Style
The ICL Independent Schools Seminar recently returned in full force after a two-year absence due to the pandemic.
Held at the all-new Sports Turf Academy within Leicester City FC's world-class training facility, approximately 50 turf professionals from the Independent Schools sector attended the event to network and enhance their education.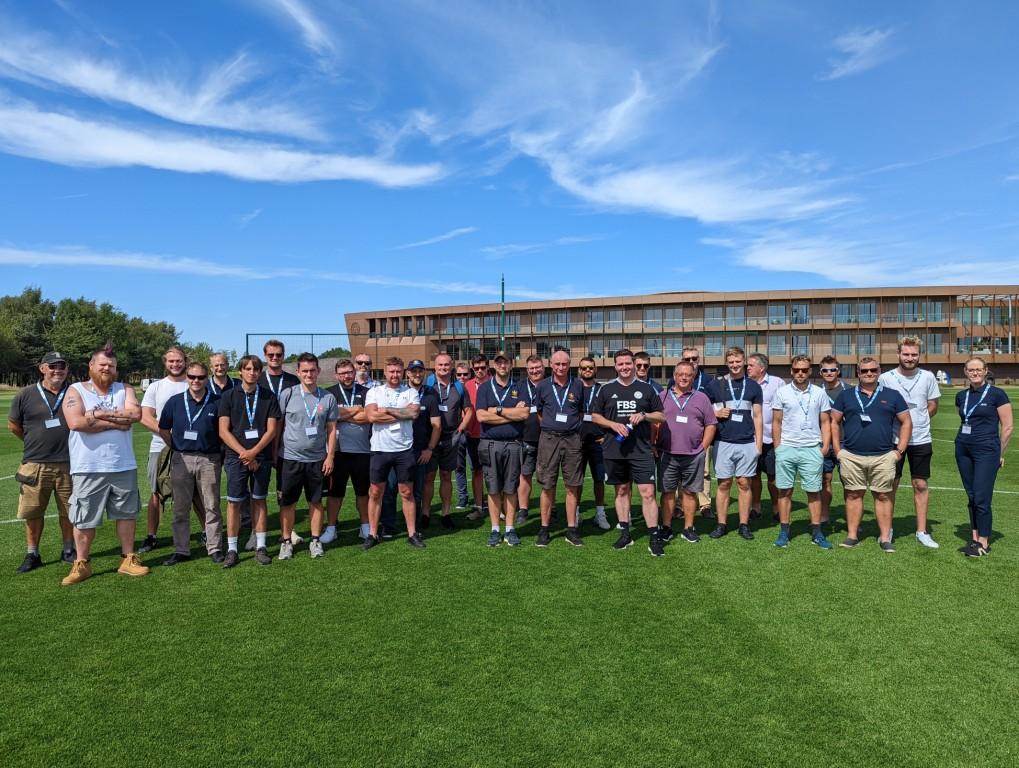 With the last seminar taking place in 2019, many attendees saw it as a valuable opportunity to catch-up on trends and topics within the ever-changing world of turf management.
"You've got to stay up to date," said Gary Austin, Deputy Head Groundsman at Radley College. "In the short amount of time between the seminars, things have moved on so quickly and less products have become available. If you don't attend events like this and keep yourself aware, then you will get left behind."
ICL's Dr Richard Collins was the first to take to the stage and proceeded to provide an overview and update on the many research projects being conducted by ICL. Richard explained the importance of research and trials; detailed the types of research being carried out by ICL including internal studies and those in partnership with leading universities; and he also offered an insight into specific projects such as SMX – a soluble seaweed concentrate, and a variety of wetting agents.
Turf in the metaverse was up next as Syngenta's Daniel Lightfoot addressed the exciting potential of digital agronomy. In his presentation, Daniel explained how digital activity will underpin the future of turf management, encouraging less chemical applications and more accurate biological ones. Attendees then saw how Syngenta's Pest Management app is helping to provide turf professionals with essential product and application information.
A short coffee break allowed delegates to reflect on the morning seminars before ICL's Henry Bechelet outlined strategies for effective renovations. Step-by-step Henry went through the stages of a successful renovation process by covering everything from seed
choice to early establishment and proven fertilisers to the use of supported technologies.
Lunch signalled the halfway point and, in turn, provided the fuel for attendees to share their opinions in a panel debate led by Adam King, Head of Grounds at Radley College. It presented an opportunity to discuss the biggest issues that the Independent Schools sector cares most about. Conversations focussed on staffing levels, recruitment, pay grades, how to get more people into the industry and whether industry organisations should be doing more for the sector. The refreshing debate could have continued long into the evening as attendees shared their own experiences and collaboratively explored potential solutions.
Host for the day and Head of Sports Turf and Grounds, John Ledwidge, then provided a fascinating insight into the recently launched Sports Turf Academy. John explained how the Academy aims to inspire the next generation of sports turf students by offering an elite training environment, with access to the latest technology and expertise.
The day concluded with a memorable behind the scenes tour of the club's state-of-the-art training facility and the consensus was that the attendees were pleased to see the return of the seminar.
"I'm taking so much away with me," said Chris Moody, Head of Grounds at Ratcliffe College. "Firstly, it has shown me just how much research goes into each and every ICL product. I found the digital technology presentation fascinating; it was a real eye-opener and I'll be downloading the app as soon as I can, especially as it is free at a time when we're all trying to keep within our budgets. Overall, days like this are very much needed – we all have time pressures, but we still need to take the time to attend something informative which brings together people of the same ilk."
Michael Hood, Head Groundsman at Leicester Grammar School, agreed: "It has been great catching up and meeting people from other schools to share advice," he said.
"We've all got the same problems, but we don't get the chance to talk about it very often so today has been very beneficial."

It was the first ICL seminar Ipswich School has attended, and Head Groundsman Martin Cull wasn't disappointed: "We came today not really knowing what to expect but it has been amazing. Seeing all the research gives you even more trust in the products. Talking to other like-minded people and finding out how they deal with certain issues has also been very useful."

"We haven't got a huge budget, so the timing of product application is essential," added Martin's colleague Ollie Jones. "Therefore, the biggest thing I'll be taking away with me from today is knowing exactly when to use products. It has been a real privilege to attend – the facilities here are breath-taking."

The event certainly struck a chord with Aaron Winfield, Assistant Groundsman at Harrow School: "Listening to John Ledwidge and finding out how he is trying to develop the industry through the Sports Turf Academy was incredible. There is a clear hole in the industry which he is trying to fill. I also enjoyed participating in the panel debate because people are leaving the industry, which is hard to see when you love it. Today we have established that we need to educate more people from outside the industry as to just how great this job is.

"This event has been brilliant, and we need more days like this because it has allowed us to come together and help us nurture the future of the industry. I'd like to say a big thank you to Emma Kilby (founder of the seminar) and everyone else at ICL."
Please contact ICL on 01473 237100 or visit www.icl-sf.co.uk or www.icl-sf.ie if you are in Ireland.
https://www.fusion-media.eu/wp-content/uploads/2022/08/ICL-Schools-Seminar-Returns-in-Style-Social.jpg
768
1019
chrisbassett
https://www.fusion-media.eu/wp-content/uploads/2022/02/FusionMedia_logo.png
chrisbassett
2022-08-01 12:21:43
2022-08-01 12:21:43
ICL Schools Seminar Returns in Style