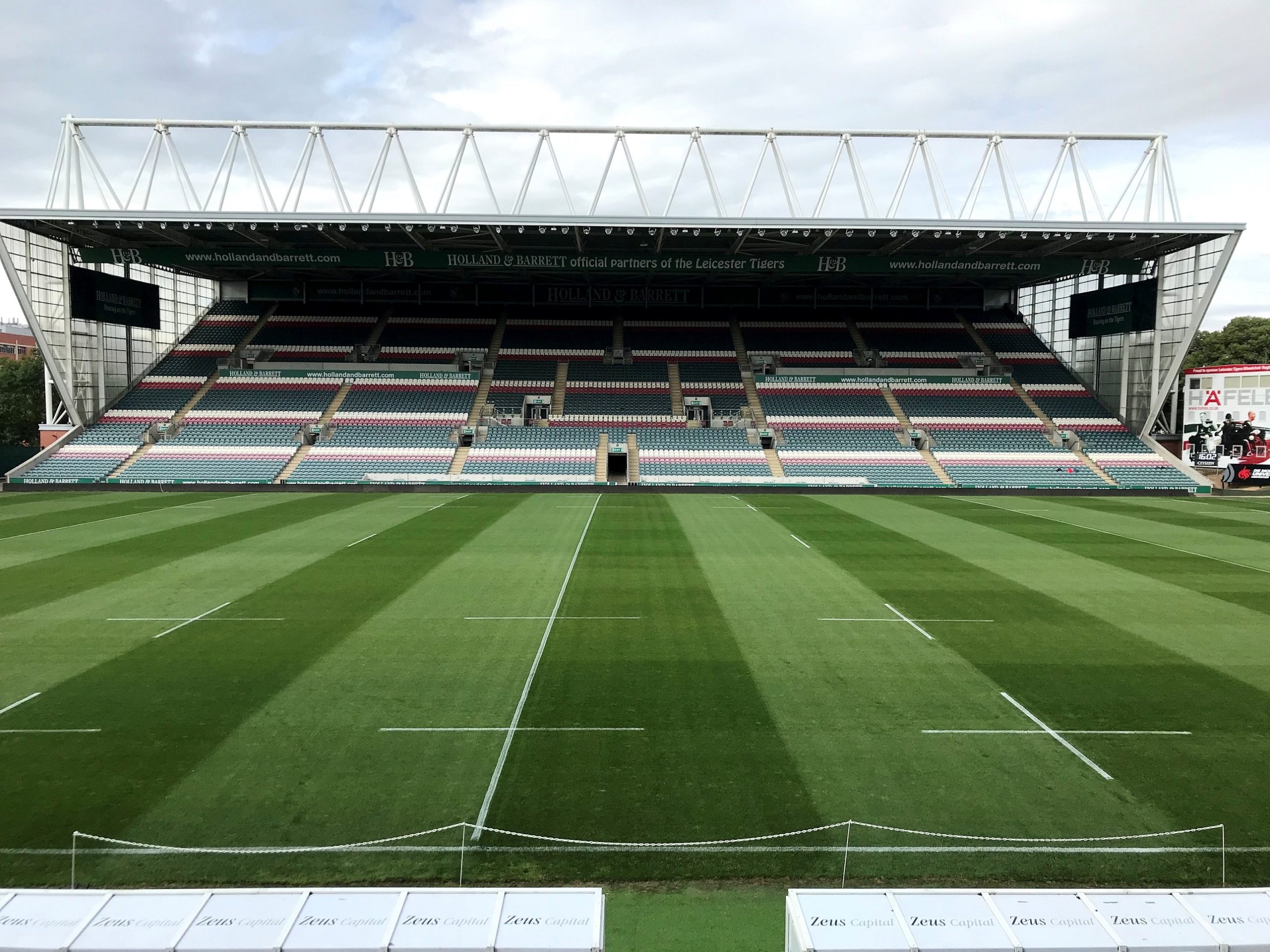 It's what's underneath that counts
Ed Mowe, head groundsman at Leicester Tigers, believes that a good sand is integral to the performance and health of a sports pitch – and it is for this reason that he has relied on Mansfield Sand products throughout his career.
Before joining the Tigers, Ed's career had seen him work on the grounds at Leicester City Football Club and at England FA's St George's Park in Burton-upon-Trent. He has now been with the ten times English champions since 2016 and as well as looking after the pitch at the Tigers' famous Welford Road stadium, he and his team also look after the seating and terracing areas at the ground, all the surrounding car parks and public access ways, as well as the training pitches and facilities at Oval Park.
It's safe to say that Ed and his team have their work cut out, and therefore they insist on using high performing products that will help make their life easier. Ed claims that products from Mansfield Sand have always given him a certain peace of mind.
"I've been using Mansfield Sand products for 24 years, from when I was at Leicester City FC and St Georges Park and now here at Leicester Tigers.
"You might not actually get to see what using a good sand does when you look at a pitch but if you don't have a good sand product then I guarantee that you will soon run into problems. It's what is underneath that counts."
Ed chooses to use Moist Mansil 35 (MM35) which is part of the Mansil Silica Sand Sports Range. Sourced directly from the company's Two Oaks Quarry in Mansfield, the Mansil Silica products are predominantly used in the construction and maintenance of a wide range of sports surfaces – from winter sports pitches, golf courses, bowling greens and all amenity turf areas.
He uses MM35 for end of season renovations but always keeps some in reserve for the season ahead – as he explains.
"MM35 is an essential part of our renovations each year," said Ed. "At the stadium pitch, we'll clean it up, remove all the vegetation and then apply 40 tonnes of sand. That will then be Vertidrained and we will brush the pitch so we can incorporate the sand into the Vertidrain holes.
"We also use MM35 on our training pitches," continued Ed. "Each year we purchase approximately 200 tonnes from Mansfield Sand. We'll get the main bulk of this spread during renovations, but we always make sure that we have a little stockpile left over.
"We then can use this throughout the season if there are any areas which need dressing. It is particularly useful for any hollows or low divots.
"I find the quality of products from Mansfield Sand always very good – they are incredibly consistent, which is what we look for.
"I also believe that the sand plays a massive role in the playability of the pitch. It aids drainage, keeps the pitch healthy, and helps us achieve the levels we need during renovations.
"I wouldn't have been using Mansfield Sand for so long if their sand didn't make such a difference."
For more information visit www.mansfield-sand.co.uk
https://www.fusion-media.eu/wp-content/uploads/2020/09/Leicester-Tigers-after-renovation-scaled.jpg
1920
2560
chrisbassett
https://www.fusion-media.eu/wp-content/uploads/2022/02/FusionMedia_logo.png
chrisbassett
2020-09-09 08:57:51
2020-09-09 08:57:51
It's what's underneath that counts