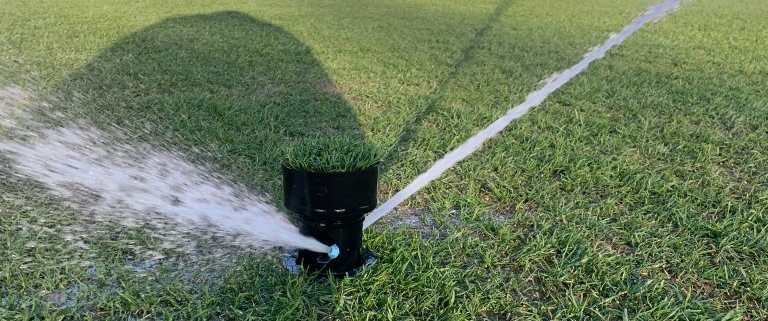 KAR UK gives peace of mind for Lincoln City
A new Hunter Irrigation system, supplied by KAR UK, has given Lincoln City FC Head Groundsman Craig Housley a certain peace of mind.
Craig, who has been at Lincoln City since September 2020, revealed how his previous irrigation system caused many sleepless nights.
"Our old system had been in for about 20 years, and it was so difficult to work with," he said. "The sprinklers were constantly breaking down; we just couldn't trust the system to work overnight and there were parts of the pitch that were getting heavily watered and some parts that were not getting any water. Even on matchdays we would be back and forth manually changing the irrigation from the control point. It was a total nightmare."
At the end of last season, a renovation and new pitch construction, proved the ideal opportunity to explore the possibility of installing a new irrigation system.
"It seemed like the perfect time and after being highly recommended, we got in touch with KAR UK. Mike McDonnell (UK Sales Manager) came to visit us at the training ground, and we had a great chat. He talked me through all the different Hunter products, the installation process, the various programmes and how we could control the system on a mobile phone. Based on that meeting we decided to go with KAR UK."
KAR is the largest UK wholesaler of irrigation equipment and has long-term relationships with every irrigation product manufacturer of note. The company is also an integral distributor of Hunter Industries irrigation equipment, and this is the route that Craig decided to take.
After Craig's meeting with Mike, KAR UK supplied a variety of Hunter I-80 and TTS-885 rotary sprinklers and the innovative ACC2 controller, with Centralus Software.
Engineered for sports turf, the I-80 is built with a robust, dirt-tolerant gear drive that offers the highest torque output of any rotor in the commercial sphere, and extends a radius range from 11.3 to 29.6 meters. The I-80 features a wide range of highly efficient, dual-trajectory, wind-fighting nozzles for highly efficient performance in a range of applications. It also provides total top serviceability (TTS) via its integrated, surface-mounted snap-ring for no-dig easy maintenance.
Craig had eight I-80 sprinklers installed through the centre of the pitch and sixteen TTS-885's on the pitch surrounds.
The renovation, pitch construction and installation of the irrigation system was all undertaken by leading contractor Fineturf.
"There is not one blade of grass that doesn't get watered now which is exactly what we were looking for," he said. "We wanted the pitch watered evenly because the manager is trying to play quick, one-touch football. The Hunter sprinklers have enabled us to achieve this now. Not only are we covering a much bigger area, but we have definitely saved water because we can manage it a lot better."
Craig also lavished praised on his new Hunter ACC2 controller. This allows users, through the Cloud Based Centralus Software, to change settings, view forecasts, and receive instant notifications of important system alarms — all without costly and time-consuming travel and site visits.
"It's great for the pitch but perhaps not so good for my personal life," joked Craig. "We have cameras set-up at the stadium so when I'm at home I'm aways keeping an eye on the weather. To have this kind of control over the irrigation no matter where I am is brilliant. At any time, I can see how much water is going on; I can look at the moisture settings and turn sprinklers on and off whenever needed.
"For me the biggest bonus is never having to worry about irrigation again – this new Hunter system has given me a peace of mind for sure."
For more information, please visit www.karuk.com
https://www.fusion-media.eu/wp-content/uploads/2022/05/Hunter-3.jpg
1024
768
chrisbassett
https://www.fusion-media.eu/wp-content/uploads/2022/02/FusionMedia_logo.png
chrisbassett
2022-05-10 21:58:54
2022-05-10 21:58:54
KAR UK gives peace of mind for Lincoln City