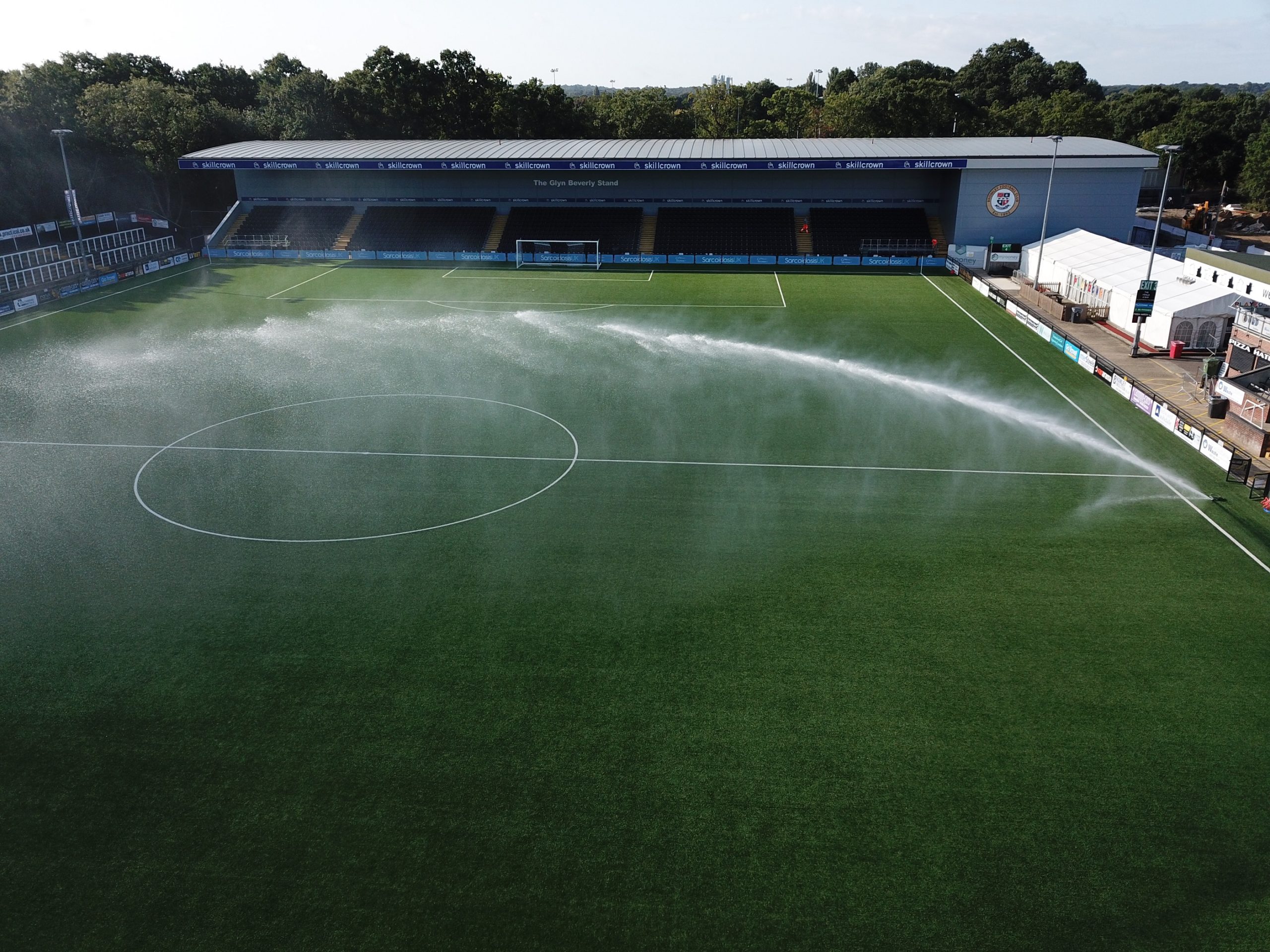 KAR UK raises the tempo at Bromley FC
Bromley FC's players and staff have reported a huge improvement in their synthetic pitch after a Hunter Industries irrigation system from KAR UK was installed at the stadium.
Bromley FC is currently plying its trade in the Vanarama National League and plays its home games at Hayes Lane Stadium – which, over recent years, has undergone a significant transformation.
The stadium investment saw the construction of a new South Stand which has allowed for an additional 1,450 seats, and two years ago an all new FIFA certified synthetic pitch was installed.
Bromley FC's First Team Coach Alan Dunne provided the reasoning behind the club's switch from natural to synthetic turf.
"In winter, our natural pitch would often be in a bad condition and games would have to be called off, which would have a huge impact on revenue," he said. "Even when the games were on, the pitch could be waterlogged, it would slow down our play which would then cause further damage. It is for this reason that we decided to have a synthetic surface installed because it offers all-year round play as well as providing the club a constant stream of revenue by renting it out for the local community.
"We are a hugely ambitious club and we are doing everything possible to make sure that we continue to progress up the football leagues."
The new pitch was soon installed and opened up to the wider community, and even though the extra revenue would help the club compete in terms of transfer fees and player wages it became apparent that something was missing.
"It's a great pitch," said Bromley FC's Director Jerry Dolke. "However, over the past 24 months we had an increasing amount of comments from players who were claiming that the rubber crumb, which is used as the infill in the synthetic surface, was uncomfortable to play on. During hot weather we were not playing at the same fast tempo we like to play, so we identified that we urgently needed to start getting water on to the pitch.
"Ultimately, we want to give this group of players all of the tools and equipment to be successful and therefore after a consultation with Ian Jordan from Jordan Sports Ground Solutions who look after our pitch, an irrigation system became a priority."
It was at this point that a Hunter ST1600 irrigation system would be the ideal solution.
The Hunter ST irrigation system is designed for the specific needs of synthetic turf sports pitches. Featuring long-range irrigation sprinklers, unique swing joints, durable irrigation valves and nearly indestructible vaults, Hunter's ST system offers everything required to keep synthetic turf pitches cool, clean and playable. The enhanced radius rotors are perfect for football pitches, where smaller radius rotors might fall a little short – meaning that every inch of the pitch can be watered.
The system, which also comprises of an ICC2 controller and an EZ decoder system, sees the ST1600 rotors installed in six positions around the pitch – one on each of the four corner areas and one either side of the halfway line.
"It's made a huge difference to the way we play – we like to play quick football and when the pitch is watered we have that effect," said Alan. "We now water before the game and at half-time and it sees us through nicely. The system is so quick and simple and it takes just eight minutes to have the whole pitch watered."
"We needed a system that was going to work efficiently on our pitch and within our budget," added Jerry. "We now have that in place and all of those previous problems have disappeared. We had a very short timescale to work to because our first pre-season game was on the 6th July so we had a five-week window to get the project completed. The contractors met the deadline and we are all very happy with the end result.
"The irrigation system is just another step in the right direction as we try and push on to that next level."
Hunter Industries is distributed in the UK by KAR UK. For more information, please visit www.karuk.com or www.hunterindustries.com.
https://www.fusion-media.eu/wp-content/uploads/2020/01/Hunter-Irrigation-at-Bromley-FC-1-scaled.jpg
1920
2560
chrisbassett
https://www.fusion-media.eu/wp-content/uploads/2022/02/FusionMedia_logo.png
chrisbassett
2020-01-07 17:50:39
2020-01-07 17:50:39
KAR UK raises the tempo at Bromley FC