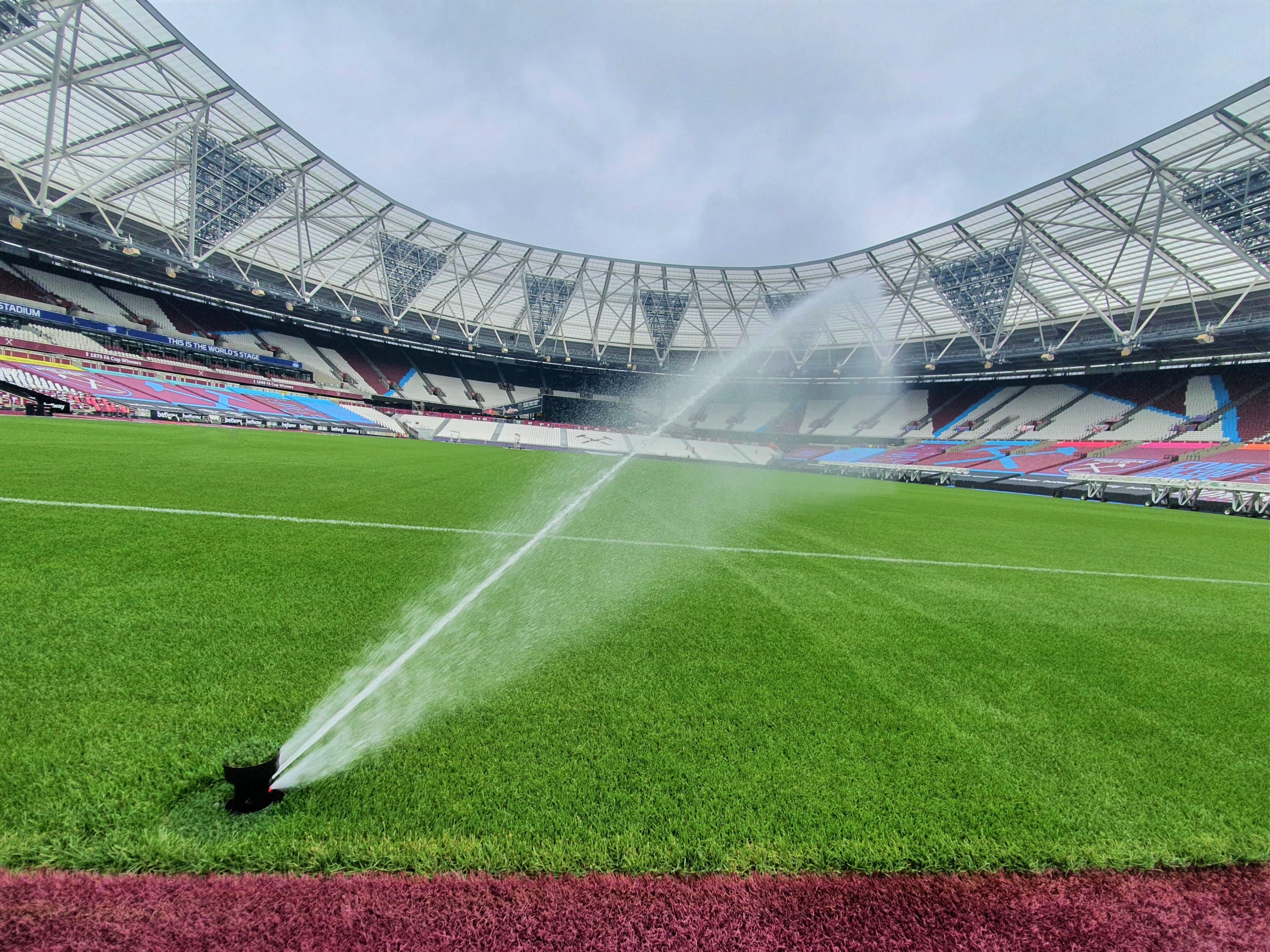 KAR UK reports successful launch year for Hunter TTS rotors
Last year, KAR UK launched the new Hunter TTS-800 rotors and, in that time, they have become one of the most sought-after irrigation products in sportsturf. Sales Manager Mike McDonnell reveals the reasons why.
"Greenkeepers, Course Managers, Grounds persons, Stadium Mangers and Sports Turf Managers in general have a very difficult job when it comes to irrigation management," said Mike. "Playability can directly impact revenue and so effective irrigation is critical at all times.
Harsh environments and dirty water can make matters even more complicated but with heavy duty, highly efficient easy to service TTS rotors – Turf Managers can push past such obstacles to ensure beautiful, playable pitches and courses for years to come.
"We have been delighted to see such interest in the TTS-800 series in the past year."
As Mike says, the TTS-800 series are now relied upon at some of the most prestigious sporting venues in the UK and beyond. They integrate advanced technology with unrivalled power, reliability, and performance to simplify irrigation management and cultivate impeccable playing surfaces in every application.
TTS-800 rotors combine the field-proven benefits of Hunters' robust, highly efficient G-80 and G-85 gear drives with an all-new Total-Top-Service body, inlet valve, and control mechanism to ensure unmatched ease of installation and serviceability.
"These really are the most reliable and powerful rotors in the industry," continued Mike. "Our customers have been quick to praise Hunter's patented TTS (Total-Top-Service) technology which allows for every serviceable element of the rotor to be accessed through the top.
Mechanical and electrical, big and small, operators can get to every component without disturbing the playing surface.
"This means there's no more digging, no more unsightly scars, and perhaps more importantly, it is one less item on a busy turf manager's schedule."
Other benefits of the TTS series include:
Exclusive pressure port nozzle technology which maximizes distribution uniformity for healthy, playable turf in any setting.

The high-torque gear drive is the strongest in the industry to mitigate the challenges of reclaimed water and debris infiltration.

The TTS-800 Series are available in four models to ensure optimised performance in a range of applications.

A threaded inlet which sets the industry standard with heavy duty impact-resistant construction.

Three ports of entry are available – to allow for fast, organised, and easy wire management during installation.

The regulator is adjustable when installed or removed, allowing for easy fine-tuning of settings for optimal performance.

The on-off/auto-selector is colour coded with a visual indicator which makes it easy to identify when the rotor is in the manual off position.

A stage two filter protection helps prevent rotor weeping.

The powerful patented planetary gear drive powers through even the harshest conditions.

A range of nozzle packages are available with flows from 33.71 litres per minute at a radius of 11.3m to 225.6 litres per minute at a radius of 29.5m

Speciality low angle nozzles are also available to accommodate high-wind environments and other specific needs.
"A lot of research has been carried out over the years and it is not a surprise to see that Hunter systems offer 17% savings in water usage over the competition on average," said Mike. "At KAR we are proud to distribute and work with such a leading brand.
"In particular, the TTS-800 rotors are built to maximise convenience and minimise waste. We are hoping for another successful year with these popular and powerful rotors."
For more information, please visit www.karuk.com
https://www.fusion-media.eu/wp-content/uploads/2021/02/TTS-885_LS-scaled.jpg
1920
2560
chrisbassett
https://www.fusion-media.eu/wp-content/uploads/2022/02/FusionMedia_logo.png
chrisbassett
2021-02-24 11:42:36
2021-02-25 16:16:44
KAR UK reports successful launch year for Hunter TTS rotors