Limagrain's MM60 Impresses at Scunthorpe United
Scunthorpe United's groundsman praises Limagrain grass seed
Scunthorpe United FC's grounds staff have remarked on a significant improvement to the pitch at Glanford Park since using Limagrain UK's MM60 Grass Seed.
After having a taste of Championship football for three seasons, Scunthorpe United is working hard to get back into the second tier of English football. The chairman of the club, Peter Swann, is about to enter his third season and is doing everything possible to make this happen, according to assistant groundsman Kevin Comming.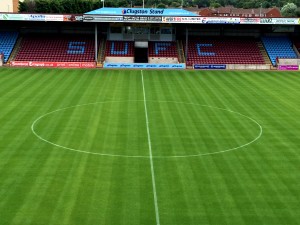 "Mr Swann is determined to get us to where we were before. When we reached the Championship it was an amazing achievement on the budget that we had. By hook or by crook he wants to get back to the Championship," he said.
The ambitious new chairman has already signalled his intentions by sealing a move to a new purpose built stadium. The new ground will feature a 15,000 all-seated stadium as well as a new state-of-the-art training complex and there is a good feeling around the club.
It appears that the Scunthorpe faithful have a lot of new changes be excited about, but one thing that is guaranteed to remain, is the excellent playing surface. The club has, over recent years, boasted a superb pitch which is in part thanks to the grass seed used.
Kevin, who has been at the club for fifteen years, believes that the pitch really started coming into its own after Limagrain's MM60 was applied.
"We used to use a different grass seed and we were relatively happy with it to be honest. But Simon Hutton, from Fineturf, who does a lot of work, including our end of season renovations, was full of praise for MM60. He spoke at length about its advantages and the benefits it would bring to us here.
"We gave it a lot of consideration and went to see a few other grounds which had used MM60. Ultimately we liked what we saw and decided to go for it. We can tell the difference and it is clear MM60 is far better than what we were previously using."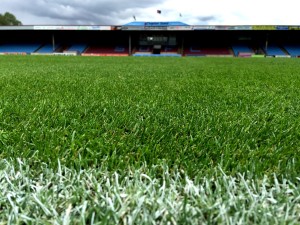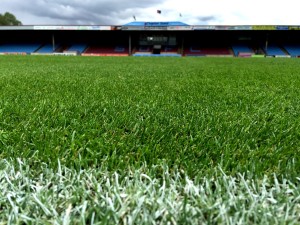 Limagrain's MM60 is the UK's leading winter sports renovation mixture and can be attributed with playing a key role in many of the finest sporting venues you see today. The 100% Ryegrass formula, which is perfect for divot repair, is renowned for its extremely fast germination and its high wear tolerance. It produces fantastic aesthetic qualities and its high disease resistance provides ultimate protection.
MM60 is also treated with HEADSTART® GOLD, which is a further development of the well-recognised Headstart treatment and has been developed using the latest scientific findings and field experience. It is a natural revolutionary grass seed treatment that ensures rapid germination. It is perfect for enhancing performance sports fields, golf courses, lawns and amenity turf.
"Overall we are very, very happy with it. It quickly recovers after a game which is great for us and we haven't got anything to complain about at all. The manager (Mark Robbins) is very pleased with the pitch and the players always comment on how good it is."
Scunthorpe United's head groundsman Graham Colby, who has been at the club for twenty-five years is equally impressed:
"From the word go, the MM60 has a made a big improvement in the grass coverage. The germination is very good and takes between five and eight days. It produces a good colour, it is hard wearing and it has just been brilliant for us."
For further information, please contact Limagrain UK on 01472 371471 or visit the company's website www.limagrain.co.uk. You can also follow the company on Twitter: @MM_Seed
https://www.fusion-media.eu/wp-content/uploads/2015/09/IMG_4443.jpg
2448
3264
chrisbassett
https://www.fusion-media.eu/wp-content/uploads/2022/02/FusionMedia_logo.png
chrisbassett
2015-09-22 13:33:20
2015-09-22 13:33:47
Limagrain's MM60 Impresses at Scunthorpe United