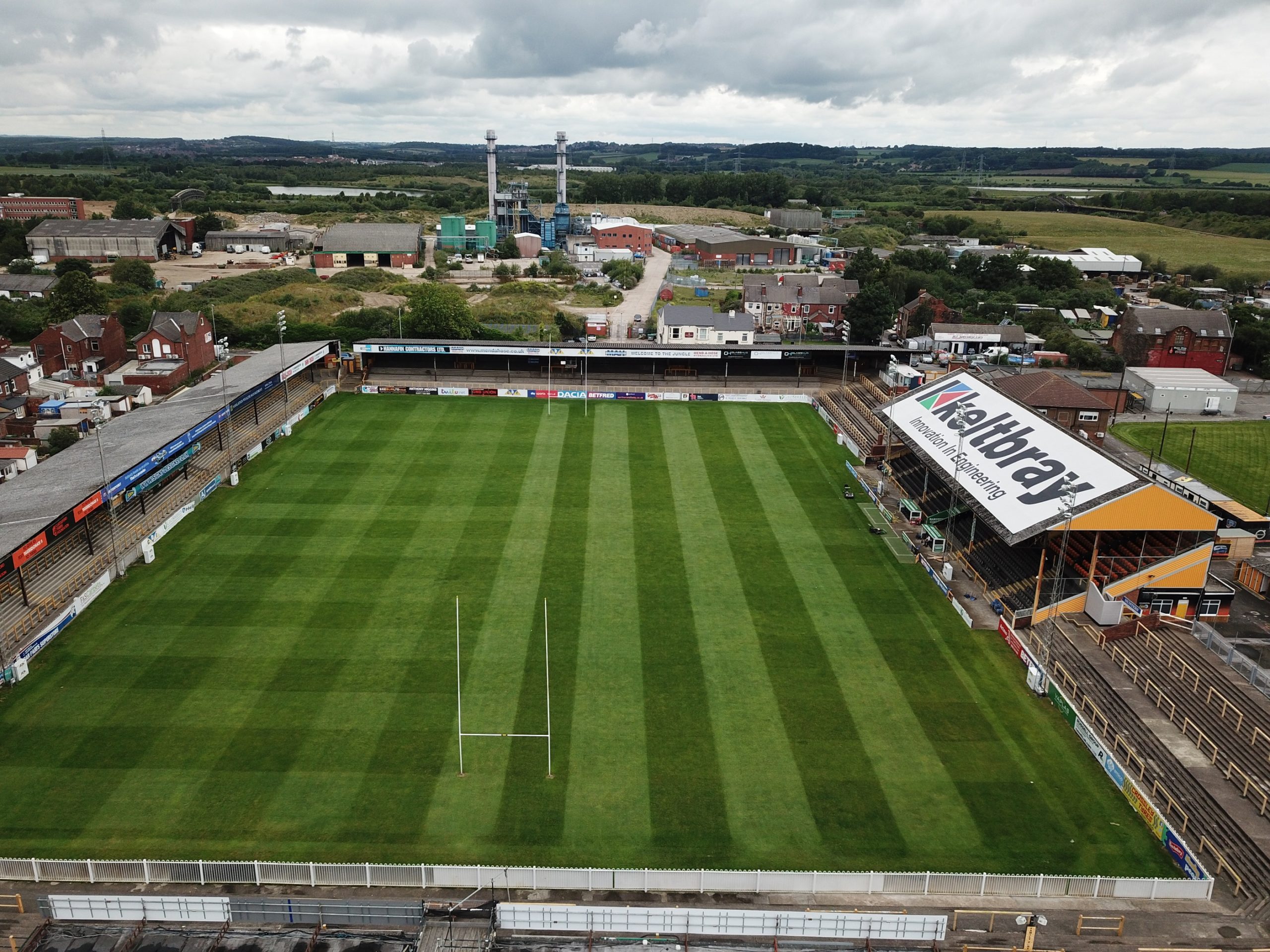 Mansfield Sand makes the difference
Since using products from Mansfield Sand, Stuart Vause, Head Groundsman at Castleford Tigers, claims that the pitch has resulted in a more free-draining, firmer surface.
It is safe to say that Stuart is living the dream. As a lifelong fan of Castleford Tigers, Stuart admits that he sometimes has to pinch himself to believe that he is working for the club that he loves.
"It's my childhood team so for me this is a very special place to work," he said. "It is a place where I've watched them as a child growing up stood in the stands, I've been a season ticket holder and now I'm working here. There is no other place I'd rather be."
For the past five years Stuart has been the Head Groundsman and, in that time, he has done a truly remarkable job. His work on the stadium pitch and the training pitch has been widely praised by players, fans and staff and he has also been recognised by the grounds management industry – winning the Professional Rugby Football League Grounds Team of the Year, not once, but twice in three years.
The transformation in the pitch since Stuart took over has been incredible, and in particular, Stuart believes that one of the biggest improvements has been since he started using Mansfield Sand's MM40.
"The pitch here at the stadium is very old and there is not much drainage at all. It is the same on the training pitch," said Stuart. "When I first came here, there would be so much standing water and drainage wouldn't go through the profile – a lot of games would be called off if we were seeing a lot of rain.
"I thought that I really needed to get some sand into the pitch, so I got in touch with Mansfield Sand and we've used them ever since."
Stuart now relies on Mansfield Sand's MM40 which is sourced directly from the Two Oaks Quarry in Mansfield where the company produces its renowned Mansil range of Silica Sands. MM40 is a medium sand which is predominantly used in the construction and maintenance of a wide range of sports surfaces – from winter sports pitches, golf courses, bowling greens and all amenity turf areas.
Four years ago, he started by applying 20 tonnes of MM40 during his renovations but after seeing the difference it made, he has increased the quantity year-on-year and is now applying between 80-100 tonnes a year across the stadium and training pitches.
"I could see the improvements straight away," he said. "The roots were getting deeper, the surface was getting firmer, it was more stable during the winter months, and it was starting to drain more.
"Both pitches are in the best condition I have ever seen, and I think the sand plays a big part in that. The surfaces are holding up incredibly well and last year I hardly had to do any divotting and this when there could have been two or three sessions a day on them.
"This year we had the wettest February on record – no games were cancelled and no training sessions were cancelled – whereas in the past they would have been. In fact, I remember one time when it wouldn't stop raining and a Sky TV commentator, along with everyone else, thought that one of our games would be cancelled. When the game proceeded, he asked me what I had done to get all the water off the pitch! I think this shows what a difference the sand has made.
"It's free-draining, consistent and the service is always brilliant. Gary Cunningham from Mansfield Sand will come in have a look and I'll trust him to advise on what I need. After the sand is applied, he will come back in and then we'll assess the results together. It is great to be able to have that knowledge and assistance."
For more information visit www.mansfield-sand.co.uk
https://www.fusion-media.eu/wp-content/uploads/2020/08/DJI_0074-scaled.jpg
1920
2560
chrisbassett
https://www.fusion-media.eu/wp-content/uploads/2022/02/FusionMedia_logo.png
chrisbassett
2020-08-07 13:41:05
2020-08-07 13:41:05
Mansfield Sand makes the difference