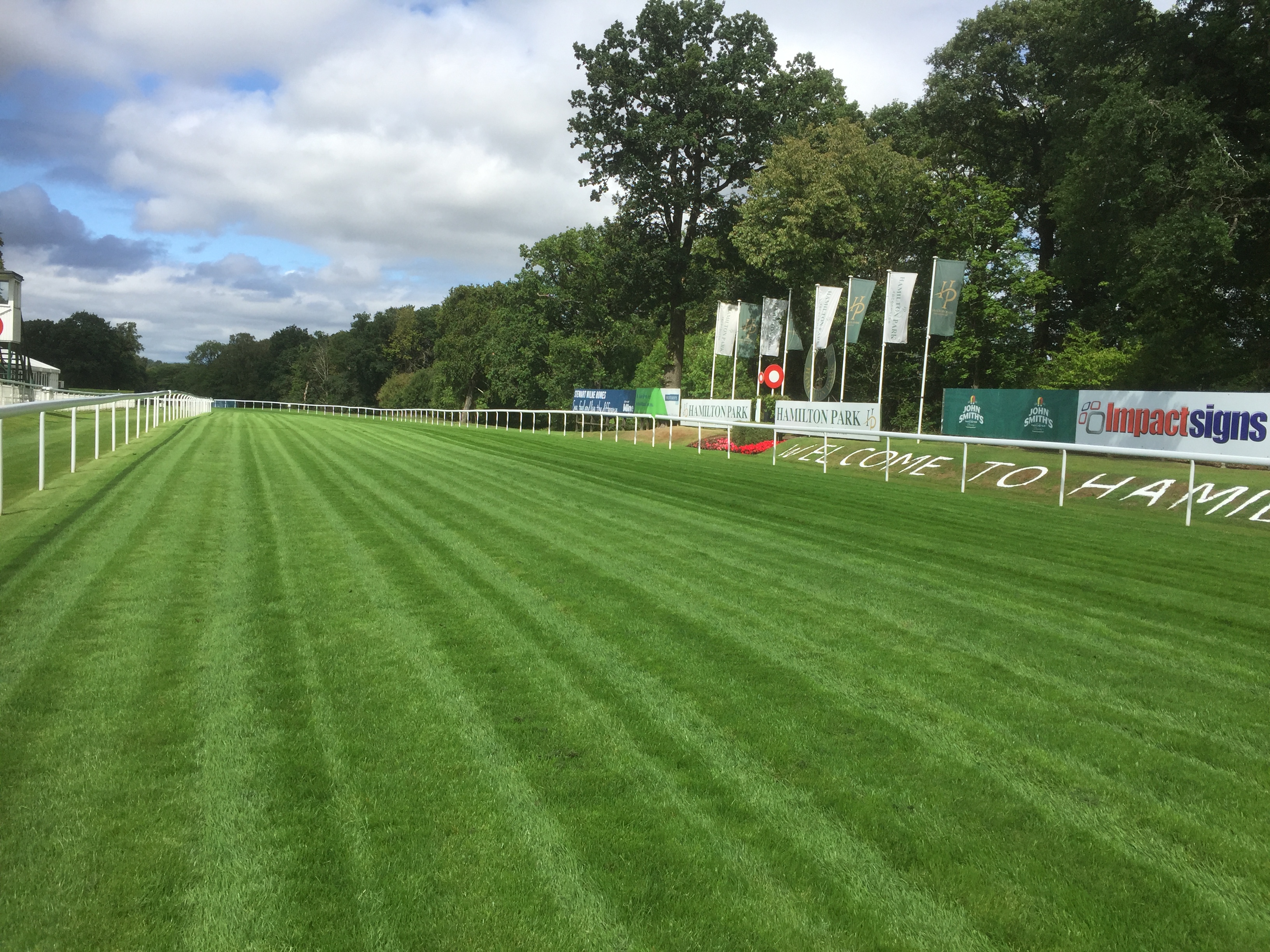 Marathon is the front runner at Hamilton Park
Marathon is the front runner at Hamilton Park. Stephen Fyles, track manager at Hamilton Park racecourse, has noticed significant improvements since switching to a variety of Marathon Sport extended release fertilisers from Sherriff Amenity.
With a glowing CV including roles at Aintree, Epsom, the Jockey Club and now Hamilton Park, it's safe to say that Stephen knows a thing or two about preparing a horse racing track to the highest possible standard. Along with three other members of staff, Stephen oversees the meticulous operations at the 4.8 hectare site which includes the maintenance of the track and all surrounding lawns and grounds.
Hamilton Park's race season consists of 18 days a year throughout the summer months which Stephen says is the most intense time in the grounds team's diary. Then there are non-race events such as functions, Christmas parties and weddings which the team also have to prepare for. As you would imagine, the track faces a great deal of stress and wear so choosing the correct products in his maintenance programme is essential.
"I came into this role three years ago with the mind-set of giving the existing fertiliser programme a chance," he says. "I gave it two years but unfortunately I was finding holes in the regime – we were losing track pace, recovery times and generally were just not seeing the results I wanted.
"I had seen the Marathon fertilisers in action in a previous role at Epsom and knew what I could expect from them. Therefore I made the switch last year and they have worked incredibly well."
For a number of years, turf managers have reaped the benefits of Sherriff Amenity's range of Marathon fertilisers – the Marathon Sport range of extended release fertilisers provide long-lasting, balanced growth on golf fairways, tees, surrounds, sports fields and ornamental lawns maintained at a height of 10mm and above.
"We went with an all Marathon feed for the track over the course of the summer with four feeds and the results have been fantastic. It's been a very positive year – the track has stood up to the heavy use and at the same time it is helping me meet the requirements of our soil analysis tests because at the moment the phosphate levels in the soil are high so it requires us to have a low phosphate fertiliser to stop them from getting locked in."
Stephen chooses to use Spring 16.4.8; Summer 10.0.15 and Autumn 7.0.21 and applies them anywhere between the recommended rate of 20 – 35g/m2 dependent on conditions. In conjunction with the Marathon base feeds, Stephen regularly applies long-lasting iron liquid in the form of Sherriff Amenity's GoGreen Energy and GoGreen Plus.
Containing seaweed, plant sugars, simple carbohydrates and trace elements that have been specially selected to give optimum results when grass is stressed, GoGreen Energy is a concentrated bio-stimulant, formulated to assist plant health and relieve stress symptoms. For instant greening of turf many turf managers choose GoGreen Plus which is a unique complex iron sulphate that may be used as a stand-alone product or more flexibly, as a tank-mix partner.
"The programme started with an application of the Marathon Sport Spring 16.4.8 in March to give it a good push because we carried out a good chunk of renovation work in the spring which wasn't exactly the best of growing seasons. However, within four weeks we pretty much had full recovery on the track and then went with the Marathon Sport Summer 10.0.15 at the end of May which pushed us through our most intense period. It is during these summer months that the track is particularly under stress and this year, with the lack of rain, I was expecting it to be a challenge to keep the surface to where we wanted it, but I genuinely have no complaints.
"We applied Marathon Sport Autumn 7.0.21 in the last week of July to set us in good stead for our biggest fixture of the year – Ladies' Night, and have chosen the same formula for the end of October to bring us into winter in good shape. As well as the Marathon products we have been applying GoGreen Energy and GoGreen Plus at six-week intervals just to keep the turf healthy and give it some natural goodness.
"Essentially, the Marathon products are giving me a balanced feed at the same time as giving us what we require going forward. They have worked well in low temperatures and the site has looked amazing all year."
For further information, please contact Sherriff Amenity on 01638 721 888 or visit www.sherriffamenity.com
https://www.fusion-media.eu/wp-content/uploads/2018/10/IMG_0763.jpg
2448
3264
chrisbassett
https://www.fusion-media.eu/wp-content/uploads/2022/02/FusionMedia_logo.png
chrisbassett
2018-10-03 09:04:31
2018-10-03 09:04:31
Marathon is the front runner at Hamilton Park