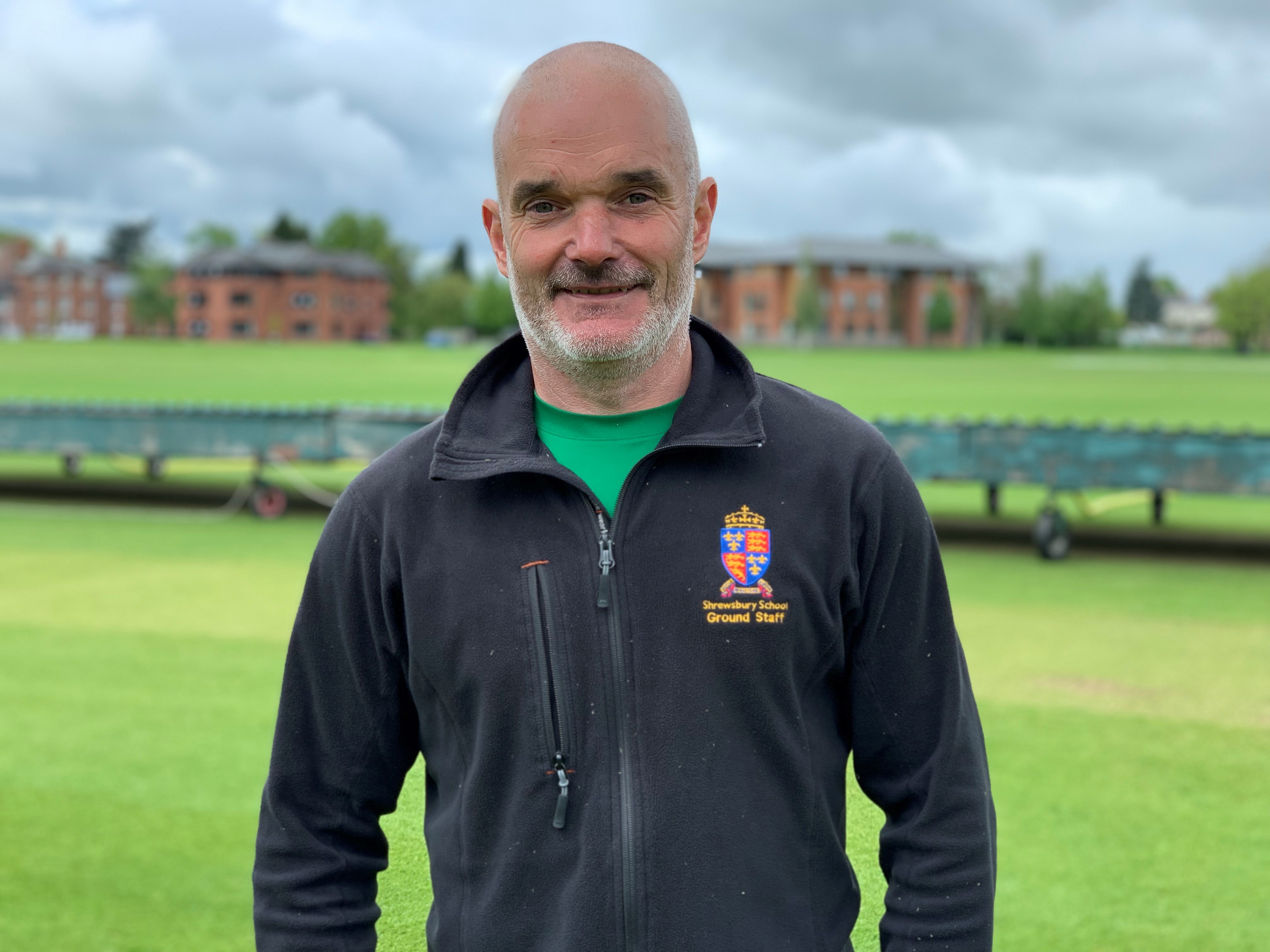 MM proves its worth at Shrewsbury School
Grounds manager Andy Richards claims that Limagrain UK's MM brand of grass seed has proved time and time again, to be the best mixtures for the sports pitches at Shrewsbury School.
Set on the banks of the River Severn, Shrewsbury School is one of the country's leading co-educational independent schools for 13-18-year-olds and attracts boys and girls from all over the country.
Academic excellence aside, the school prides itself on a strong sporting ethos and boasts some of the finest teams in UK education. The main sport in the Michaelmas (autumn) term is football, in the Lent term fives and rugby, and in summer cricket. During term times, pitch usage is seven days a week and with over 800 pupils, many of whom participate in sports, it is safe to say that the pitches encounter a lot of wear.
It is for this reason that Andy is very particular in choosing a grass seed that stands up to such high usage.
"Three years ago we made the decision to change to Limagrain's MM60 on our football pitches," he said. "We were experiencing a lot of disease, especially on our first team pitch, and I think we sprayed four times to tackle fusarium. With this in mind I thought it was worth trying something different to see if we could find a seed that was better for our site.
"We trialled MM60 on one pitch against the seed that we were previously using over the course of a season – to see which one was the best. Results showed that there was a lot less disease from using MM60 and it stood up a lot better to the really high usage that we have. The pitch that we trialled it on had 112 uses during a twelve week period and it felt like the MM60 provided a much more upright leaf which seemed to protect the pitch more than our previous seed.
"It was an easy decision to change to the MM60 and we implemented it across all of the football pitches – we didn't even need to spray it for any disease in that first year."
Limagrain's MM60 grass seed is renowned for producing an excellent playing surface. It is a 100% Ryegrass formula which is perfect for renovation and divot repair, has a high disease resistance, fantastic aesthetic qualities and offers extremely fast germination – which is boosted by the inclusion of Headstart GOLD®.
Developed using the latest scientific findings and field experience, Headstart GOLD® is a natural revolutionary grass seed treatment that ensures rapid germination and is perfect for enhancing performance on grass seed coatings for sports fields, golf courses, lawns and amenity turf.
For 2019, MM60 now includes Limagrain's new Ryegrass cultivar Annecy which has outstanding disease resistance particularly against Leaf Spot. This along with excellent wear tolerance, density and recovery makes it a very valuable addition to the mixture at a time when plant health and disease management has never been so important.
After 'Koro-ing off' the pitches during the annual August renovations, Andy has just 28 days to ensure the pitches are playable for the opening fixtures. Therefore, when Andy sows the seed he needs absolute confidence that it will perform.
"We know that by the fourth or the fifth day MM60 is going to be showing; within seven days it is going to be green, and then between ten and fourteen days we will even look at putting a growth regulator down and encourage it to start tillering and get as deep rooted as possible. MM60 responds excellently – it's hungry, it's vigorous, it comes through well and it colours well. The Headstart can also take out the need for pre-seed fertiliser."
In a similar move, Andy also decided to change to Limagrain's MM50 for the school's cricket pitches after his previous seed was not meeting his expectations.
"We were using a different seed on the squares but our recovery was so poor and the pitches were almost dead at the end of two or three games of cricket. We didn't even trial the MM50 – we just went straight in on a whole square and the difference was incredible. The speed that it came through and the quality of the sward was really impressive. We had no disease through the winter and when we prepared our first wickets with MM50 the following spring – the denseness, the texture of the leaf and the way it cut down to the 6mm we aim for was amazing. The wickets looked good and they coloured up well but the most important thing was that we could water them after four or five days of play and within a couple of days they were almost green again."
As Andy says, MM50 is ideal for cricket squares and outfields. This hard-wearing mix has rapid germination, very fine leaved appearance, high shoot density and is tolerant to very close mowing, along with high disease resistance. All these attributes together produce a fantastic sward that has great colour all year round. It is also widely praised for its rapid recovery – something which is incredibly important to Andy.
"With the amount of games we have here, recovery is a massive thing and we have to get them back quickly. MM50 has just proved time and time again to be the best cricket mix in the country.
"Limagrain is a great company to work with. They will come in a few times a year, have a look around and we will discuss things like overseeding pitches or seed mixtures. The service has been very good and I don't think they could actually do anymore if they tried."
For further information, please contact Limagrain UK on 01472 371471 or visit the company's website www.lgseeds.co.uk/mm 
https://www.fusion-media.eu/wp-content/uploads/2019/06/Shrewsbury-School-5.jpg
3024
4032
chrisbassett
https://www.fusion-media.eu/wp-content/uploads/2022/02/FusionMedia_logo.png
chrisbassett
2019-06-11 11:18:10
2019-06-11 11:18:10
MM proves its worth at Shrewsbury School