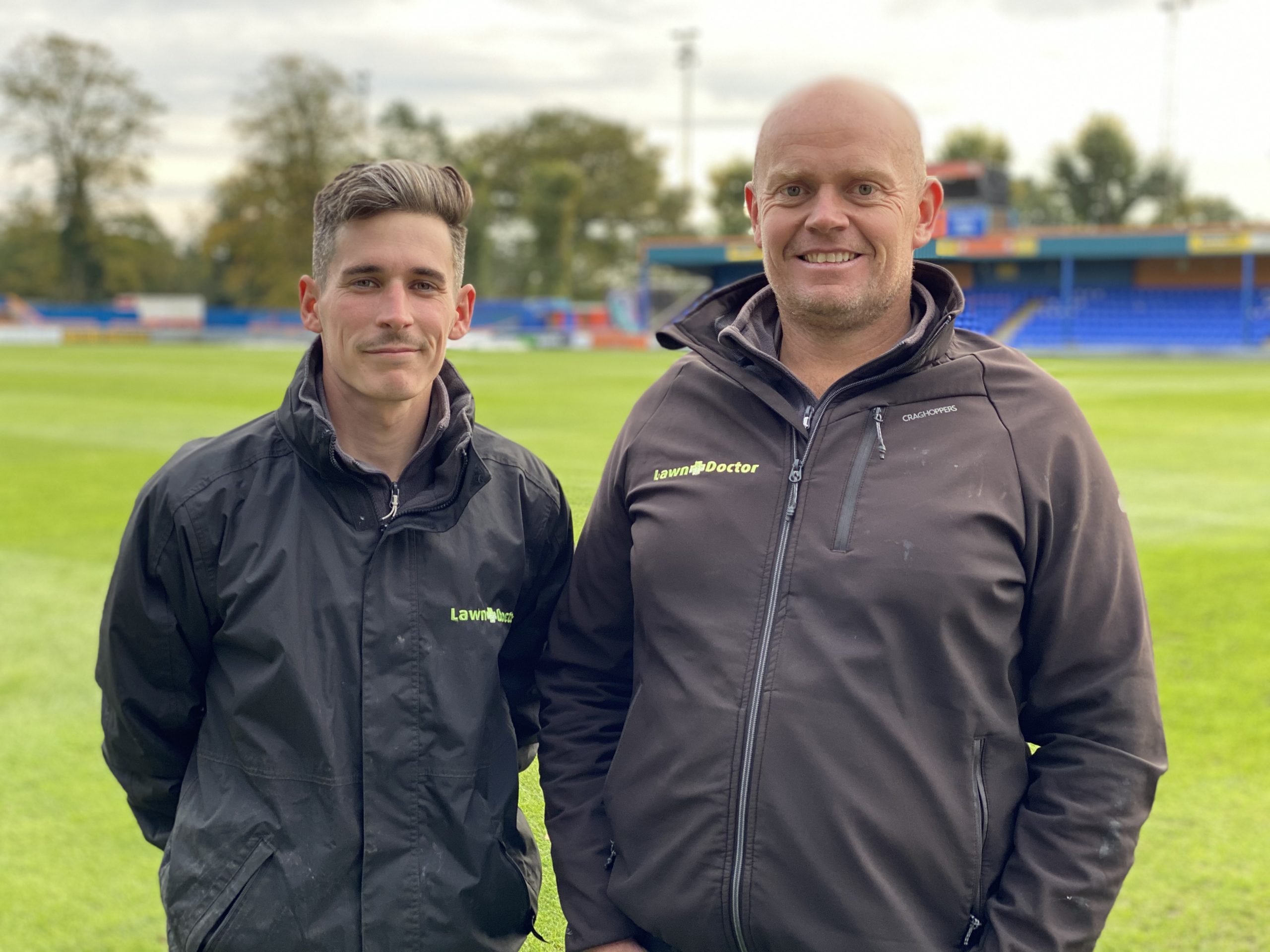 MM seed – just what the doctor ordered
Graham Wickes, owner of Lawn Doctor (Essex) LTD, has praised the quality of Limagrain UK's grass seed after seeing phenomenal results across a variety of lawn and sports turf projects. 
Graham started his career in greenkeeping and while working at some prominent golf courses, including The London Club, he also found time to work towards his NVQ Level 2 and 3 in Sports Turf Management. Upon leaving the golf industry, to gain knowledge in building golf courses and football pitches, Graham began expanding his experience and expertise working for a sports turf contractor.
In 2008, he founded the Lawn Doctor and took all the principles of top quality greenkeeping and turf care in the sporting world to start creating healthy, lush lawns all over Essex. It initially started with residential projects and with clients impressed with his knowledge, attention to detail and the fabulous results they saw, that grew quickly before Graham then landed maintenance contracts at some bowls clubs and soon came to the attention of Bowls England who, recognising his skills, appointed him as their Greens Advisor for Essex. Bowling greens quickly led to football pitches and it was not long before he was building up an impressive portfolio as clubs, local authorities and private clients reaped the rewards of the hard work Graham puts in and the ongoing support he gives throughout the process.
The business has gone from strength to strength over recent years and this is, partly, due to his insistence on using only the highest quality products.
"It is my business and I strive to be the very best," he said. "To be the best I have to use the very best products. Whenever I am pitching for a project or providing a quote, I always explain that I use the most premium grass seed and first-class products on the market."
Graham first became familiar with Limagrain UK after a specific seed mixture was recommended to him.
"I was previously using another brand for my seed mixtures which I thought was great to be honest, but I always like to look for improvements, even when things are going well and I'm glad I did. I started speaking to another contractor and he was raving about Limagrain's seed mixtures, so I decided to try it for myself. I was amazed at how quickly it came through and the colour it had was brilliant even without a feed.
"From then on, I decided to start using the Elite Green mixture from Limagrain for the bowls greens and I had fantastic results straight away. The first season I used this seed I had far superior germination to the previous brand I was using. The greens were in the best condition they had ever been."
Limagrain's Elite Green mixture, from the company's Designer seed range, produces a fine, dense, hard-wearing surface with high disease resistance. It was Graham's first experience of Limagrain's seed in a sports turf environment, and he did not stop there.
In 2019 he decided to overseed with Limagrain's MM60 mixture when renovating the pitch at Braintree Town FC. MM60 is the UK's leading winter sports renovation mixture and can be attributed with playing a key role in many of the finest sporting venues you see today. The 100% Ryegrass formula, which is perfect for divot repair, is renowned for its extremely fast germination and its high wear tolerance. It produces fantastic aesthetic qualities, and its high disease resistance provides ultimate protection.
MM60 is also treated with HEADSTART® GOLD, which is a further development of the well-recognised Headstart treatment and has been developed using the latest scientific findings and field experience. It is a natural revolutionary grass seed treatment that ensures rapid germination. It is perfect for enhancing performance on sports fields, golf courses, lawns and amenity turf and Graham quickly found it was indeed a seed he could rely on.
"When I first arrived at Braintree, the goal mouth areas were totally bare – there was no grass at all. I overseeded the whole pitch with MM60, and I told the chairman that I was determined to keep grass in the goal mouth areas all season. He laughed and wished me luck because it had apparently never been done before.
"A year later and the goal mouth areas still had grass coverage and the condition of the pitch has attracted the attention of larger League Two clubs, looking for suitable match locations for academy games and also The FA who have offered it to international associations as a training location for youth international fixtures."
In addition, Lawn Doctor (Essex) Ltd are on the list of Essex CFA contractors to help and assist clubs with the Grass Pitch Improvement Strategy (formerly Pitch Improvement Programme).Graham thinks the use of MM60 can be seen as a significant contributor to his success in these areas.
"The beauty of Limagrain seed is knowing that it works. To my clients I proudly inform them that I use the most premium products and the Limagrain seed backs this up. As a contractor, seeing the grass coming up within seven days after putting it down is great – it is also what your customer wants to see. I've not used another brand of seed since.
"It's not just the quality of the seed but it's the service and quick delivery which is also part of the package. Getting a product within 3 or 4 days is particularly important to me because it enables me to keep to schedules.
"Everything just works incredibly well with Limagrain UK."
For further information, please contact Limagrain UK on 01472 371471 or visit the company's website www.lgseeds.co.uk/amenity
https://www.fusion-media.eu/wp-content/uploads/2020/12/IMG_E1638-scaled.jpg
1920
2560
chrisbassett
https://www.fusion-media.eu/wp-content/uploads/2022/02/FusionMedia_logo.png
chrisbassett
2020-12-03 09:24:40
2020-12-03 09:24:40
MM seed – just what the doctor ordered