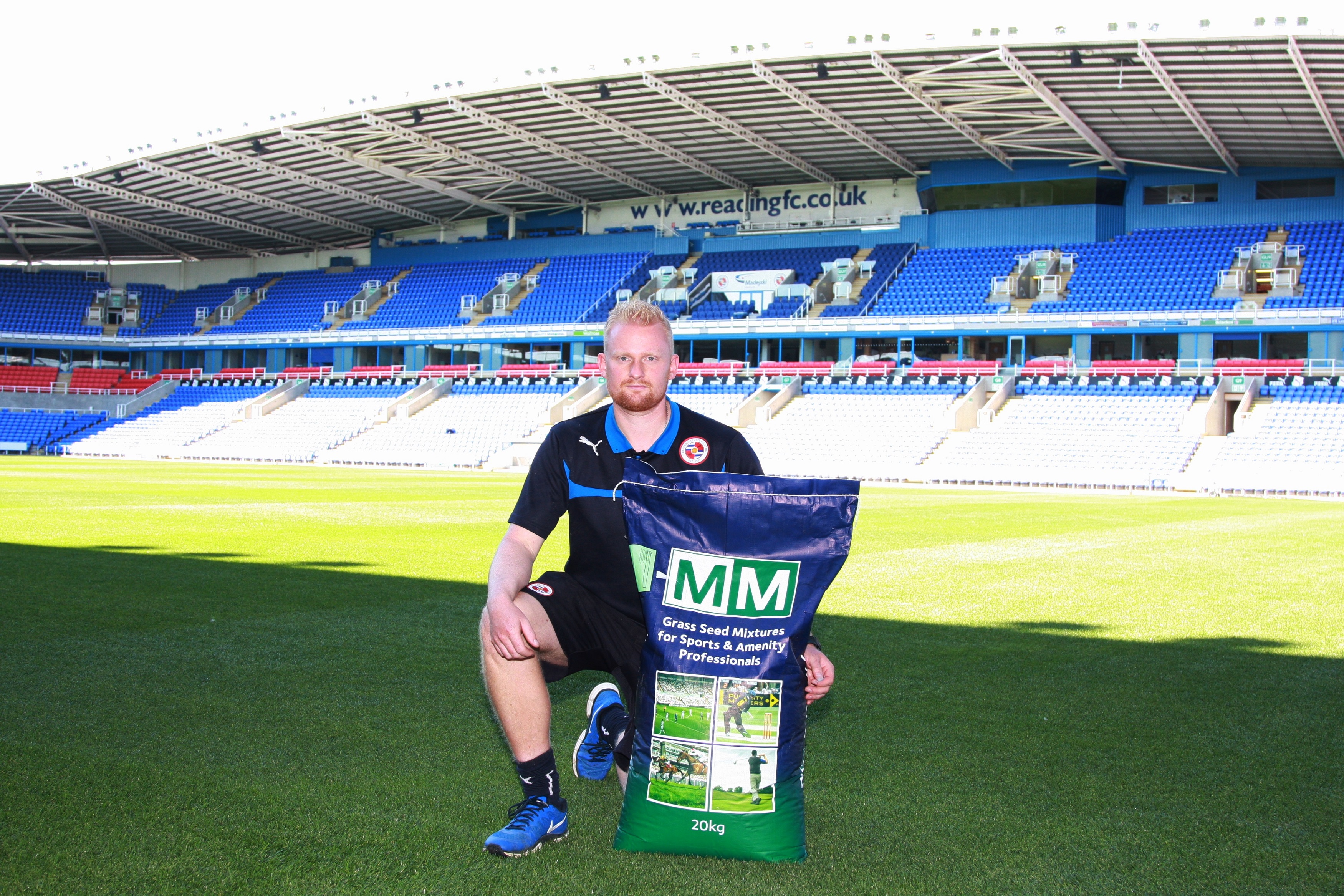 MM60 success at the Madejski Stadium
MM60 success at the Madejski Stadium. Adam Grantham grounds manager for Reading FC, believes that Limagrain's MM60 grass seed has helped him achieve a pitch which can stand up to the rigours of a multitude of both rugby and football games.
The Madejski Stadium is home of Reading FC, who ply their trade in the Football League Championship, and also the rugby union club London Irish. With Reading playing 23 league games at home, as well as cup competitions, in addition to London Irish fixtures, the stadium sees more action than most.
"Quite often we will get a 'double whammy' with Reading playing on a Saturday afternoon and the London Irish playing rugby on a Sunday. If there is a midweek game, which is quite often on a Tuesday, then you can have three games in just four days. It can prove to be difficult with such a congested fixture list and the main challenge are the scrum areas. These can take their toll especially when the weather is against us but fortunately we've got a strong and sturdy pitch, which is easily repaired. It also plays really well," says Adam.
This is in part thanks to Limagrain's MM60 grass seed which is renowned for producing an excellent playing surface in a stadium environment. The MM60 grass seed is a 100% Ryegrass formula which is perfect for renovation and divot repair – making Adam's job that much easier when it comes to the scrum areas. Renowned for its extremely fast germination; MM60 has a high disease resistance giving fantastic aesthetic qualities.
Adam first became familiar with MM60 in his previous role as head groundsman at Reading's training ground.
"I've been a big fan of the MM60 seed for a very long time. I actually first started using it in my previous role over at the training ground and it is still used over there. We've got nine pitches at the training ground and around two thirds of the site consists of MM60.
"I know what I get from MM60 and it is my go-to product. It has extremely good wear tolerance and it provides fantastic colour all year round – even throughout the winter. Limagrain has actually improved the mix for this year if that was even possible – and you just have to take a look at the pitch to see how well it is doing."
The new and improved MM60 also has the added benefit of being treated with Headstart GOLD®, which is a further development of the well-recognised Headstart treatment. Developed using the latest scientific findings and field experience, it is a natural revolutionary grass seed treatment that ensures rapid germination and is perfect for enhancing performance on grass seed coatings for sports fields, golf courses, lawns and amenity turf.
"I've recommended MM60 to a number of other groundsmen who in turn gave it a go and now swear by it. I'm just incredibly happy with the product and with the service and support I receive from Limagrain and Richard Sheppard our area manager."
For further information, please contact Limagrain UK on 01472 371471 or visit the company's website www.limagrain.co.uk. You can also follow the company on Twitter: @MM_Seed
https://www.fusion-media.eu/wp-content/uploads/2016/08/IMG_2936.jpg
2333
3500
chrisbassett
https://www.fusion-media.eu/wp-content/uploads/2022/02/FusionMedia_logo.png
chrisbassett
2016-08-22 18:07:49
2016-08-23 11:17:08
MM60 success at the Madejski Stadium