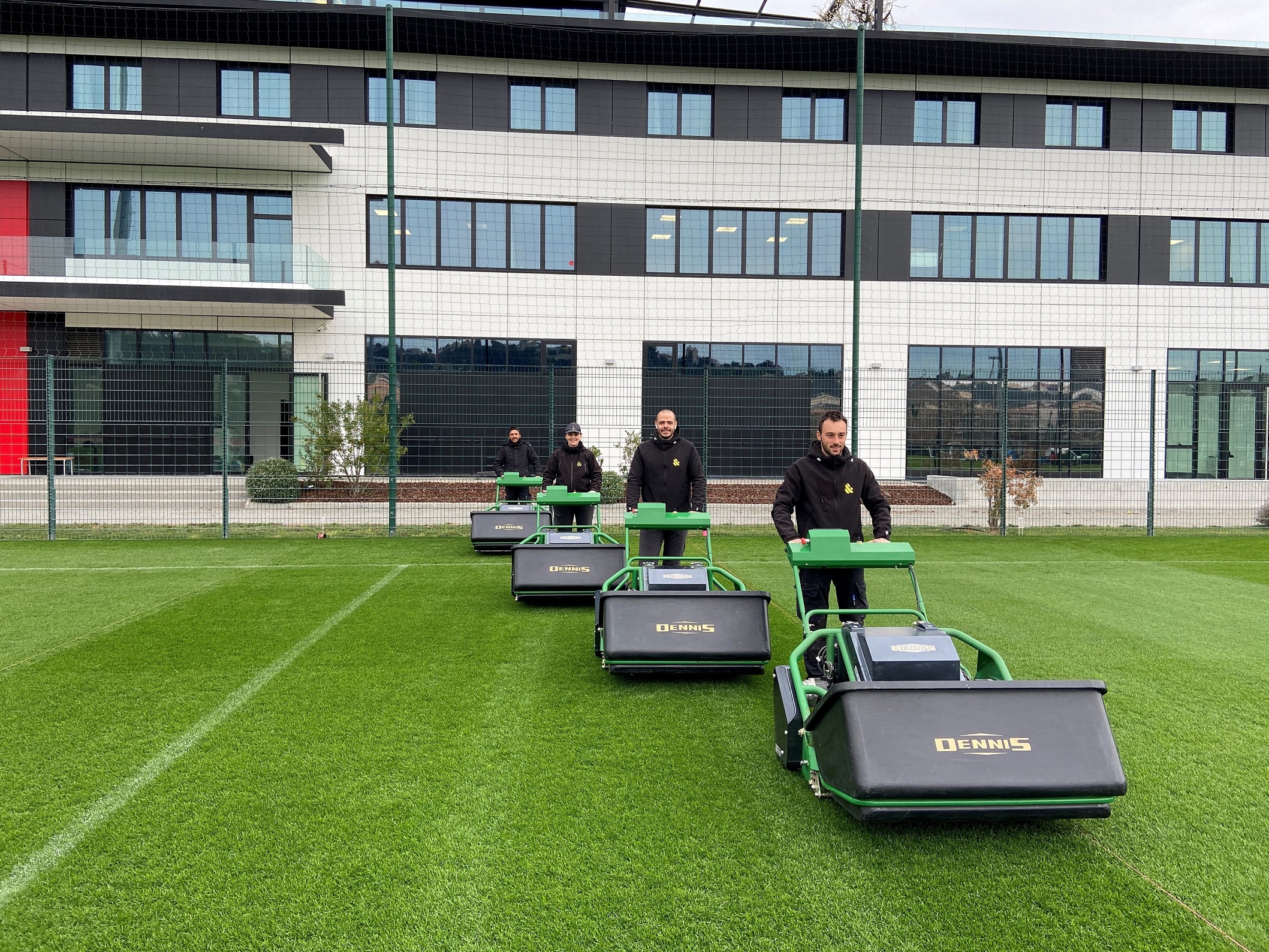 New Dennis ES-860 gets Nice seal of approval
Scott Brooks, Grounds Manager at OGC Nice in France, believes that when it comes to battery-powered cylinder mowers, there is nothing that compares to the new Dennis ES-860.
After an illustrious start to his career in the UK, which included positions at Tottenham Hotspur FC, Arsenal FC and St George's Park, Scott is now carrying out the upkeep and the development of OGC Nice's training pitches in the South of France.
He was specifically head hunted for the role after the French club visited the Football Association's national training centre for a pre-season summer tour and were impressed with Scott's unique philosophy on keeping players injury-free. That was over a year ago now and it is evident that he is making some vast improvements to the pitches in Nice.
Scott first started introducing battery-powered products into the operations at St George's Park and claims that he was keen to continue embracing this technology in his new role. It was towards the end of his spell at St George's Park that he first heard that Dennis was launching a range of environmentally friendly mowers called the E-Series.
"I never got the opportunity to get one at St George's Park," said Scott. "I had every faith that it would be a good machine because I saw the prototype at SALTEX and I could see the benefits of it straight away."
For many years, turf professionals have been choosing Dennis Mowers for their superb cut quality and reliability, and anticipation quickly started building when the company announced its new battery-powered range.
Leaving no stone unturned, Dennis Mowers spent three years working with carefully selected partners to develop a range of quality battery-powered equipment befitting of the Dennis badge. The aim was to provide a reliable and long-lasting solution with the ultimate performance that helps professionals meet sustainability and environmental initiatives, reduce carbon footprint, emissions, running costs and noise without any range anxiety.
Ever the perfectionist, Scott first insisted on putting the Dennis ES-860 to the test against other battery-powered cylinder mowers.
"I had other mowers on trial for a few weeks and this enabled me to assess them side-by-side," said Scott. "For me, there was no comparison and there was only one winner – the Dennis ES-860 was the machine I wanted."
Users of the Dennis G860 cylinder mower will no doubt see familiarities in the new ES-860.
This 34" battery powered turf management system delivers maximum versatility and the range of 13 interchangeable cassette options provide a solution to many day-to-day maintenance tasks such as cutting, scarifying, brushing, slitting and verticutting. Furthermore, traditional G860 cassettes will also fit the ES-860, meaning that customers will not have to purchase additional cassettes.
A robust LCD keypad screen is an integral feature of the handlebar console providing the operator with a multitude of information options including speed, clip rate, service checks, lifetime running reports and battery information.

"The battery life on the Dennis ES-860 is excellent," continued Scott. "We were able to cut two pitches on one single charge, whereas we were struggling to complete one pitch with others.
"The charging capacity on them is incredible. For example, if we have a big day ahead and everything is getting hand cut, then we know that we can bring the Dennis ES-860's in at lunch-time and charge each of them for just twenty minutes. In this short amount time, we know that we will get enough recharge in them to go back out and finish the job.
"Aside from battery power, I felt the Dennis ES-860 was a robust and solid unit that was ideal for continuously using on the training ground – it is an excellent piece of engineering."
"The Dennis ES-860 is also so much easier to operate and the interchangeable cassette system is so simple to change cassettes."
After the side-by-side trial, Scott purchased four Dennis ES-860 mowers and uses them regularly throughout the week as part of his maintenance programme.
Typically, Scott relies on the brushing cassette to brush the debris off the pitches after every use; the verticutting cassette to remove any organic material and the 8-bladed cutting cassette to provide a quality cut before a match or a training session.
Scott and his team have been using the Dennis ES-860's for a prolonged period of time now and he certainly has no regrets.
"There were quite a few reasons for going down the battery route," he said. "Firstly because of the environmentally friendly benefits, but also from a noise pollution perspective. Prior to having the Dennis ES-860's we kept getting asked to stop mowing because the noise was disrupting the training sessions. However, now with the ES-860 mowers we can be on the pitch next to the players while they are training, and they are so quiet that they do not stop us. It is a vast improvement in productivity.
"I also wanted the team to be more comfortable and with these mowers you do not have any fumes, there are less vibrations and also less noise.
"Battery-powered technology is developing and progressing all the time, but it is important to be an early adopter because if people don't take it up then no one else will. It certainly seems to be the future.
"The club's owners encourage the sourcing and implementation of more sustainable and environmentally friendly practices in the way we operate which this purchase obviously supports."
For further information or a no obligation demonstration, please contact Dennis 01332 824 777 or visit www.dennisuk.com
https://www.fusion-media.eu/wp-content/uploads/2021/03/Dennis-Es860-at-Nice-1.jpg
1588
2117
chrisbassett
https://www.fusion-media.eu/wp-content/uploads/2022/02/FusionMedia_logo.png
chrisbassett
2021-03-22 10:22:58
2021-03-22 10:22:58
New Dennis ES-860 gets Nice seal of approval