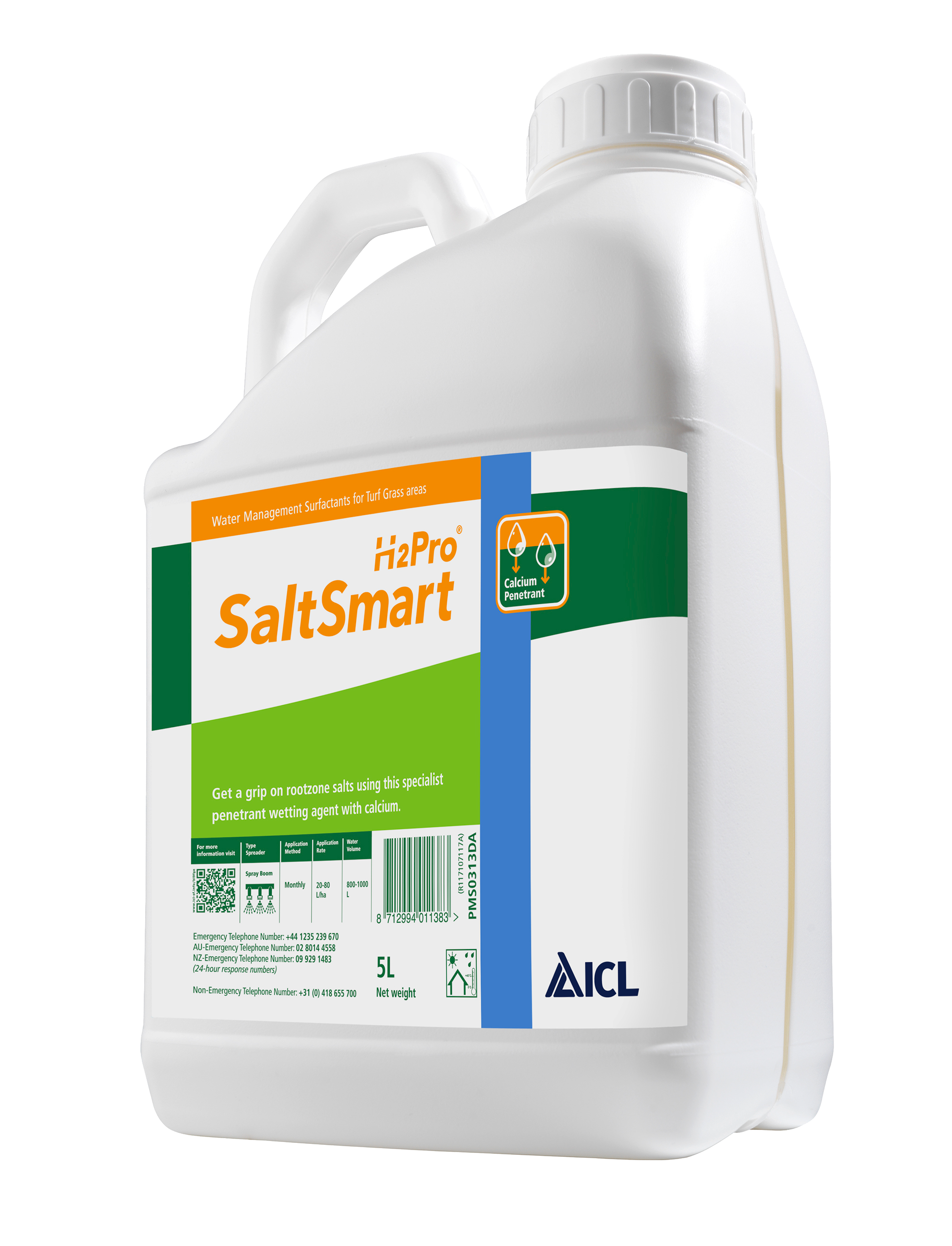 NEW H2Pro SaltSmart launched by ICL
ICL has announced the launch of an exciting new addition to its leading range of H2Pro wetting agents – H2Pro "SaltSmart".
Utilising advanced polymer and surfactant technology, the H2Pro range of specialist wetting agents have been carefully formulated and tested to help turf managers achieve maximum control of their moisture management.
The existing H2Pro's DewSmart, TriSmart, FlowSmart and AquaSmart have been designed to achieve specific goals, each with a different blend of surfactants. The four products have been widely commended for offering a number of solutions such as; preventative and curative action against Dry Patch, providing a drier surface in wet conditions and significantly reducing irrigation requirements.
H2Pro SaltSmart is the latest addition to the H2Pro range and is set to provide turf managers with an even wider range of options for their moisture management strategies. A unique blend of penetrant surfactant with Calcium macro-polymer, H2Pro SaltSmart has been designed to move water and exchange cations thus reducing the impact of salt on turf. This specialist product works by allowing water to penetrate and dissolve and flush salts below the rooting level or out into the drainage system.
The build-up of salt levels in rootzones can be problematic in sports turf and H2Pro SaltSmart will be a welcome addition for venues such as links courses which may be situated close to the sea or for those who encounter high evaporation and low rainfall.
The product could also be extremely beneficial for low CEC sand-based rootzones that have limited buffering against salt influx and for turf managers who have poor quality groundwater for irrigation.
Please contact ICL on 01473 237100 or visit www.icl-sf.co.uk or www.icl-sf.ie if you are in Ireland.
https://www.fusion-media.eu/wp-content/uploads/2019/02/H2Pro_SaltSmart.png
2598
1986
chrisbassett
https://www.fusion-media.eu/wp-content/uploads/2022/02/FusionMedia_logo.png
chrisbassett
2019-02-08 09:01:37
2019-02-08 09:02:51
NEW H2Pro SaltSmart launched by ICL