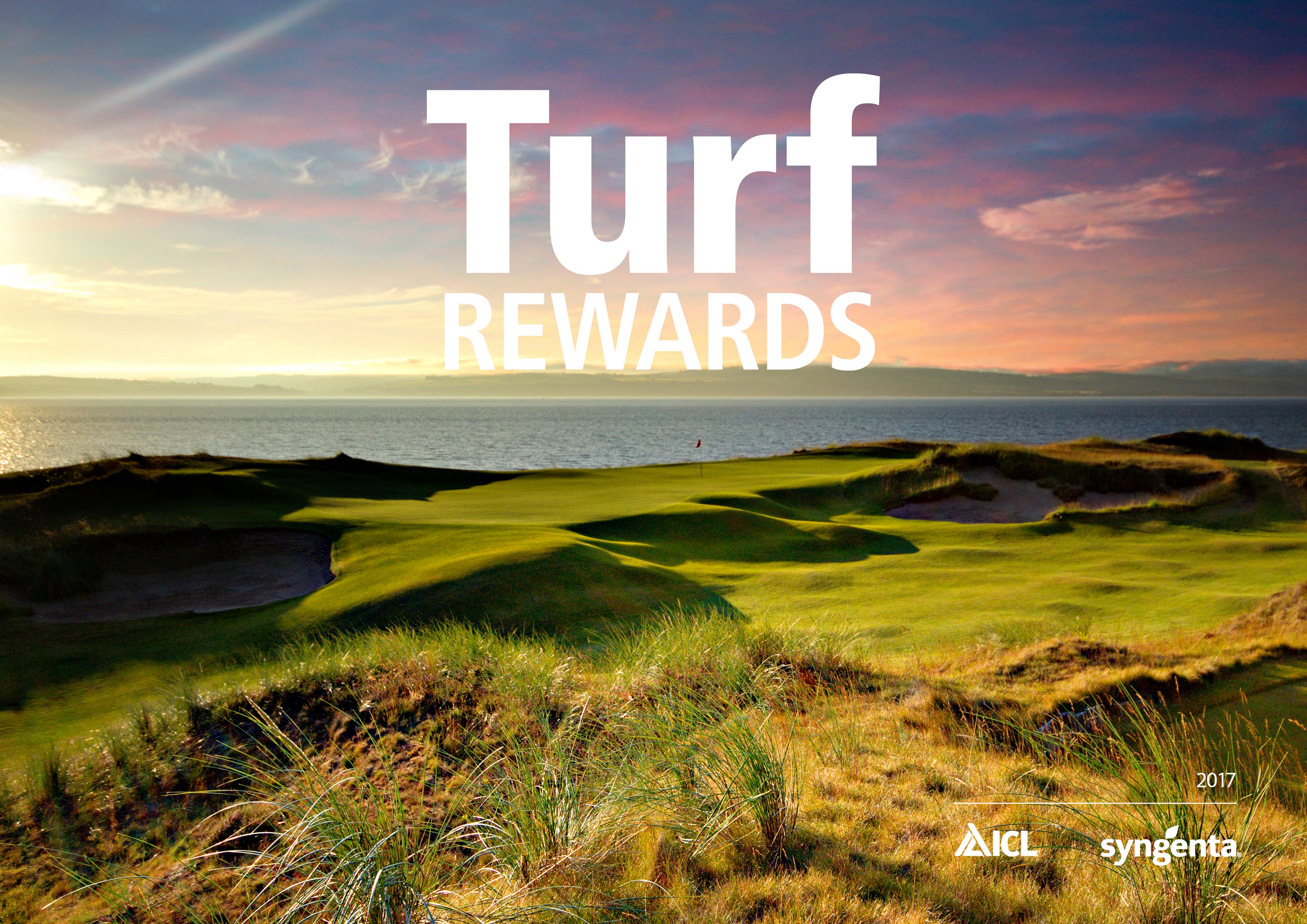 New line-up of Turf Rewards for 2017
New line-up of Turf Rewards for 2017. Turf Rewards users throughout the UK and Ireland will be spoilt for choice this year after ICL and Syngenta announced that a number of new qualifying products and reward items have been added to the loyalty scheme's portfolio.
The popular scheme for golf, sport and amenity turf managers provides the chance to earn points from purchases and convert them into a range of valuable agronomic or educational items.
There is an extensive range of items on offer including workplace and agronomic tools plus work wear and educational vouchers.
These can provide a great way to enhance education, improve operations and boost team morale.
New line-up of Turf Rewards for 2017
2017 sees an even wider variety of products available with the addition of new rewards including:
NDVI Meter (55 points)
The Trimble GreenSeeker handheld NDVI meter is an easy-to-use measurement device that can be used to assess the health or vigour of turf in order to make better nutrient management decisions.
£250 Machine Mart Voucher (35 points)
Vouchers to spend at Machine Mart – the No.1 specialist tools and equipment online superstore.
Team Scout Pedestrian Sprayer (100 points)
The Team Scout is an efficient and reliable pedestrian sprayer. Supplied as standard with an adjustable pressure control system ensuring constant, accurate liquid application and three pneumatic wheels to increase maneuverability.
Clegg Hammer (Sports Pitch) (250 points)
The 2.25 Kg Clegg Hammer for Football, Cricket, Equestrian and Rugby Surfaces(Model Type CIST/883), is designed and manufactured by SD Instrumentation Ltd. The unit  provides a simple and straightforward means of measuring the hardness condition of sports surfaces.
Clegg Hammer (Golf) (225 points)
The CIST/883 Golf Course Firmness Tester provides an easy means of measuring the variations in strength on golf fairways and helps determine the uniformity of a specific area.
Davis Vantage Pro2 Weather Station (70 points)
An expandable, professional weather station with a wide range of options and sensors.
All Vantage Pro2 stations include a console and a versatile integrated sensor suite that can be customised by adding consoles or special-purpose options. The anemometer can be mounted separately, up to 40′ (12 m), from the rain collector.
New line-up of Turf Rewards for 2017
2017 sees the addition of new qualifying products:
Heritage 500g fungicide.
Any product in the Vitalnova range of liquid and soluble fertilisers.
The Pro Sprayer Package which consists of 4 x 5L pHixer (a specialist water conditioner), 4 x 5L Sp0tless (a highly formulated cleaning agent for the thorough decontamination and cleaning of spraying equipment), 12 x 1L Colour Pro (an advanced spray pattern indicator to assist spraying and minimize spray drift) and a set of Syngenta 04 nozzles.
If you would to find out more about Turf Rewards visit www.turfrewards.com
For further information, please contact ICL on 01473 237100. Visit www.icl-sf.co.uk or www.icl-sf.ie if you are in Ireland.
For more news and insightful views, you can follow ICL on Twitter @ICL_Turf
https://www.fusion-media.eu/wp-content/uploads/2017/01/112619-Turf-Rewards_Cover_HiRes.jpg
2108
2981
chrisbassett
https://www.fusion-media.eu/wp-content/uploads/2022/02/FusionMedia_logo.png
chrisbassett
2017-01-24 22:48:49
2017-01-24 22:48:49
New line-up of Turf Rewards for 2017