New Sherriff Amenity Specialist Returns To His Roots
Mark Rayner has returned to the area he was brought up in after being announced as Sherriff Amenity's new amenity specialist for Norfolk, Suffolk and Essex.
Mark has been in the industry for an impressive 25 years and his striking CV includes positions at a number of distinguished companies. Having grown up in Essex, Mark moved to Scotland to embark on a career in turf amenity. It was here that he learnt his trade by primarily working in the local authority, golf course and sports field markets.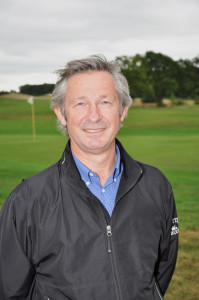 After seven years in Scotland, Mark accepted a position with Limagrain UK where he worked as the Western UK regional manager. He spent two years working for Limagrain before moving to another distributor covering the Midlands. In 2003 his career path took him to Scotts (now Everris) where he continued to work in the Midlands and then took on the South West UK area.
His most recent appointment of amenity specialist for Sherriff Amenity will see him return to his roots and he couldn't be happier.
"I had the need and the desire to come back and the opportunity presented itself through the position with Sherriff Amenity. I've now come back to my roots and I'm driving around the areas that I grew up in. The opportunity of working for a top distributor in my own back yard where I grew up was a really big draw," he said.
Mark will now be principally working with golf courses and venues within the sports field market as well as schools and colleges. With so much experience of working in and visiting golf clubs, most would think that he may boast a rather an impressive handicap, but it's not the case according to Mark.
"People in this industry have always expected me to play golf but I've never really taken to it. I'm a very keen walker and I used to do a lot of hill walking in Scotland – that's my passion. I'm also a bit of a bird watcher and a car enthusiast," he said.
It is no wonder that Mark is a fan of cars especially as he has covered nearly every inch of the UK throughout his work history. It is also one aspect of his career which has enabled him to already become acquainted with the majority of the Sherriff Amenity team.
"I've known Sherriff Amenity for years through my other jobs, and I know most of the team because I've been in the Midlands and Southern circuits for a long time.
"Sherriff Amenity is one of the best, if not the best, distributor company out there. They are very dynamic, very forward thinking and they sell all of the right products. It was a pleasant surprise when I saw that they were looking for somebody for this position because there aren't many companies that I would go to work for – but Sherriff is certainly one of them."
For further information, please contact Sherriff Amenity on 01638 721 888 or visit www.sherriffamenity.com
For more news and insightful views, you can follow Sherriff Amenity on Twitter @SherriffAmenityv
https://www.fusion-media.eu/wp-content/uploads/2015/08/Mark-Rayner_v2.jpg
4288
2848
chrisbassett
https://www.fusion-media.eu/wp-content/uploads/2022/02/FusionMedia_logo.png
chrisbassett
2015-08-21 09:28:42
2015-08-21 09:28:42
New Sherriff Amenity Specialist Returns To His Roots