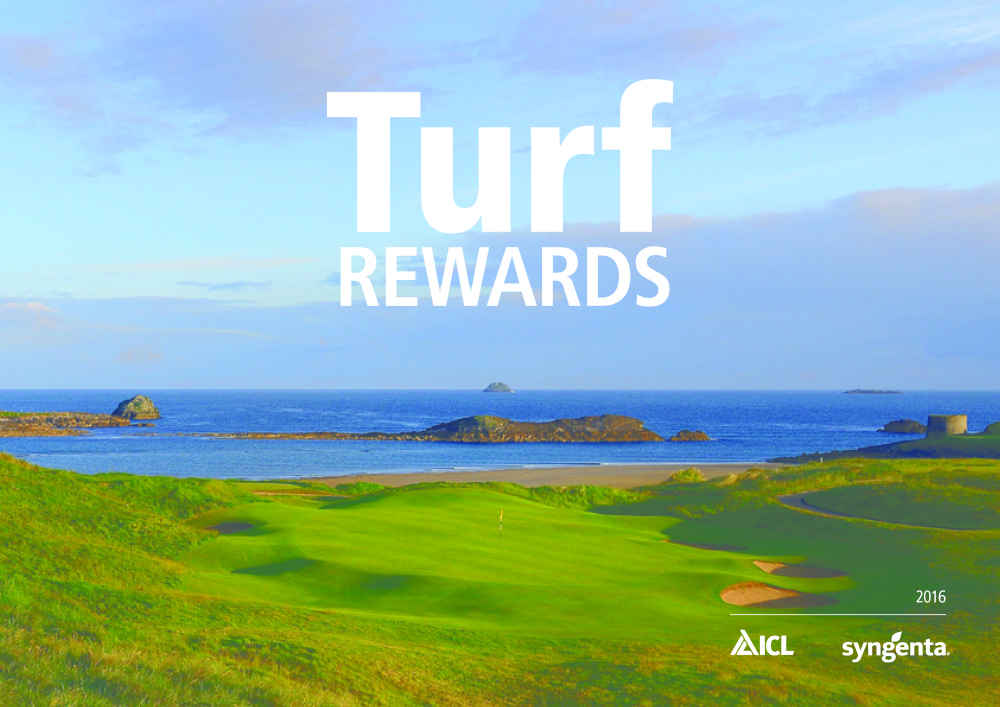 New Turf Rewards for 2016
ICL announce new Turf Rewards for 2016
Turf Rewards from ICL and Syngenta is a loyalty scheme for golf, sport and amenity turf managers and provides the chance to earn points from purchases and convert them into a range of valuable agronomic or educational items. Not only does it benefit the turf manager but it is also of advantage to the rest of their team, the turf, and the organisation they work for. It is also a fantastic way to maximise budgets with every purchase
There is an extensive range of items on offer including workplace tools, iPads, clothing and work wear, and educational vouchers that provide a great way to enhance education, improve operations and boost team morale.
2016 sees an even wider variety of products available with the addition of three new rewards. Those who use the popular scheme will now have the chance to earn enough points to be able to view their turf from a whole new angle with the newly added DJI Phantom 3 Standard Drone. This flying quadcopter, which possesses a built-in camera can capture 2.7K-resolution video, and is a great way to keep an eye on every inch of your facility.
Turf professionals will also get the chance to be able to get their hands on the GoPro HERO 4 Camcorder. Known as the ultimate action camcorder, the GoPro HERO 4 features improved sound, greater video quality and easier controls. Capable of shooting 4k Ultra HD 3840 x 2160 footage, everything you record around your facility will be true-to-life, with sharper detail, razor sharp resolution, incredibly lifelike colours and high fidelity audio. It's a great opportunity to show everyone what you do.
Both these state-of-the-art products are not only of benefit to turf professionals in terms of the recording of operations, aerial photography and course mapping but these different perspectives of venue layout can also be of advantage to the users of the facility. These products can be used to create fantastic and insightful promotions for Turf Rewards user's respective sites.
The Greenstester is the third new reward for 2016, it is sure to be an in-demand product in 2016. This new tool is used for objectively assessing the reliability of putting surfaces. It is an R&A approved device for improving the test performance of 'The Holing Out Test' by delivering a rolling ball onto the green from a constant angle, through a specially curved plane, which ensures no ball bounce.
If you would to find out more about Turf Rewards visit www.turfrewards.com
For further information, please contact ICL on 01473 237100. Visit www.icl-sf.co.uk or www.icl-sf.ie
For more news and insightful views, you can follow ICL on Twitter @ICL_Turf
https://www.fusion-media.eu/wp-content/uploads/2016/02/111631-Turf-Rewards-Front-Cover-e1457421895368.jpg
707
1000
chrisbassett
https://www.fusion-media.eu/wp-content/uploads/2022/02/FusionMedia_logo.png
chrisbassett
2016-02-24 13:34:23
2016-02-24 13:34:23
New Turf Rewards for 2016