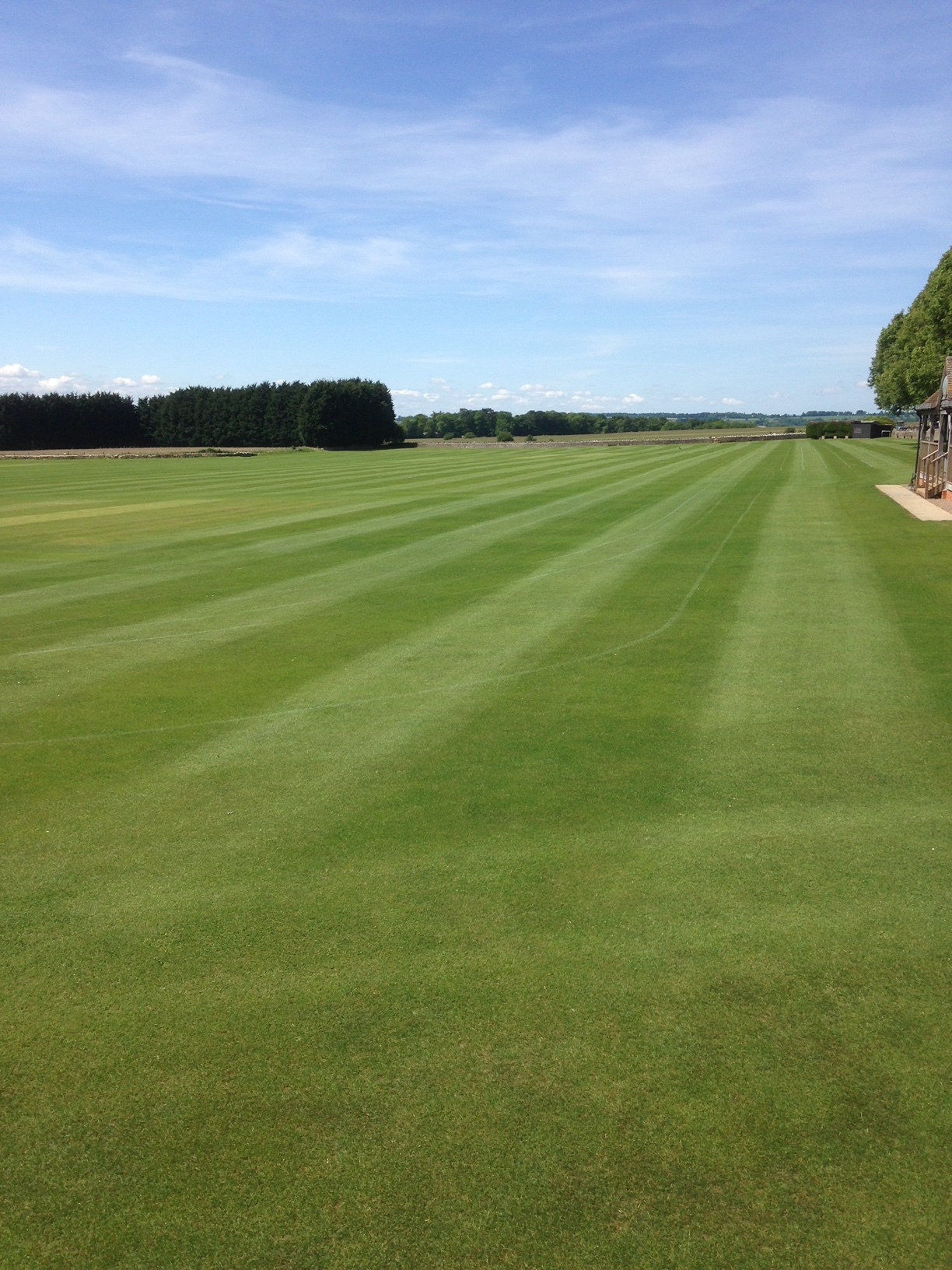 No rain? No problem! Sherriff Amenity's Marathon fertilisers help overcome last year's drought
Sherriff Amenity's Marathon fertilisers help overcome last year's drought.
With prolonged heat and drought conditions challenging turf managers up and down the country, Tim Attwood, sports field groundsman at Beaudesert Park School in Minchinhampton, Stroud, believes that his use of Sherriff Amenity's Marathon fertilisers have helped his turf to endure this testing period.
Beaudesert Park stands in beautiful grounds high up in the Cotswolds, commanding magnificent views over the surrounding countryside. Founded in 1908 at Henley in Arden, Warwickshire, the school moved to its present site in 1918 and has become a thriving co-ed day, weekly and flexi boarding school for 450 boys and girls aged 3 – 13.
The school has excellent facilities which includes 15 acres of beautiful playing fields. Football is the main focus at the start of the spring term which is shortly followed by hockey. Rugby is the major sport in the autumn term and as you would expect, cricket is prominent in the summer.
Tim is the man charged with maintaining all of the sports pitches and after working with Sherriff Amenity for 15 years, he believes that his use of Marathon fertilisers is a tried and tested method which guarantees results.
"I've used Marathon fertilisers on sites where I have worked before and they have just always worked. They are also semi-organic which ticks a nice big box for me," he says.
As Tim remarks, the range of Marathon fertilisers feature a patented organic complex base that provides the extended release characteristics needed to give gentle root development without producing excessive top growth. The slow release mechanism avoids soft growth that is more susceptible to disease attack whilst the high potassium content helps to harden turf against fungal pathogens and low temperature stress. The analysis has been further amended with ingredients to supply the correct balance of nutrients required by the turf.
With the analyses of each product in the range being geared to a specific growth stage or season, Tim incorporates three particular Marathon fertilisers into a year round maintenance programme.
Applying the product by using a spreader behind a compact tractor and at rate of 25g/m2, Tim firstly uses the Marathon Sport Spring 16.4.8 typically at the end of March. In the midst of a warm July he will then apply Marathon Sport Summer 10.0.15 followed by the Autumn mixture 7.0.21 in October.
"This programme keeps the pitches ticking over nicely throughout the year," he says. "It greens up nicely, the sward seems to thicken and it lasts for a good long time. Even throughout this summer, which has been incredibly challenging with the weather, my sports field has maintained its health and colour. From what I've seen, there are a lot of sports fields round here which haven't and I think the Marathon Sport products have gone a long way in achieving that."
Sherriff Amenity's extensive range of quality products are also perfectly complimented by the first class customer service provided by the company's amenity specialists. Renowned for their technical knowledge, which is consistently enriched through industry leading training programmes, Sherriff's amenity specialists are always on hand to ensure that customers are always getting the best results from their turf.
"I've known David Evans (amenity specialist for Wiltshire and South Wales) for a long time and I know that he would never push any products my way which are not appropriate for what I want to achieve. He genuinely wants the best for my turf and he's always there for help, recommendations and support. For me, that is a big factor in choosing to work with Sherriff Amenity."
For further information, please contact Sherriff Amenity on 01638 721 888 or visit www.sherriffamenity.com
https://www.fusion-media.eu/wp-content/uploads/2019/03/Beaudesert-School-1.jpg
1632
1224
chrisbassett
https://www.fusion-media.eu/wp-content/uploads/2022/02/FusionMedia_logo.png
chrisbassett
2019-03-12 10:23:46
2019-03-12 10:23:46
No rain? No problem! Sherriff Amenity's Marathon fertilisers help overcome last year's drought