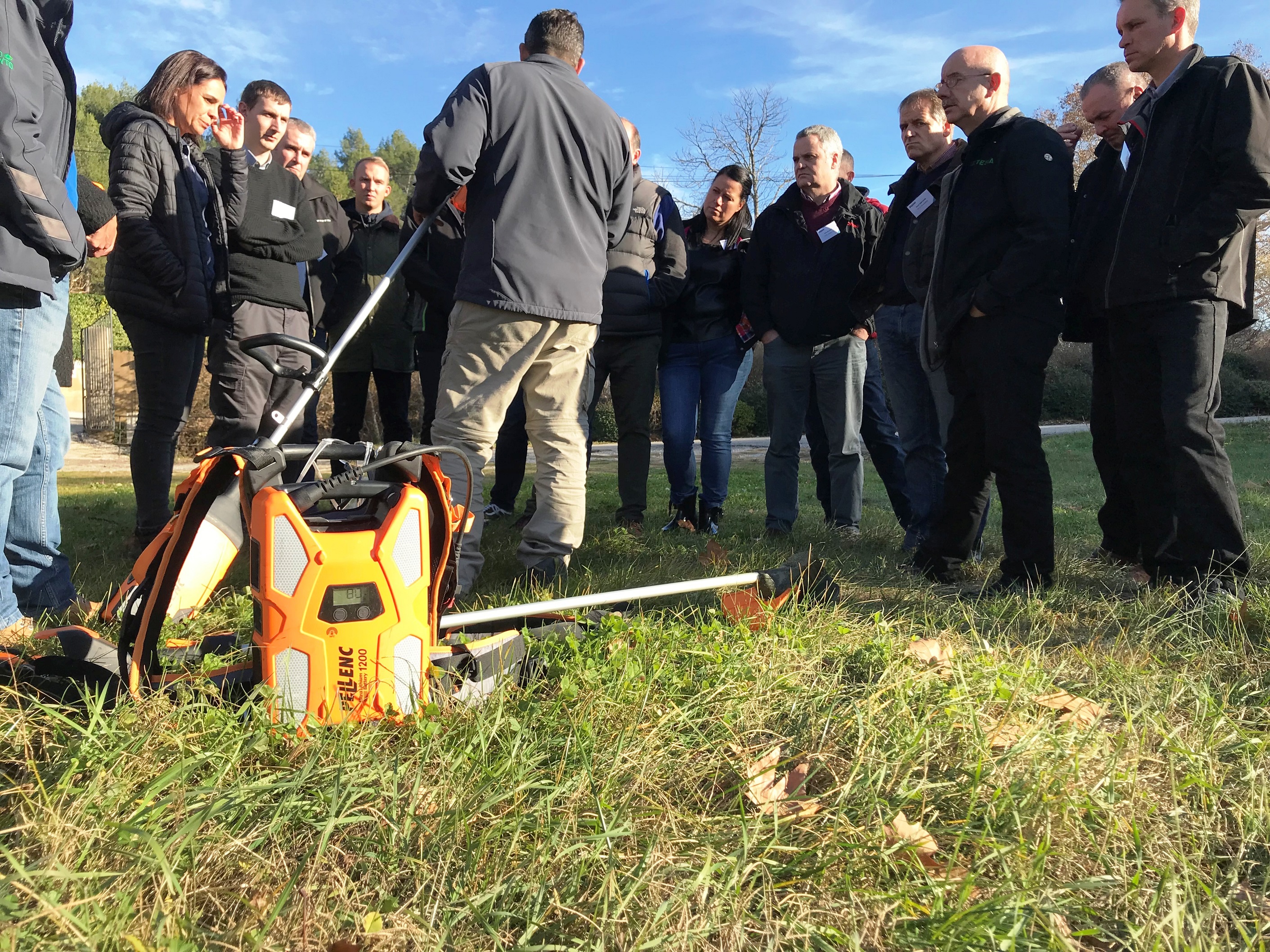 Pellenc Dealers Visit France Factory
Seeing Pellenc's manufacturing and production facilities in Pertuis, France proved to be a realeye opener for 20 dealers.
Twenty Pellenc dealers from England, Wales, Scotland and Ireland recently visited Pellenc's state-of-the-art facilities in Pertuis, France to reward them as the best performing dealers for the range of environmentally friendly battery-powered equipment.
After arriving in Marseilles, the delegates were driven to Pertuis and given a presentation of the company and told how Etesia UK, the exclusive distributor for the UK and Ireland, andPellenc had come to work together ten years ago before they set off on a tour of the impressive R&D department, which has seen 844 patents registered. Next up was a tour of the factory including production, assembly line and distribution centre. Key statistics about Pellenc include:
1500 staff worldwide
18 subsidiaries
7 industrial sites
50,000+ customers
The second day gave everyone the chance to test out the latest equipment ahead of its 2019 launch before departing for a sight-seeing tour of Marseille.
The trip was rounded off with a presentation to the best overall and best new Pellenc dealers of the year, which were won by RT Machinery (best overall Pellenc UK dealer) and Myrddin Garden Machinery (best new Pellenc UK dealer).
Pellenc's zero emission concept offers a full range of truly professional handheld power tools are powerful, silent andemission-free thanks to the lithium-ion technology and 'brushless' electric motors which are patented to the company.
Pellenc tools can be seen in every major city, as well as the majority of national trust sites around the country.
Scott Reynolds of RT Machinery said: "It was very interesting and surprising too – I never realised just how big the Pellenc operation was. It was also fantastic to pick up the dealer of the year award, which rewards the efforts of the whole RT Machinery team."
Matthew Clark of South East Groundcare Machinery also commented: "I was amazed at the sheer scale of theoperation – from the R&D department, which invests a considerable amount of profit back into the development of new products, to the assembly line. It has given me a greater insight into product development and to test the new products ahead of their launch was very interesting."
Etesia UK Managing Director Les Malin said: "To get feed back from Pellenc dealers on new products ahead of their official launch is invaluable. Our customers now acknowledge that battery products are here to stay and can see the benefits of this technology, so it's vital that our dealers see what our future plans are. We are very proud of our relationship with Pellenc and have gained recognition with local authorities, landscapers, contractors as well as groundsmen and greenkeepers who are now looking at environmentally-friendly products as a real alternative to petrol machines."
For further information, please contact Etesia UK on 01295 680120 or visit www.pellencuk.com
https://www.fusion-media.eu/wp-content/uploads/2018/12/Pellenc-dealers-visit-factory-1.jpg
2117
2823
chrisbassett
https://www.fusion-media.eu/wp-content/uploads/2022/02/FusionMedia_logo.png
chrisbassett
2018-12-14 11:18:50
2018-12-14 11:25:37
Pellenc Dealers Visit France Factory