Purchase of SISIS Aer-Aid by Golf Course Leads to Multiple Sales
The Emerson Country Club in Sejong City, South Korea has recently upgraded its turf maintenance machinery with the delivery of a SISIS Javelin Aer-Aid 1500 tractor mounted aerator by local SISIS dealer Arcwin Co, which has led to six further sales of the machine in the region.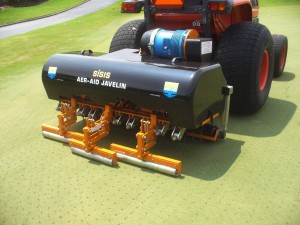 The course is considered one of the region's best, so Head Greenkeeper Chang Gue-Oh chose what he considered to be the best aeration machine on the market and after-sales service available to care for the course.
"We had a gas exchange problem on our greens and our previous machinery did nothing to help with the problem," explained Chang. "We visited a recent demonstration day by Arcwin Co and were astounded by the SISIS Aer-Aid. It was so quick in its operation yet left minimal surface disturbance and since our purchase we've not only completed our aeration tasks quicker, but also saved resources which can be better spent on other areas of the course."
The Aer-Aid system injects air directly into the root zone speeding up the aeration process, moving air uniformly throughout the root zone for complete aeration and not just where the tines have penetrated the surface. The cam trigger mechanism ensures that the air is always at the bottom of the tine penetration enabling treatment to be targeted precisely by the operator.
"Over the past twelve months; we have seen a significant increase in the number of demonstrations and sales of the Aer-Aid, not just overseas but also in the UK," said Ewen Wilson, Dennis and SISIS Export Manager.
"Greenkeepers, course managers as well as groundsmen and contractors like that the machines can be used all year round due to the large selection of tines which help to break up compaction allowing water, air and nutrients to penetrate the root zone. Constant use helps to produce a sports surface that is less affected by weather changing weather conditions."
"The wide range of tines available combined with the low maintenance and quickness of operation are all great advantages of the SISIS Aer-Aid," said Chang.
For further information or a no obligation demonstration, please contact SISIS on 01332 824 777 or visit www.sisis.com
For more news, reviews and insightful views, you can follow SISIS on Twitter @SISISMachinery and like the company's Facebook page – www.facebook.com/SISISMachinery. You can also view the latest SISIS videos by visiting www.youtube.com/SISISMachinery.
https://www.fusion-media.eu/wp-content/uploads/2014/02/SISIS-Aer-Aid3.jpg
1728
2304
chrisbassett
https://www.fusion-media.eu/wp-content/uploads/2022/02/FusionMedia_logo.png
chrisbassett
2014-02-03 13:17:26
2014-02-04 10:43:02
Purchase of SISIS Aer-Aid by Golf Course Leads to Multiple Sales