SALTEX 2015 LEARNING LIVE Education Programme Revealed
Impressive education seminars announced for SALTEX 2015 at the NEC Birmingham
LEARNING LIVE, an all-encompassing education programme designed for all sectors of the groundscare industry, has now been finalised and is set to be a major attraction at SALTEX 2015 on the 4 and 5 November at The NEC, Birmingham.
Organised by the Institute of Groundsmanship (IOG), this year's LEARNING LIVE programme is set to be five times bigger than the education offered at previous SALTEX exhibitions with 49 seminars now confirmed. It will provide grounds and open space practitioners across all disciplines, volunteer as well as professional, with a daily feast of FREE knowledge-gathering sessions in one, easy to access, location.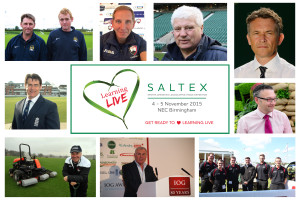 The sessions will take place in three dedicated LEARNING LIVE seminar theatres on the SALTEX show floor, plus the Young Groundsman's Conference, in Gallery Suites opposite the SALTEX entrance. These will all feature industry-leading experts and some of the top names in European groundsmanship.
The IOG Gaining Ground theatre, found on Stand A180, will be hosted by journalist and talkSPORT radio presenter Mark Saggers. These sessions are based around the content at the IOG's traditional annual conference event.
Those involved in cricket may well put the Pitch Perfect seminar at the top of their agenda which features experts such as ECB pitch advisor Chris Wood, and head groundsmen Mick Hunt, Lords and Gary Barwell from Edgbaston discussing best practices in cricket groundsmanship. Other sessions include the challenges faced by the Manchester City grounds staff when they moved from their Carrington training ground to one of the world's most prestigious sporting complexes – the City Football Academy. Offering a post Rugby World Cup focus, A day in the life of a Rugby World Cup Groundsman – with Keith Kent and Ian Ayling from Twickenham, is expected to be widely attended.
Park keepers, rangers, contractors, gardeners, horticulturalists, plus groundsmen who have responsibility for the upkeep of play equipment will benefit from attending seminar sessions in the Parks Play and People theatre on Stand A010. Seminar highlights in this theatre include; Darren Share, head of parks for Birmingham City Council, who will highlight how he and his team are providing opportunities to increase activity levels in Birmingham's local communities; Mark Harrod, SAPCA/BSI Technical Committee for sports equipment providing an expert view of the critical factors involved in making sports facility equipment safe and fit for purpose and The Parks Alliance will also be addressing the serious funding crisis in the sector and focusing on the next steps in this important campaign.
Sessions within the Technically Turf & New Product Pitches theatre, Stand K180, will provide visitors with invaluable technical advice on Irrigation control systems and what makes them tick and How to work out a fertiliser plan from soil test results and growth requirements. In addition, The PITCH sessions will showcase SALTEX exhibitors' products and services or new product launches in an exciting quick-fire approach which will help visitors better understand key features and how these may fit into their working environment. Current exhibitors who have signed up to The PITCH include Avant Tecno; Bosch Lawn & Garden; InTurf; John Deere, LANTRA; Lely-Toro; Major Equipment and Proludic.
The Rigby Taylor and Top Green-sponsored Young Groundsmen's Conference, which has been organised by the Institute of Groundsmanship's Young Board of Directors will be held in the Concourse Gallery Suites 17 and 18, and will offer a fantastic opportunity for those looking to develop a rewarding career in groundsmanship.
Head groundsmen; Neil Stubley from Wimbledon, Alan Ferguson from St George's Park; young IOG director Stuart Mackley from Reading FC and Dan Prest, the IOG's new education and training manager will all be providing invaluable advice on what is expected from you if you want to progress in the turf industry. The How to Get Young People Involved in your Work Place seminar will see Tony Stones from Wembley Stadium; Richard Ayling from Merchant Taylors' School and young IOG director James Pope from St Paul's School reveal how they engage, motivate and develop young people in the industry. Steve Woolland, a leading people development consultant will encourage delegates to get a head start in his The Art of Good Leadership and Management presentation while the IOG Young Board of Directors will be available for one-to-one question and answer sessions.
Many of the LEARNING LIVE seminars have CPD points connected to them. No pre-booking is required – simply ensure that you arrive promptly to make sure you get a seat.
To view the full LEARNING LIVE programme visit http://www.iog-saltex.com/content/visiting/free-seminars.aspx
Visitor registration to SALTEX 2015 is free. To confirm your attendance visit www.iogsaltex.com
Follow SALTEX on Twitter @IOG_SALTEX and Facebook – www.facebook.com/IOGSALTEX
https://www.fusion-media.eu/wp-content/uploads/2015/09/learning-live-collage-copy.jpg
2000
3000
chrisbassett
https://www.fusion-media.eu/wp-content/uploads/2022/02/FusionMedia_logo.png
chrisbassett
2015-09-22 08:56:29
2015-09-22 08:57:12
SALTEX 2015 LEARNING LIVE Education Programme Revealed