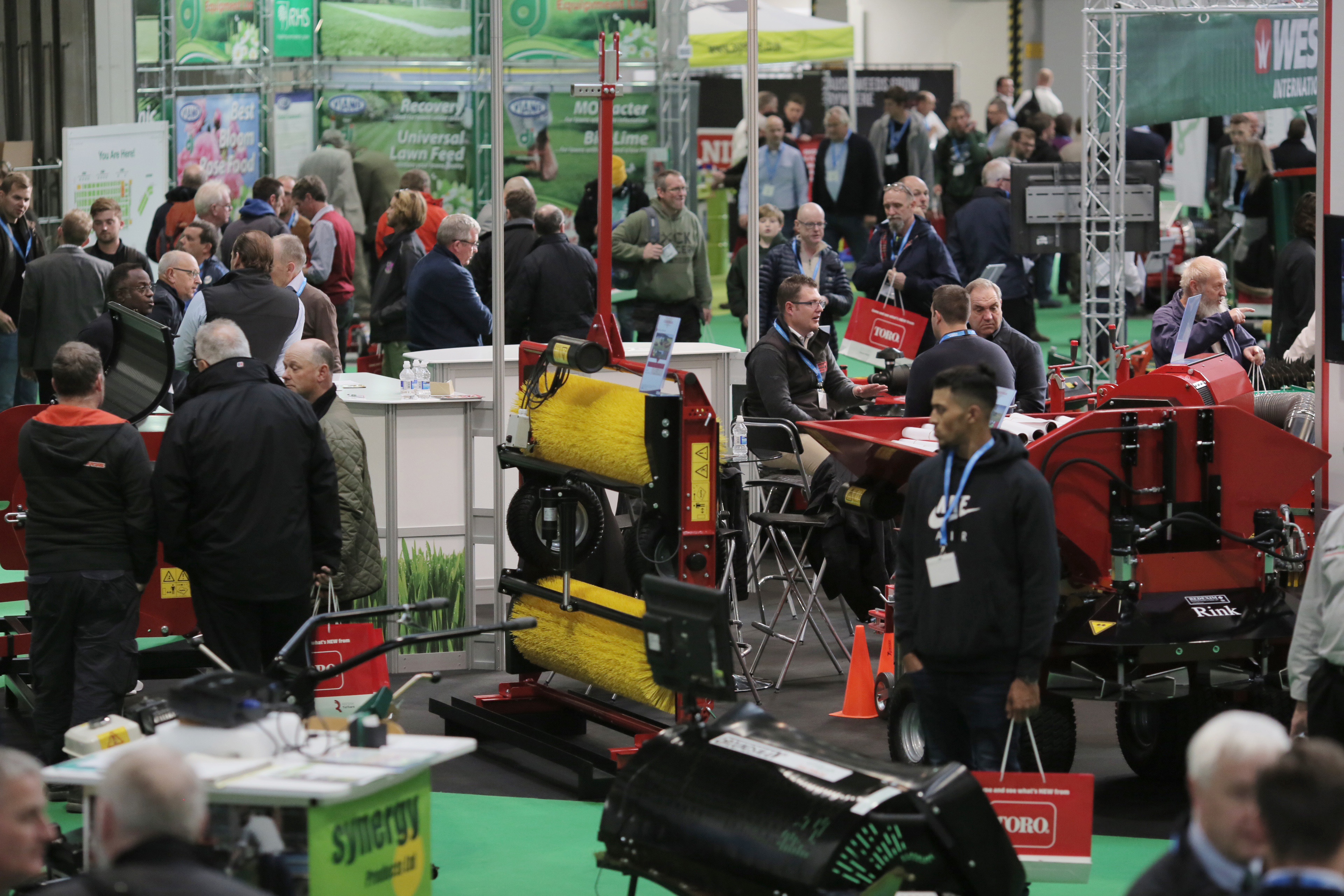 SALTEX 2018 – shaping the future of groundscare
SALTEX 2018 – shaping the future of groundscare. From robotics to hybrid mowers and digital apps, ground-breaking ideas to thought provoking debates, career enhancing advice to limitless opportunities; the recent SALTEX 2018 at the NEC was a landscape of possibility and prospect for the future of groundscare.  
Europe's largest annual groundscare event featured 300 exhibitors, many of which embraced new technologies through the launch of their latest products and services showcased at the event.
One visitor – Chris Wood, ECB pitch consultant, was certainly impressed with the machinery on show: "My job with the ECB is to gather as much information on all the new innovations and this is one tremendous outlet for that. I always think that we are one big family in this industry and SALTEX is the one occasion of the year where we can come together, network, and look at all the new machinery – it's like a toyshop at Christmas."
The vibrant show floor offered a fantastic opportunity to witness just how these latest technologies are having a positive impact in the groundscare industry – particularly in the all new Innovation Hub where visitors were free to attend live interviews with industry experts and trend setters at the forefront of new groundscare innovations.
This new Hub was also the ideal platform to showcase and celebrate the SALTEX 2018 Innovation Award. After making its successful debut at last year's show, the SALTEX 2018 Innovation Award attracted even more entries from various exhibitors across the globe and included a wide variety of high-quality products, services and equipment. Judged by an independent panel of industry experts it was decided that the Toro Outcross 9060 from Reesink Turfcare, PrecisionPro from Sherriff Amenity and the ROBOCUT from McConnel were the stand out entries. Sherriff Amenity's PrecisionPro was crowned as the winner.
Sherriff Amenity representatives however were not the only trophy winners at the show as Bridgewater & Taunton College saw off fierce competition to win the SALTEX College Cup and the winning students can now look forward to visiting the All England Lawn Tennis Club, in the run up to the Wimbledon tournament, to experience court preparation from Neil Stubley, head of courts and horticulture.
There were also an increased number of visitors looking to progress within the industry as Frank Newberry's Job Clinic sessions were fully booked between 9am and 3pm on each day of this year's show. The expert careers advisor offered some fantastic tips on: perfecting a CV and cover letter; how to succeed at job interviews; negotiating a package; proactive job searching and self-employment.
The many opportunities to gain expert advice prompted John Ryan, founder of Lawn Care Legends, to travel from Northern Ireland to SALTEX: "I found my visit extremely beneficial because there are a lot of industry people you can connect with that can help provide ideas on how to develop a business. It's great to see people with such a passion for the industry and share it with others. For anyone who wants to know what's going on in the industry, I would recommend that they visit SALTEX."
Free advice was available at every turn throughout the three large halls at the NEC. Visitors had the opportunity to gather one-to-one sports turf management advice from IOG regional pitch advisors at the Ask the Expert feature and Pathology and Soil Science LIVE provided an opportunity to share soil samples which were magnified, displayed on a large screen and assessed.
Learning LIVE 2018, SALTEX's all-encompassing education programme, featured more than 50 free-to-attend seminars. Visitors gained CPD points for attendance and got to hear from expert speakers from the UK and abroad who focussed on vital issues that affect the industry.
James Pope, grounds manager at St Paul's School in London, said he visited SALTEX to explore new concepts: "I've gained more ideas just from coming to this one show than I have all year. SALTEX is the right time of year and it's the busiest and most vibrant show around – everyone is always in high spirits."
Echoing James, was Ted Mitchell from the RFU, who was pleased to see just how the world's longest standing groundscare exhibition has transformed over the years.
"I've been attending SALTEX for many years and to see the event as it is today is incredible – it takes your breath away. It offers such a unique opportunity to meet the range of people at SALTEX in five or six hours that would, in any other circumstance, take me a huge amount of time over a number of months. SALTEX brings the industry together all in one place."
SALTEX does indeed unite every corner of the industry – the manufacturers and suppliers, the visitors and speakers, the governing bodies and associations; who contributed to the conversations, the learnings, the ideas, the debates, and actively played their part in shaping the future of groundscare and creating opportunity for all.
For more information visit www.iogsaltex.com
https://www.fusion-media.eu/wp-content/uploads/2018/11/saltex2018_0096.jpg
2560
3840
chrisbassett
https://www.fusion-media.eu/wp-content/uploads/2022/02/FusionMedia_logo.png
chrisbassett
2018-11-26 14:30:06
2018-11-26 14:30:06
SALTEX 2018 – shaping the future of groundscare