Seppi Celebrate 75th Anniversary
Seppi – Italian specialists in manufacturing top quality forestry mulchers and mowers recently celebrated its 75th anniversary by hosting its biggest event in history for both dealers and distributors.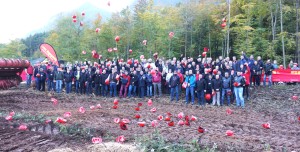 Held over two days, 150 dealers and distributors from more than 30 countries assembled at the Seppi factory in Caldaro in the mountains of Northern Italy. It was a fabulous occasion in which attendees received a glimpse into the future of the company by seeing demonstrations of both new and updated machines.
Five demonstration sites around the mountain area were constructed for the event and local contractors as well as international manufacturers combined to demonstrate over 30 machines in a highly anticipated show.
On display were tractors of 50hp to 500hp as well as excavators ranging from 1.5 tonnes to 15 tonnes but the stand out performer in this category was the new 3.5m Maxisoil. Known as the mulching monster the Maxisoil grinds anything from stones, to stumps, from roots to loose branches and due to its powerful nature it requires a tractor power of over 300 hp. On this particular occasion the new Maxisoil was used on a Class Xerion 5000 tractor which has a peak horse power of 530, perfect for maximising the results of the Maxisoil.
Machinery serving the needs of orchards, vineyards and greenspace sectors were demonstrated in a valley consisting of apple orchards and vineyards. Close by, a canal system serves these areas for irrigation and it was in this particular area where attendees got to see the offset and reach mowers in action.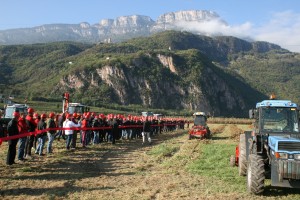 The two other sites, situated in the picturesque mountains behind the Seppi factory, saw forestry machines being demonstrated and a large quarry where stone crushers did what they are best at.
The event was overseen by dedicated Seppi personnel who were on hand to discuss features, machinery and development ideas with all of the distributors. The company also hired out the local cinema where a presentation of all of the products was translated into five different languages.
The grand scale of the event was a fitting way to celebrate a remarkable 75 years of producing machinery of the finest quality. Well received by all who attended, the event epitomised Seppi's slogan of More Power, More Life and More Productivity.
The complete range of Seppi products is on sale in the UK exclusively from Lamberhurst Engineering.
For more information, please contact 01892 890 364 or visit the website on www.lameng.com. You can also follow Lamberhurst Engineering on Twitter @FerrariTractors
https://www.fusion-media.eu/wp-content/uploads/2014/11/tutti_1.jpg
988
1948
chrisbassett
https://www.fusion-media.eu/wp-content/uploads/2022/02/FusionMedia_logo.png
chrisbassett
2014-11-10 15:56:34
2014-11-10 15:56:34
Seppi Celebrate 75th Anniversary