SISIS Success in Australia
SISIS, together with Dennis mowers have reported a successful show at the recent Australian Turfgrass Conference and Trade Exhibition, held at the Gold Coast Convention and Exhibition Centre, with the SISIS Veemo tractor mounted scarifier the star attraction.
The British manufacturer, with the support of Proturf Machinery, the company's distributor for Australia, then arranged a series of demonstration days for greenkeepers at a range of golf courses to see the Veemo along with the Litamina tractor mounted sweeper in action.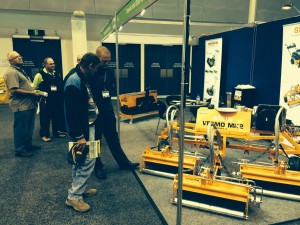 Toby Clarke, sales manager of Dennis and SISIS, said: "The quality of the visitors at the exhibition was outstanding. This was our first time exhibiting in Australia, so it was good to see so many existing customers as well as discuss the benefits of our turf maintenance machinery to other visitors who may not have seen our range of equipment before.
"The demonstration days organised by our dealer Proturf were very well organised and allowed us to speak to greenkeepers which has been invaluable."
The SISIS Veemo MK2 is a tractor-mounted scarifier used for removing thatch from large areas of turf, such as golf course fairways.
The Veemo's strong cutting blades are designed for minimum surface disturbance and maximum thatch removal via three floating heads which are independent from the main frame. The heads each move in all degrees of motion and follow any undulations of the ground on a fairway without any danger of damaging/scalping the turf, whilst the tungsten tipped hook blades with variable spacing cut effectively through the thatch layer.
Unrivalled on undulating ground, with fast ground coverage saving time and money; the Veemo has a simple depth control without the use of any tools by means of a micro-adjuster on each unit, giving flexibility for scarifying and verticutting.
The SISIS Litamina 1200 & 1500 models are tractor mounted compact sweepers and collectors for collecting all types of surface debris from fine turf and outfield turf. Their effective sweeping brushes mean it is ideal for sports field maintenance, golf courses, synthetic turf maintenance and amenities.
The SISIS Litamina has a spiral design brush for effective collection, a hydraulic tip facility for easy emptying and a large capacity hopper.
Further information about the range of bowls maintenance products available can be found by visiting www.dennisuk.com / www.sisis.com.
For more news, reviews and insightful views, you can follow Dennis on Twitter @DennisMowers and SISIS @SISISMachinery. You can like the Facebook page –www.facebook.com/DennisMowersUK and www.facebook.com/SISISMachinery. You can also view the latest Dennis videos by visiting www.youtube.com/DennisMowers and www.youtube.com/SISISMachinery
https://www.fusion-media.eu/wp-content/uploads/2014/08/Australia-01.jpg
960
1280
chrisbassett
https://www.fusion-media.eu/wp-content/uploads/2022/02/FusionMedia_logo.png
chrisbassett
2014-08-05 12:23:55
2014-08-05 12:23:55
SISIS Success in Australia