SISIS Veemo hits the spot at Stourbridge
After trialling various tractor mounted scarifiers, Steven Harvey, Head Greenkeeper at Stourbridge Golf Course, concluded that the SISIS Veemo MK 2 was by far the most suitable for his fairways.
Stourbridge Golf Club in the West Midlands was formed in 1892 progressing from the original 9 holes laid out on the former Pedmore racecourse to 18 holes in 1909. The basic outline of that course remains today, and marks somewhat of a divide according to Steven.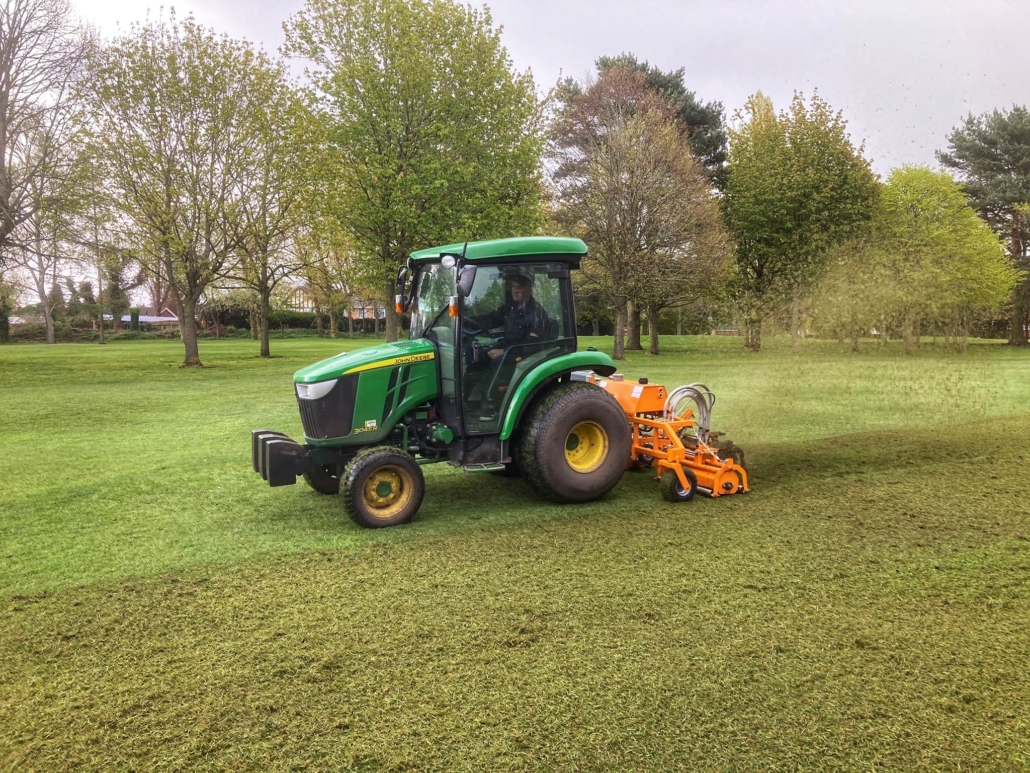 "There are essentially two halves to the course," he said. "The old common ground at the bottom where the racecourse used to be and then you have more of a parkland course at the top. It really is chalk and cheese.

"It is also a small course; in fact, it was once listed in the Guinness Book of Records as being the course with the 'longest yardage over the smallest acreage'. Being a small plot of land to look after, it comes with both positives and benefits."
Steve oversees a team of four members of staff and full credit must be given to the team for achieving a course which is highly praised by members and visitors alike.
With a humble budget and unfavourable weather conditions to work with, Steve claims that he is always looking at new methods to achieve best results and over recent years, he has largely focussed on the fairways.
"Historically our non-irrigated surfaces such as the fairways do tend to struggle and fail to hold on to moisture. No work has ever really taken place on the fairways other than slitting so they are heavy on organic matter. When it is hot, they really do bake and we have lost a lot of grasses, particularly the fescues.

"A couple of years ago, knowing that we wanted to scarify the fairways, we begged, and borrowed machines just to get the ball rolling," he continued. "However, the problem always came on the undulating common land and whichever machine we used, it basically scalped them, didn't hit the low spots and was very hit and miss. But we knew that if we had the right one then it would help us achieve exactly what we wanted to.

"Then we came across the SISIS Veemo."
The SISIS Veemo MK 2 is a tractor-mounted scarifier used for removing thatch from large areas of turf, such as golf course fairways. The Veemo's strong cutting blades are designed for minimum surface disturbance and maximum thatch removal via three floating heads which are independent from the main frame. The heads each move in all degrees of motion and follow any undulations of the ground on a fairway without any danger of damaging / scalping the turf, whilst the tungsten tipped hook blades with variable spacing cut effectively through the thatch layer.
"The Veemo simply stood out from all the others – mainly for its durability and the way it hugs the ground, particularly on the fairways on the bottom half of the course." said Steve. "It is fantastic the way it hits every part of the surface we want it to hit, due to the floating heads. The way it connects to the back of the tractor is also so simple.

"It is well built, and I can't envisage any issues with damage or maintenance. The Veemo basically does everything we want it to do.

"We use the Veemo anytime between March and November, and the beauty of it is that not only can I use it on the fairways, but I can get it onto our tees and the approaches as well. I'm also going to be looking to use it on the greens very soon, and I think it will do a great job. I want to use it to its maximum capability.

"Overall, I'm very impressed with the Veemo and we are seeing the improvements from using it already."
For further information or a no obligation demonstration, please contact SISIS on 01332 824 777 or visit www.sisis.com
https://www.fusion-media.eu/wp-content/uploads/2022/02/UHQXE1210.jpg
1536
2048
chrisbassett
https://www.fusion-media.eu/wp-content/uploads/2022/02/FusionMedia_logo.png
chrisbassett
2022-02-11 10:03:25
2022-02-11 10:03:46
SISIS Veemo hits the spot at Stourbridge