St George's Park Chooses Dennis E-Series
Andy Gray, Head of Grounds and Estates at St. George's Park, believes that Dennis Mowers got everything absolutely right in producing its new range of battery-powered mowers – the E-Series.
Built in 2012 and set in 330-acres of stunning Staffordshire countryside, St. George's Park is the home of England's national football teams. Overseeing a team of fourteen members of staff, Andy Gray is the man responsible for the upkeep of all the pitches and landscaped areas.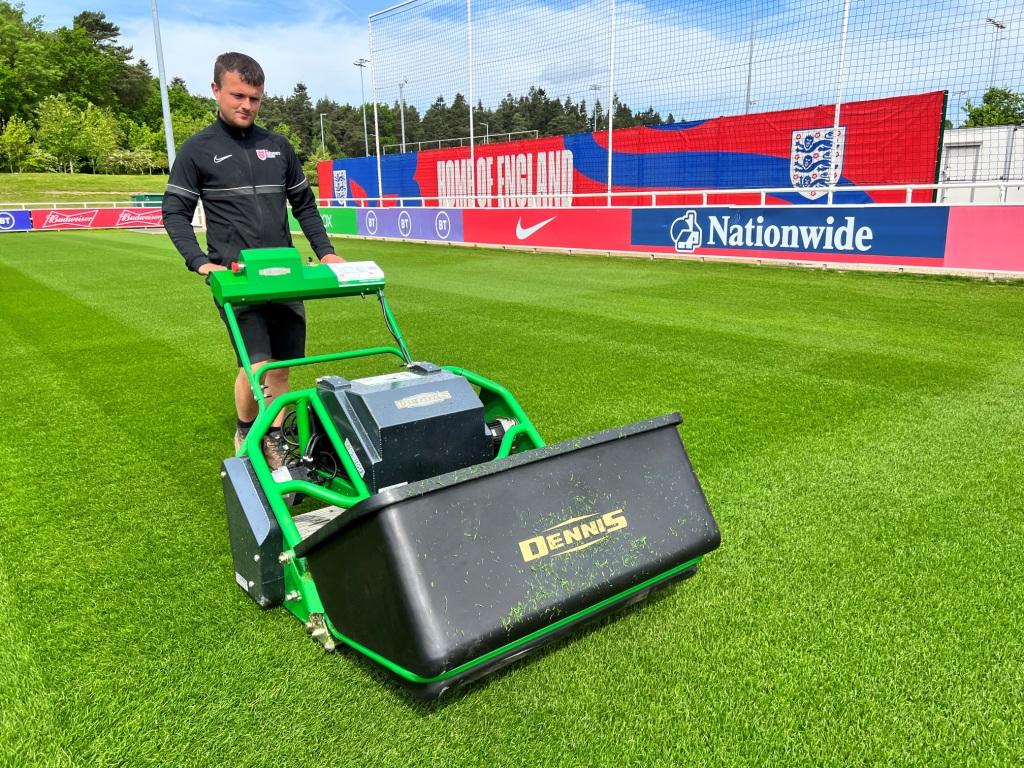 Andy joined 21 months ago from Southampton FC, where he had responsibility for St. Mary's Stadium and the Staplewood training campus. Throughout his tenure, both were highly regarded as outstanding football facilities, and he admits there were not many jobs to tempt him away from Southampton FC.
"I was never actively looking to leave Southampton FC," he said. "However, I always saw the position at St George's Park as one of the top jobs in this industry, so when I saw it available, I thought it would be good to prove myself somewhere else."
Once settled into the position Andy felt the time had come to start exploring the idea of introducing battery-powered mowers.
"There were a number of reasons for wanting to go down the electric route," he said. "The real motive though was for employee welfare in terms of noise and vibrations. There were also the emissions to consider, as well as the environmental impact, the sustainability, and the rising cost of fuel."
As a long-term user of Dennis Mowers, Andy was quite certain on what brand of battery-powered mowers he wanted.
"I have used the Dennis G860 cylinder mowers since 2001 and when I moved here there was already a fleet of nine G860's and four Dennis PRO 34R rotary mowers. I felt it was a no-brainer to stay with Dennis."
Leaving no stone unturned, Dennis Mowers spent three years working with carefully selected partners to develop a range of quality battery-powered equipment befitting of the Dennis badge. The aim was to provide a reliable and long-lasting solution with the ultimate performance that helps professionals meet sustainability and environmental initiatives, reduce carbon footprint, emissions, running costs and noise without any range anxiety.
"It was obvious Dennis took their time to do their homework, due diligence, and all the testing to make sure they got it absolutely right. This was really positive from Dennis – they made sure they were selling the finished article."
Andy chose to purchase two Dennis ES-860 cylinder mowers from the ES range.
This 34" battery powered turf management system delivers maximum versatility and the range of 13 interchangeable cassette options provide a solution to many day-to-day maintenance tasks such as cutting, scarifying, brushing, sorrel rolling, and verticutting.
Furthermore, traditional G860 cassettes will also fit the ES-860, meaning that customers will not have to purchase additional cassettes.
A robust LCD keypad screen is an integral feature of the handlebar console providing the operator with a multitude of information options including speed, clip rate, service checks, lifetime running reports and battery information.
"We use them daily in the same way we use the G860's, whether it be for cutting, brushing or verticutting. Battery range is so important because if you are over the far side of the site and you've got two or three pitches to cut, then it is imperative that it lasts. The ES-860's haven't run out on us yet.

"They have also come in handy when the England senior team are here," Andy continued. "Media activities take place on the indoor pitch which is right next to the senior team's training pitch. We would always be preparing the pitch for their next training session and would be constantly asked to stop because the mowers were making too much noise. With the ES-860's, we no longer have that problem.

"As a company, Dennis is fantastic – the factory is nearby and the service, backup and parts department have always been second to none."
For further information or a no obligation demonstration, please contact Dennis 01332 824 777 or visit www.dennisuk.com
https://www.fusion-media.eu/wp-content/uploads/2022/07/St-georges-Park-choose-Dennis-E-Series.jpg
768
1024
chrisbassett
https://www.fusion-media.eu/wp-content/uploads/2022/02/FusionMedia_logo.png
chrisbassett
2022-07-29 09:44:17
2022-07-29 09:44:17
St George's Park Chooses Dennis E-Series